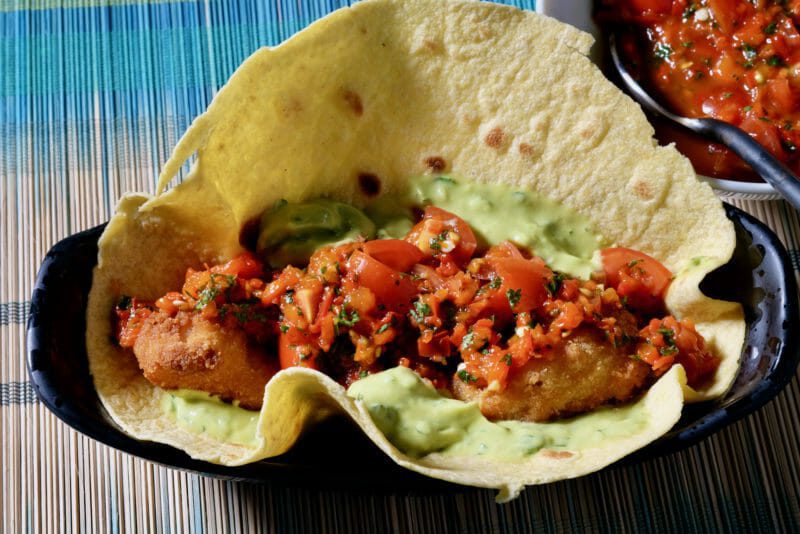 A crisp layer of breadcrumbs encases delicate pieces of white fish in these Panko fish tacos. Layered underneath is a velvety avocado yoghurt sauce and, on top, a vibrant roasted red pepper salsa.
Like a baguette or a burger bun, a taco is simply a container for whatever delectable ingredients you want to put inside. And while most of us know a taco as a tortilla wrapped around stewed meat and a hot sauce, there are no rules. In fact, Mexican tacos are a great example of culinary fusion. They bring together influences from Mayan and Aztec civilisations, as well as the Spanish colonists and Lebanese immigrants, according to Michael Picher, a professor of history and author of Planet Taco: A Global History of Mexican Food.
While these Vietnamese Braised Pork Belly Tacos delivered distinct Vietnamese flavours wrapped in a tortilla, this recipe for Panko fish tacos is about a fantastic combination of flavours and textures rather than about representing a regional cuisine, as impressive as Vietnamese flavours are! The delicate fish with the extra crispy crust, the vibrant roasted red pepper sauce, and the velvety avocado yoghurt sauce work together to make each mouthful of these tacos something to savour.
Panko fried fish
While I used Panko bread crumbs in this recipe, you could substitute them with other types of breadcrumb, including homemade. The goal is to have a very crisp enclosure around the delicate fish.
You may ask, why not fry the fish in a batter rather than breadcrumbs—a valid question. We do not have a lot of space inside a taco, so we need to use it wisely. And though I do love a good piece of fresh fish coated in a crisp beer batter, it takes up more space. In comparison, a layer of breadcrumbs is much thinner and leaves more room within the taco for the sauces.
Roasted pepper salsa
The delectabilia logo shows that red peppers are a favourite, especially roasted. Deliciously sweet and healthy, there is no reason not to love roasted red peppers. Balsamic vinegar and lime juice add some brightness, while the fresh cherry tomatoes contribute a sumptuousness only fruit in disguise can do.
Of course, a salsa has to have some spice. Here we use a red jalapeno. These have a subtle heat that other members of the household do not find overpowering. For me, I would use something higher on the Scoville scale. If you need to keep things milder for your fellow diners, have a bottle of your favourite chilli sauce at hand to enhance your taco. Otherwise, use chillis that excite your taste buds to the desired degree.
Avocado yoghurt sauce
Panko fried fish and roasted red pepper salsa tacos are delicious. But something was missing – as if the cellos in an orchestra were missing. Enter the avocado yoghurt sauce. This sauce's rich and velvety creaminess serves to complement the crumbed fish and salsa. But more than that, it elevated them by providing a counterpoint, as cellos do for violins, or a rhythm guitar does for a lead guitar.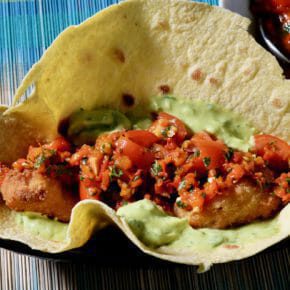 Panko Fish Tacos with Roasted Pepper Salsa and Avocado Yoghurt Sauce
A crisp layer of breadcrumbs encases delicate pieces of white fish in these Panko fish tacos. Layered underneath is a velvety avocado yoghurt sauce and, on top, a vibrant roasted red pepper salsa.
Print Recipe
Ingredients
Avocado yogurt sauce
1

ripe avocado

1/2

cup

Greek yoghurt or sour cream

2

cloves

garlic, crushed

1/4

tsp

salt

1/4

tsp

freshly ground pepper

1

Tbsp

lime juice

1

Tbsp

Tobasco

or similar fermented hot sauce

1

handful fresh washed cilantro leaves
Roasted pepper salsa
3

large red peppers

3

red chillis

red jalapenos or similar

1

Tbsp

Tobasco

or similar fermented hot sauce

5

cloves

garlic, crushed

1

Tbsp

Balsamic vinegar

2

Tbsp

fresh lime juice (or lemon

1

handful fresh washed parsley

12

cherry tomatoes, cut into eighths
Panko fried fish
300

g

firm white fish fillets

cod works well

1/2

cup

cornstarch

2

eggs, whisked

1

cup

panko crumbs

Vegetable oil for frying
And
4 to

rtillas

preferably corn tortillas as they have more taste
Instructions
Avocado yogurt sauce
Combine all the ingredients together in a food processor.

Store in the refrigerator until needed.
Roasted pepper salsa
Preheat the oven to 200 degC

Wash, halve, and remove the pith from the peppers. Then smear with olive oil.

Roast the peppers for 30 minutes, skin side up.

Transfer to a plate and seal with plastic wrap. Allow to cool.

Once cool, remove the skins, and coarsely chop.

Add all ingredients, except the tomatoes, to a food processor.

Pulse until the salsa is the right consistency. It should still be quite chunky.

Stir in the tomatoes.

Store ate room temperature until needed.
Panko fried fish
Cut the fish fillets into pieces approximately 50mm long and 15mm square.

Dust with cornstarch, dip in the egg, then coat with breadcrumbs.

Return the crumbed fillets to the refrigerator for 30 minutes.

Bring the vegetable oil up to 185 degC.

Fry the crumbed fish until golden 3 – 5 minutes each side.

Drain on paper towels. Don't fry too many pieces at the same time, as the temperature will be reduced too much. Make sure there is plenty of room around each piece.
Construction
Heat a skillet or hot plate to medium-high.

Spritz both sides of the tortillas with a little water.

Lay a tortilla in the skillet until burn marks start to develop. Start checking after 30 – 60 seconds, depending on the heat.

Flip and do the same for the other side.

Spread some avocado yoghurt sauce on the tortilla and top that with some Panko fried fish pieces.

Top the fish with some Roasted pepper salsa.