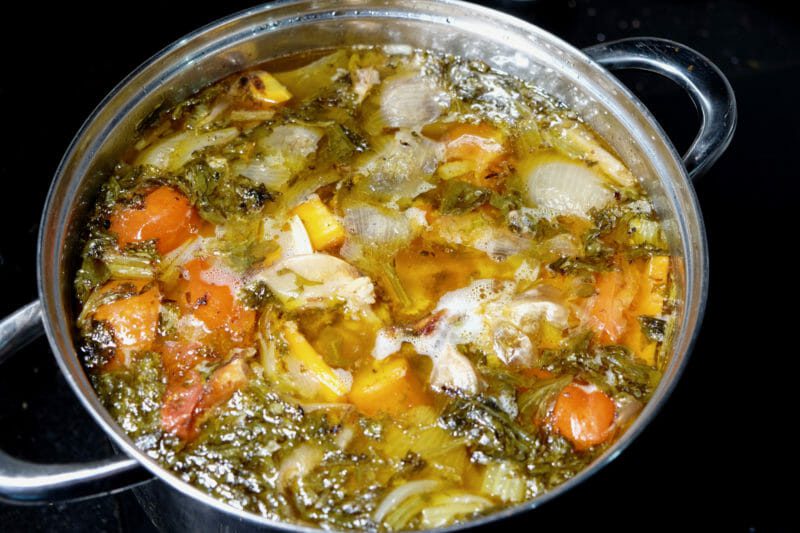 You can buy pre-made beef stock in many supermarkets. And if you are really desperate, there are stock cubes. But nothing beats making your own stock. Make a big batch and freeze what you don't need immediately.
The very first cooking course I ever attended was about making stocks. The lessons learned have been invaluable. Almost as valuable as the Philosophy course I did in Logic and Argument has been to my other other career paths.
The most important lesson is – don't rush it. Stocks need time. Beef stocks need a lot of time. Some Vietnamese Phở restaurants have their stocks cooking for 12 hours or more. I recommend a minimum of 6 hours for a basic stock like this.
A fish stock or a vegetable stock need a lot less time. A beef stock, and pork stock, need a long slow cook to extract that amazing umami rich flavour.
Temperature is important. If it is too hot for too long the stock gets cloudy and can get a little bitter. If you see an occasional bubble rising to the surface, that is about the correct temperature.
You could add other vegetables to this stock. Fennel would add a nice anise note. A few mushrooms, especially dried shiitake mushrooms, would up the umami factor by a considerable margin.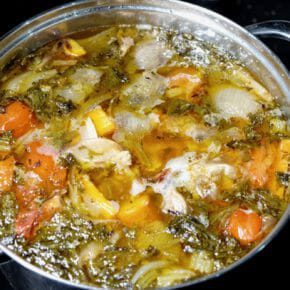 Beef Stock
Print Recipe
Ingredients
2

kg

beef marrow bones

5

litres

water

2

onions skinned and halved.

4

carrots

cut into quarters length wise

1

head

garlic

cut through the middle (across all the )

1

tsp

of peppercorns

8

stalks of celery

lower 2/3 included

4

sprigs of thyme

1

cup

parsley stalks

loosely packed

2

bay leaves
Instructions
Plunge the beef bones into boiling salted water. Bring back to boil and let boil for 2 minutes. Drain and discard the water.

Roast the beef bones for 30 minutes.

Add the onions, garlic, and carrots to the roasting pan and roast for another 45 minutes.

Add bones, vegetables, and all other ingredients to a suitably sized pot and bring to the boil.

Skim off any scum and oil.

Cover and reduce heat so that you only see occasional bibles rising.

Simmer for 6 to 24 hours, where simmer means the occasional bubble surfacing.