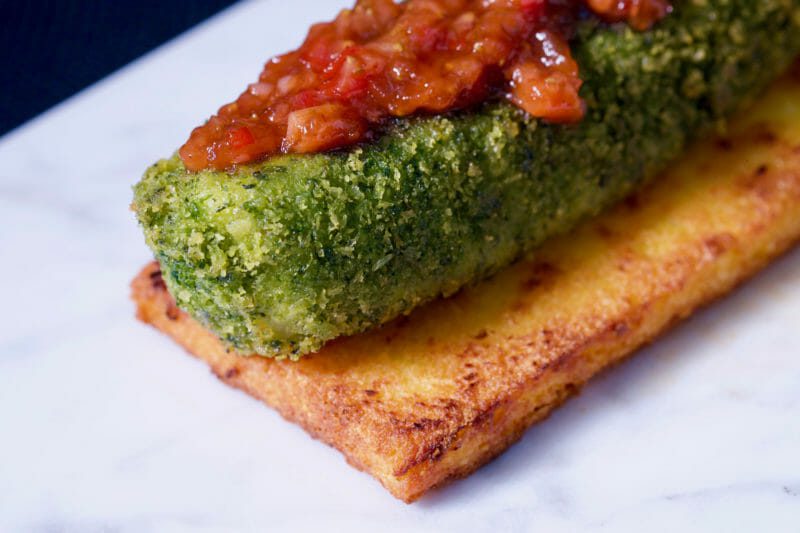 A delicious sweet and sour strawberry relish crowns a succulent herb and panko-crusted cod fillet. Supporting this wonderful combo is a slice of crispy grilled parmesan polenta.
This dish scales very well. Smaller portions make a great appetiser or tapas dish. Or, when combined with a salad or vegetables, it is substantial enough for a satisfying main course.
Herb and panko-crusted cod
Cod is just one of the preferred fish species for the herb and panko-crusted fish fillet. Sea bass and barramundi work just as well. Barramundi is, in fact, Asian sea bass caught around Australia. All of these species result in firm yet succulent fish fillets. You may, of course, substitute in any other fish that responds well to being crumbed or battered and fried. Orange roughy, snapper, basa, and snakehead come to mind in decreasing order of price.
Strawberry relish
The strawberry relish was divine. The leftovers adorned various meats and breads for days afterwards. The distinctive sweetness of ripe strawberries was cut by the acidity from the vinegar, resulting in a perfect sweet and sour balance, an ideal accompaniment for a piece of panko-crusted cod. It will last a week if kept covered in the refrigerator.
Grilled parmesan polenta
The volume of polenta this recipe makes is likely double what your will need for these grilled polenta slabs. I stored the unused portions in the freezer. It is ideal for these Baked Polenta Fries dish or the polenta croutons used in this Polenta Croutons and Tomato Salad.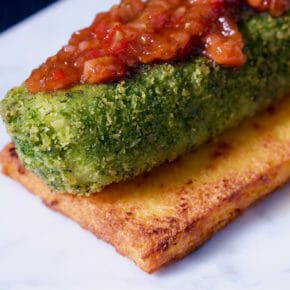 Herb and panko crusted cod on grilled polenta. Strawberry relish
A delicious sweet and sour strawberry relish sits atop a succulent herb and panko-crusted cod fillet. Supporting this wonderful combo is a slice of crispy grilled parmesan polenta.
Print Recipe
Ingredients
Parmesan polenta cake
1

cup

polenta

medium grind

5

cups

water

1

cup

parmesan cheese

finely grated

30

g

butter

1

Tbsp

extra virgin olive oil

1

tsp

salt
Herb crusted fillet
500

g

fish fillets for 4 people

1

cup

parsley heads

loosely packed stalks removed

1

cup

basil leaves

5

sprigs

thyme

1

cup

panko breadcrumbs

1

grated zest of a lime

or lemon

2

cloves

garlic

2

eggs

1

cup

all purpose flour

Oil for frying
Instructions
Strawberry relish
Coarsely chop the strawberries.

Finely chop the onion, garlic, and chilli.

Sauté the onion, garlic, and chilli in a little olive oil until soft.

Add the remaining ingredients and simmer until it reduces to a jam like consistency (approx. 45 minutes).
Parmesan polenta cake
Combine the water and polenta in a large bowl and allow to soak overnight.

Transfer the polenta and water to a saucepan and bring to a boil, stirring frequently.

Reduce to a medium-low heat and continue cooking for 30 minutes. Stir frequently. Use a spatula to scrap the sides and bottom of the saucepan.

Remove from the heat and whisk in the salt, olive oil, butter, and parmesan.

Spread out evenly into a flat low sided tray, cover with baking paper and press until evenly spread. Refrigerate for a few hours, until well set.

Turn the polenta out on to a cutting board, being careful to keep it intact.

Cut the polenta into pieces about 5×10 cm. Should more or less match the size of the fish fillets.

Heat oil in a skillet and fry the polenta cake until starting to brown. Same on the other side.
Herb crusted fillet
Add the parsley, basil, thyme leaves, panko breadcrumbs, garlic, and lemon zest to a food processor and pulse until combined and of a uniform green consistency.

Add the flour to one bowl, the two eggs lightly whisked to another, and the parsley breadcrumb mixture to a third.

Dust each fish fillet in flour, then in the whisked egg, then coat well with the green breadcrumbs. Set aside on a plate.

Cover the crumbed fillets with plastic wrap and store in the refrigerator until nearly ready to serve.

Heat the oil to a medium heat, about 180 degC. Not too hot, as we want to retain the green colour. Test a small piece of crumbed fish first to ensure the correct temperature. 

Shallow or deep fry the crumbed fillets in the oil until crispy but still green.

Drain on paper towels.