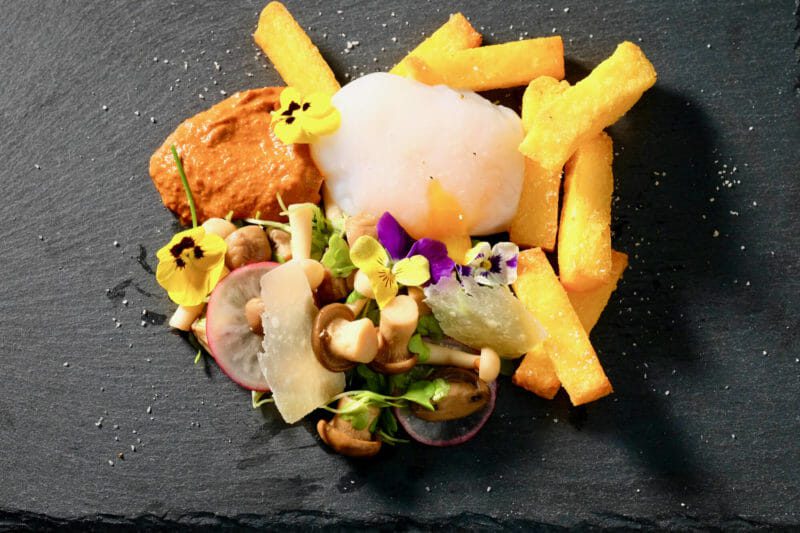 There is a diversity of flavours and textures here yet in a satisfying balance. Crisp and creamy baked polenta fries. Bright pickled mushroom salad. And then the soft boiled duck egg, which has its own delectable complexities.
This is one of those vegetarian dishes that will leave a non-vegetarian wondering why they feel they need to eat the flesh of animals. As good as it is, I remain a flexitarian. It is hard to beat slurping down a fresh oyster from the shell, topped with ponzu, a quail egg yolk, and a few drops of tabasco.
However, it would be much better for the environment, and our bodies, if eating meat and seafood was a special treat rather than a daily habit. Read the EAT-Lancet Commission on Food, Planet, Health report.
The romesco and baked polenta fries took some preparation. You can do this preparation ahead of time, and leftovers easily kept for next time. The mushroom salad and cooking the soft boiled duck egg to perfection was the focus before serving.
Notes on ingredients…
The pickled mushroom salad
The selection of mushrooms in (super)markets around the world varies widely. The three varieties I chose from the selection available to me worked very well. Adapt what you have available.
The mushrooms are pickled in a distinctly Asian pickling solution – rice vinegar, mirin, and soy sauce. It is fresh, bright, and layers on top of the flavours of the vegetables being pickled. This method adds brightness to the mushrooms while retaining their essence. I love that about Asian pickling techniques; it doesn't replace but retains the essence of what you are pickling.
The baked polenta fries
The baked polenta fries are certainly not of Asian origin. However, they have such great foundational textures and flavours that beautifully underpin the brightness of the pickled mushrooms. Not only that, they work great for scooping up the romesco and velvety poached duck egg yolks.
If you end up with more polenta than you need, this herb crumbed fillet on grilled parmesan polenta is worth exploring.
The romesco
There are so many variations on romesco sauce. The most common recipes use almonds and sherry vinegar. Substituting walnuts and balsamic vinegar give this version quite a distinctive flavour. The roasted peppers still dominate, of course. I love the earthy taste of walnuts and the elegance of balsamic vinegar. This romesco sauce worked very well for me and this dish.
And the soft boiled duck egg
A feature of this dish is, of course, the poached duck eggs. If you can buy fresh duck eggs, they have a wonderful richness of flavour. But if they are hard to get where you are, chicken eggs will be a very worthy substitute.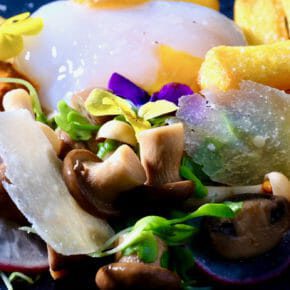 Baked polenta fries, soft boiled duck egg, and romesco
There is a diversity of flavours and textures here yet in a satisfying balance. Crisp and creamy baked polenta fries. Bright pickled mushroom salad. And then the soft boiled duck egg, which has its own delectable complexities.
Print Recipe
Ingredients
Pickled mushroom salad
200

g

button mushrooms

200

g

shimeji mushrooms

200

g

small king oyster mushrooms

eringii mushrooms

1/2

cup

rice wine vinegar

1/2

cup

light soy sauce

1/4

cup

raw sugar

1/4

cup

mirin

2

tsp

sesame oil

1

piece

fresh ginger

2 cm, thinly sliced

1

Tbsp

cooking oil

Salad greens – suggest a mixed leaf salad, spinach leaves, arugula, or miniature brassica
Polenta fries
1/2

cup

polenta

medium

2.5

cups

water

1/2

cup

parmesan cheese

finely grated

15

g

butter

1/2

Tbsp

extra virgin olive oil

1/2

tsp

sea salt
Romesco sauce
2

large red peppers

Olive oil for roasting the red peppers

2

Tbsp

tomato paste

1

head roasted garlic

2

tsp

smoked paprika

1/2

tsp

dried chilli

1/4

tsp

cayenne pepper

1

tsp

annatto powder

optional, more for the red colour than for taste

1/2

tsp

salt

1/2

cup

chopped walnuts

2

Tbsp

extra virgin olive oil

use truffle infused olive oil for an added dimension

2

Tbsp

balsamic vinegar

or sherry vinegar or red wine vinegar

Water as needed to thin to the desired consistency
Garnishes
shaved parmesan

finely sliced radishes
Instructions
Pickled mushroom salad
Wash or wipe any grit from the mushrooms then trim the stalks.

If the button mushrooms are bigger than bite size, halve or quarter to get bite sized pieces.

To a hot pan, add the cooking oil, then a portion of the mushrooms. Don't crowd the pan, otherwise they will steam rather than sear.

Sauté until starting to brown, then repeat for the remains mushrooms (perhaps 2 or 3 batches depending on your pan)

Put the rice vinegar, soy sauce, mirin, sesame oil, sugar, and ginger into a saucepan and put over medium heat.

Heat and stir until the sugar has dissolved. Remove from the heat just before it comes to a boil.

Put the mushrooms into a suitably sized glass or ceramic container, then pour over the pickling solution.

Leave for at least 2 hours, or store in the refrigerator once cool.

Will keep in the refrigerator for up to a week.

Drain and discard the liquid before serving.
Polenta fries
Combine the water and cornmeal in a large bowl and allow to soak overnight.

Transfer the polenta and water to a saucepan and bring to a boil, stirring frequently.

Reduce to a medium-low heat and continue cooking for 30 minutes. Stir frequently. Use a spatula to scrap the sides and bottom of the saucepan.

Remove from the heat and whisk in the salt, olive oil, butter, and parmesan.

Spread out evenly into a flat low sided tray. It should be 10-15mm thick.

Cover with plastic wrap, and refrigerate for a few hours, until well set.

Turn the polenta out on to a cutting board, being careful to keep it intact.

Cut the polenta into chip sized pieces.

Preheat the oven to 220 degC.

Place the chips on a baking tray lined with baking paper. Use a pastry brush to brush them with olive oil.

Arrange them in a single layer on the baking sheet, sprinkle with a little flaky salt.

Bake in the oven for 45 minutes, or until golden and crispy.
Romesco sauce
Pre-heat the oven to 180 degC.

Halve the red pepper(s) and remove stem, pips, and pith. Smear with olive oil.

Roast the peppers and garlic for 1 hour.

Transfer the peppers to a bowl, cover with plastic wrap and allow to cool.

Remove the skin from the peppers.

Squeeze the garlic out of the garlic heads.

Toast the walnuts in a dry pan until starting to brown (2 or 3 minutes).

Combine all ingredients in a food processor and process until smooth.
Poached duck egg
Cook the duck eggs with an immersion circulator (sous vide) at 63 degC for 60 minutes.

Alternatively, if you don't have a sous vide setup, cook the eggs at 75 degC for 13 minutes. Use a digital thermometer and be careful to keep the water as close as possible to 75 degC. The margins of error with this method are so much less than with sous vide. It would pay to do a test or two first.

Plunge the eggs into some ice water to stop the cooking.

Carefully crack and peel the shell from the wider end of the end, until you have a hole big enough to "pour" the egg into a bowl ready for plating.
Plating
Toss together drained pickled mushrooms and salad greens.

On the plate, top the mushroom salad with a few pieces of shaved parmesan and radish.

Add the polenta chips and duck egg to the plate.

Sprinkle a little salt, mostly on the egg.

Serve the romesco in a sauce bowl or directly on the plate adjacent to the polenta chips.