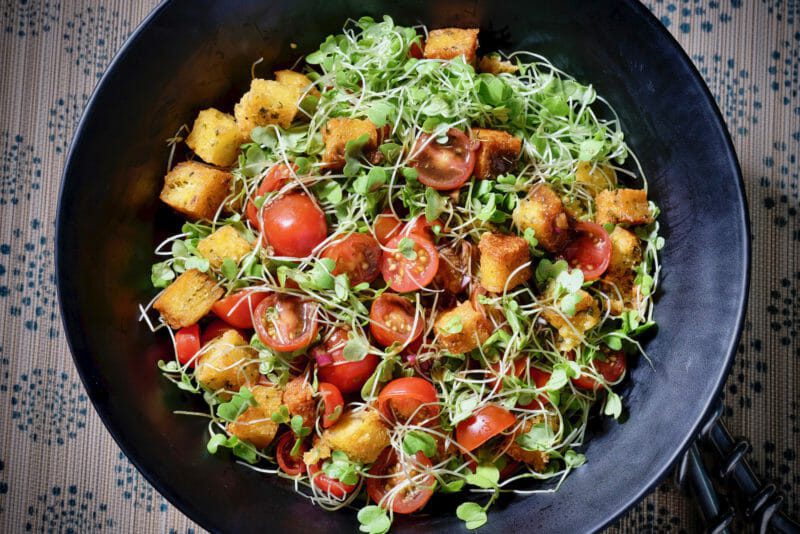 The sweet and juicy cherry tomatoes perfectly complement the polenta croutons with their crunchy exterior and creamy centre. A balsamic vinaigrette brings a touch of acidity to draw everything together.
Polenta and polenta croutons
While having its origins in Italy, polenta is such a versatile ingredient that it is right at home in many situations. Together with the parmesan cheese, it makes a perfect pairing with the sweet cherry tomatoes in this polenta crouton and tomato salad recipe.
Polenta is very easy to make. With the quantities given, you will likely end up with more than you need. No problem. Here are a few other delectabilia recipes that feature polenta. These croutons started in the batch prepared for this herbed parmesan polenta.
Polenta responds very well to being crisped up on the outside. As with the polenta croutons, these polenta chips and this grilled slab of polenta all feature a satisfyingly crisp surface encasing a creamy centre.

A worthy dressing
The croutons' creaminess and the tomatoes' sweetness calls for a little acid to integrate the flavours. A balsamic based vinaigrette is the perfect fit for this salad. It adds complexity to the creamy but neutral polenta croutons. And tomatoes and balsamic vinegar are one of those exceptional combinations that transcend the recipe in which it is used.
Use an excellent balsamic vinegar. Perhaps a traditional balsamic would be overkill for a vinaigrette, but do avoid imitation balsamic. For guidance in purchasing balsamic vinegar, see this handy Serious Eats guide.
And as the quality of the balsamic is essential, so is the extra virgin olive oil. Unfortunately, there is some cheap olive oil around that is masquerading as extra virgin. Again, Serious Eats comes to the rescue with its guide.
The green stuff
Those who stopped to look at the photography will have noticed the green vegetable, miniature brassica. This is a sprout-like vegetable from the cabbage and mustard family. It makes a great looking and great tasting salad accompaniment. I searched for more information and found that Dalat in Vietnam is one of the few places in the world that produce miniature brassica. Sounds like a business opportunity.
If I didn't have it available, I would use radish sprouts or baby spinach.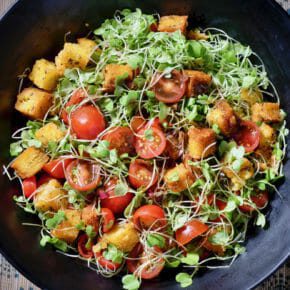 Polenta Crouton and Tomato Salad. Balsamic Vinaigrette
The sweet and juicy cherry tomatoes perfectly complement the polenta croutons with their crunchy exterior and creamy centre. A balsamic vinaigrette brings a touch of acidity to draw everything together.
Print Recipe
Ingredients
Polenta croutons
1

cup

polenta

medium grind

5

cups

water

1

cup

parmesan cheese

finely grated

30

g

butter

1

Tbsp

extra virgin olive oil

1

tsp

salt

1/2

cup

parsley

finely diced
Balsamic vinaigrette
1/2

cup

extra virgin olive oil

1/4

cup

balsamic vinegar

1

Tbsp

honey

1

tsp

dijon mustard

2

cloves

garlic

crushed

2

shallots

very finely diced

1/2

tsp

dried thyme

1/2

tsp

salt

1

tsp

pepper
Other ingredients
Cherry tomatoes

Miniature brassica

or some sort of sprouts like radish sprouts
Instructions
Polenta croutons
Combine the water and cornmeal in a large bowl and allow to soak overnight.

Transfer the polenta and water to a saucepan and bring to a boil, stirring frequently.

Reduce to a medium-low heat and continue cooking for 30 minutes. Stir frequently. Use a spatula to scrap the sides and bottom of the saucepan.

Remove from the heat and whisk in the salt, olive oil, butter, parmesan, and herbs.

Spread out evenly into a flat low sided tray, cover with plastic wrap, and refrigerate for a few hours, until well set.

Turn the polenta out on to a cutting board, being careful to keep it intact.

Cut the polenta into small squares. 10 mm square will work well.

Heat oil in a skillet and fry the polenta croutons until starting to brown. Turn until golden on all sides.

Drain on paper towels.
Balsamic vinaigrette
Put all the ingredients in a jar.

Put the lid on the jar and shake vigorously until well combined.

Keep in the refrigerator until required, and give a good shake before using.
Assembly
Halve the cherry tomatoes

Toss together the polenta croutons, cherry tomatoes, and baby leaves of choice.

Drizzle over some balsamic vinaigrette.