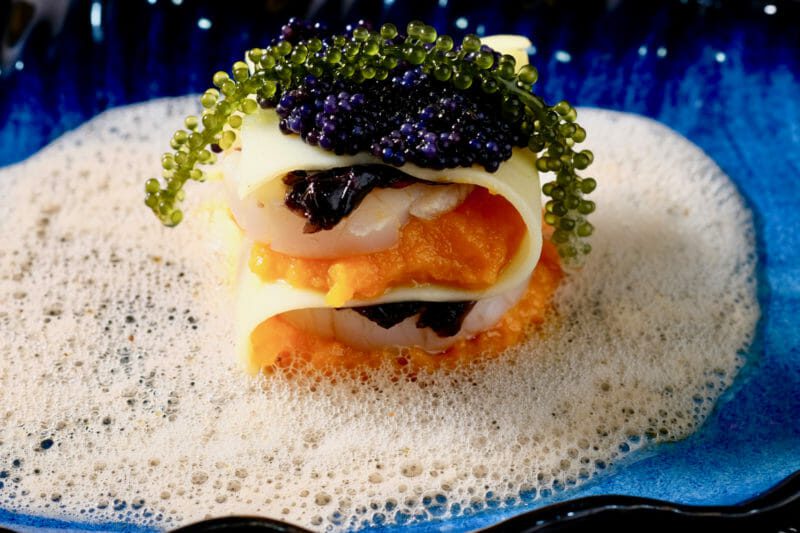 With its pickled seaweed, caviar, and dashi foam, this mini lasagna looked and tasted like you really were next to the ocean. A seafood lasagna with more of an ocean connection than most.
Dashi foam
Foams are very "haute cuisine" and are usually more for looks and effect than taste or texture. Some even say foams are a passé. I was never one for fashion. If it works, it works. And here, the foam goes perfectly, visuals and taste, with the ocean theme of this mini seafood lasagna.
While this seafood lasagna dish required some preparation (including sourcing soy lecithin), it was easy to put together. This is an important consideration for an appetiser that is part of a multi-course home-cooked meal. Everything can be prepared ahead of time, except the foam. The plating can all come together very quickly.
After earlier experimentation with instant dashi powder to create the dashi, I do recommend making your own dashi from scratch – using kombu and katsuobushi. Of course, if you cannot find those ingredients, instant dashi does work too.
I managed to find a source of soy lecithin (a health supplement shop). This worked well for me in this mini lasagna. It is not essential, though. A drizzle of soy sauce diluted with some dashi works very well too.
Constructing the mini lasagna
The lasagna noodles themselves need to be cooked just right. If overcooked, it will likely break apart as you try to build the mini lasagna. If undercooked, it will be quite an unpleasant heavy texture in this otherwise light dish.
Caviar? It seemed authentic and tasted divine, as you would expect caviar to taste. Yet it was quite good value. So maybe it wasn't real. Feel free to substitute with another type of fish roe. Black tobiko would work well.
Pickled seaweed is so delicious and so easy to make. Amazon has a range of different wakame offerings, but try this one from New Zealand if it is in stock.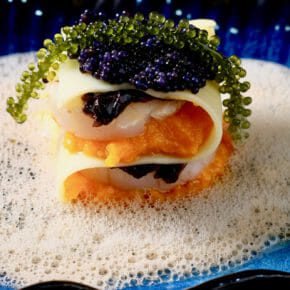 Ocean mini-lasagna with scallop, pickled seaweed, caviar, and dashi foam
With its pickled seaweed, caviar, and dashi foam, this mini lasagna looked and tasted like you really were next to the ocean. Truly an ocean-themed seafood lasagna. And it did what an appetiser is supposed to do – excite the palate – and appetite – ready for the next course.
Print Recipe
Ingredients
Pickled seaweed
1

tsp

raw sugar

1/4

tsp

sea salt

1/4

cup

boiling water

1/4

cup

rice vinegar
Carrot puree
1

medium carrot

pinch of salt
Lasagna noodle
6

lasagna noodles

should be as wide as a scallop, and 4 times as long

250

ml

dashi

A niban dashi will be appropriate here, or even a dashi made from dashi powder

1

Tbsp

grape-seed oil
Dashi foam
250

ml

dashi

Use the dashi you cooked the lasagna noodles in

3

g

soy lecithin

Get from a health supplement shop
Other ingredients
6

large scallops

1

Tbsp

cooking oil

6

tsp

caviar

6

pieces

sea grapes

1

tsp

salt
Instructions
Pickled seaweed
Add the sugar and boiling water to a bowl and stir well until the sugar dissolves.

Add the vinegar and pinch of salt to the bowl and stir.

Add the dried seaweed, stir, and allow to sit for at least one hour.

Drain the pickling liquid from the seaweed before use.
Lasagna noodle and carrot puree
Soak the lasagna sheets in the dashi for 2 hours or until needed.

Cut the lasagna sheets to the desired size (about 4cm by 16cm)

Bring the lasagna sheets and dashi to a boil. Cook until al dente, 3 minutes or so. Drain and carefully toss with the grape-seed oil to prevent sticking and to add a nice sheen.

Coarsely chop the carrot and poach in the dashi until soft.

Remove the carrot from the dashi. Mash or puree and set aside.
Scallops
Sear the scallops quickly on both sides, 1.5 minutes per side.

Cut the scallops through the middle, so it looks like we have two shorter (less thick) scallops.
Dashi foam
After cooking the lasagna and carrot, add the soy lecithin to the dashi in a high sided container.

Use an immersion blender to blend this mixture until a foam forms.
Plating
Lay a lasagna sheet on a plate. Smear a little carrot puree at one end.

Add a scallop half on top of the carrot, seared side up.

Spoon some pickled seaweed on to the scallop. You will need to do this 12 times (6 servings), so only add enough seaweed and carrot so that you do not run out later.

Fold the lasagna over the scallop and add some more carrot puree and the other half scallop, seared side up.

Again, spoon some pickled seaweed on to the scallop.

Bring the final length of lasagna over the top of the scallop.

Add a tsp of caviar and a piece of sea grape to the top.

Spoon some dashi foam around the lasagna.