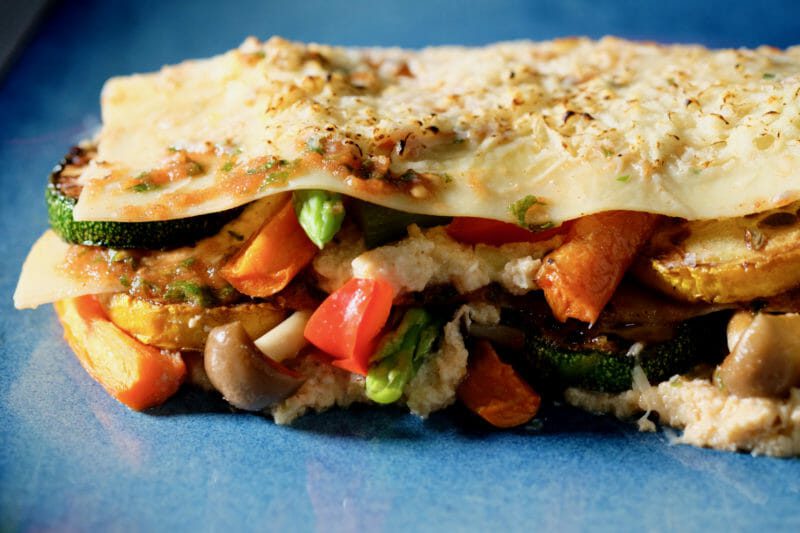 This vegetarian mini lasagna is light, airy, and full of exciting and unexpected tastes and textures, including roasted vegetables, fresh tomato sauce, and creamy ricotta.
Lasagna is the name of one of the oldest and best-known pasta shapes. It is usually rectangular or ribbon-shaped, thicker than tagliatelle, made from a dough based on flour and eggs, with numerous local variants. After being boiled, the rectangular lasagna noodles are drained and placed in layers. Between these layers is a filling that varies based on different local traditions. 

LA CUCINA ITALIANA
A loosely constructed mini lasagna?
This lasagna is not traditional. Also, it would be incorrect to describe it as "deconstructed". "Loosely constructed" is a better description. However, it does have a few things in common with classic lasagna. The lasagna noodles still separate layers of ingredients. And, there is a tomato-based sauce and a creamy, cheesy sauce.
The fillings
This vegetarian mini lasagna combines fresh (just cooked) tastes and sweeter, more complex notes of seared and slow-roasted vegetables. To top it all off, sprinkle with grated cheese. Grated Parmesan works very well.
Make the creamy sauce by mashing together cauliflower and ricotta cheese. Fresh tomatoes and parsley are combined for the tomato sauce. There are a variety of veggies: some roasted, some seared in a skillet. I blanch the asparagus spears for a minute or two in salted water to intensify their colour and highlight their flavour while ensuring they stay crisp to the bite. 
Other no-meat pasta recipes on delectabilia that you must try include this cannelloni with blue cheese sauce and this fusilli in tomato sauce. Also, this pan-fried ricotta gnocchi is divine.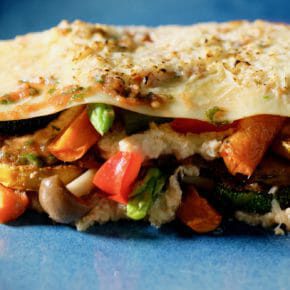 Loosely constructed vegetarian mini lasagna
This vegetarian mini lasagna is light, airy, and full of exciting and unexpected tastes and textures, including roasted vegetables, fresh tomato sauce, and creamy ricotta.
Print Recipe
Ingredients
300

g

baby carrots

1

green and 1 yellow zucchini

2

red peppers

250

g

ricotta cheese

1

medium head of cauliflower

1

bunch asparagus

1

tsp

smoked paprika

200

g

mushrooms

3

large tomatoes

or equivalent in smaller tomatoes. The redder the better

1/2

cup

finely chopped parsley

1

tsp

salt

1

tsp

freshly ground black pepper

8

sheets lasagna pasta

around 150 sq cm per sheet

1

cup

finely grated parmesan
Instructions
*To prepare
Pre heat the oven to 200 degC.

Halve and trim the red peppers.

Clean and trim the carrots.

Lay the peppers and carrots on a baking tray, drizzle with oil, and roast for 30 minutes. Set aside to cool.

Bring a medium pot of water to the boil and add 1 tsp salt.

Blanch the asparagus in the boiling water fro 3 minutes, then refresh under cold water to halt cooking and set aside.

Boil the lasagna sheets in salted water until al dente. Plunge into cold water then drain. Set aside.

Trim the cauliflower and coarsely chop.

Boil the cauliflower in salted water until soft.

Drain the cauliflower and return to the hot pot and let sit until it cools.

Clean and trim the mushrooms.

Stir fry the mushrooms until starting to brown. Set aside.

Clean and slice the zucchinis.

Smear some olive oil in a frying pan and bring to a high heat.

Sear the zucchini rounds until starting to brown. Set aside.

Remove the tomato skins by plunging the tomatoes into boiling water until the skins peel off easily.

Remove the core, pulp, and pips from the tomatoes.

Use a food processor or blender to combine the tomato flesh, parsley, salt, and pepper.

When the cauliflower has cooled, mash well, then fold in the ricotta cheese and paprika. Set aside.

Slice the red peppers into strips. Same with the carrots, unless they were quite small in the first place.

Drain the lasagna sheets and coat with the tomato parsley mix.
*To assemble
Smear a an 8th of the cauliflower ricotta on each plate.

Add a layer of the vegetables – peppers, mushrooms, zucchinis, asparagus, carrots.

Add a layer of lasagna sheets smothered in the fresh tomato and parsley mix.

Repeat.

Sprinkle with parmesan cheese.

Before serving, microwave each plate for 2 minutes.

Grill under a hot grill, or a flame, until the parmesan is melted and browning.