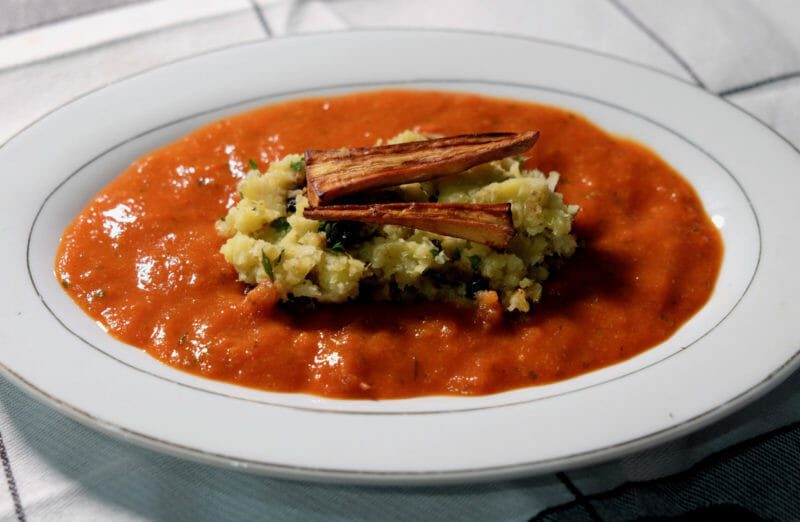 The chilled tomato soup is delightful on its own, but paired with the warm sweet potato and cauliflower mash… the taste/texture/temperature sensation is divine.
Rather than monolithic, homogeneous dishes,  my preference tends to dishes which contain ingredients which both complement and contrast each other. This chilled tomato soup with sweet potato and cauliflower mash has cold-warm, acidic-neutral, and velvety-crispy. And the one constant… it is very healthy!
The sweet potato and cauliflower mash is a healthy replacement for a potato mash. Potato is not as interesting or healthy, but it does work well in this dish if that is your preference or that is what you have available. If you are not a fan of cauliflower, all the more reason to try it. Cauliflower is an amazingly versatile vegetable. This crumbed cauliflower recipe is a great example of its versatility.
There is a whole head of garlic in this chilled tomato soup with sweet potato and cauliflower mash. Don't let that put you off if you are not a garlic lover. It is roasted in foil for an hour which transforms the raw garlic into something quite sweet and subtle. Give it a try. Garlic is so good for you.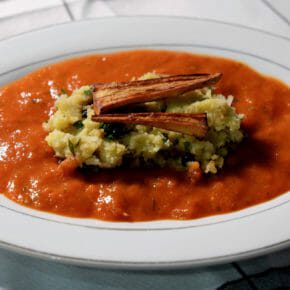 Sweet potato and cauliflower mash with a chilled tomato and parsley puree topped with crispy parsnip
Print Recipe
Ingredients
For the tomato puree
3

large tomatoes

1

large red pepper

1/2

lemon

juiced

1/2

tsp

salt

5 – 8

cloves

roasted garlic

About 1/2 the head of garlic we roasted

1

tsp

freshly ground black pepper

1/4

cup

parsley

stalks removed and finely chopped
For the sweet potato and cauliflower mash
2

medium sweet potatos

1

head of cauliflower

10

g

butter

5 – 8

cloves

roasted garlic

the other half of the head of the roasted garlic

1/4

cup

parsley

2

parsnips

for the parsnip spears
Instructions
Wrap the head of garlic in foil, together with a little olive oil, salt and pepper. Wash, halve and trim the red peppers. Smear with olive oil. Roast both for 60 minutes at 200 deg C.
Tomato puree
Pour boiling water over tomatoes and let them sit for 15 minutes

Remove any burnt skin from the roasted peppers

Drain the tomatoes, remove the skins and hard stalk from the centre.

Add lemon juice.

Squeeze the roasted garlic from the skins and add 1/2 to the tomato mixture. Retain the other half for the mash.

Puree all with an immersion blender. Add a little water to make it more soup like if necessary

Add salt and pepper to taste, and 1/2 cup of finely chopped parsley. Refrigerate for at least 1 hour.
Sweet potato and cauliflower mash
Boil sweet potato and cauliflower, adding 1/2 tsp salt to the water

Allow sweet potato and cauliflower to cool a bit then mash together with the butter and other half of the roast head of garlic.

Keep warm in a 130 degC oven, or reheat later.

Just before serving, gently stir in the other half cup of finely chopped parsley.
Parsnips
Fry parsnip spears in oil until brown and crispy. Drain.
Notes
Reheat mash and gently stir in parsley and garlic mixture.
Spoon mash into the middle of the plate.
Pour chilled tomato soup around the mash.
Top with the crispy parsnips.