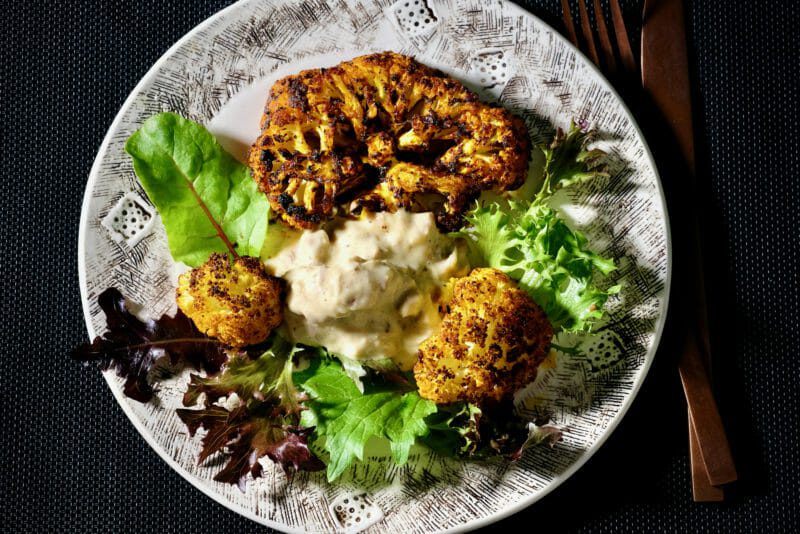 Canned seafood is considered a delicacy on the Iberian Peninsula. While the spicy roasted cauliflower visually dominates this dish, the canned mackerel in aioli adds great depth and balance.
This recipe has two distinct origins. A Yotam Ottolenghi Masterclass triggered the idea for the spicy roasted cauliflower. An article on Culinary Backstreets intrigued me to experiment with canned fish or conservas in Spanish. These two threads merged in my mind at some point, and here we are.
Canned Mackerel in Aioli
canning is a way to capture the catch at its peak—a tinned time capsule of unparalleled flavour and nutrients.

The Case for Conservas: A Guide to Iberian Canned Fish and Seafood
I have long appreciated canned sardines and mackerel, despite my doctor's warning about salt intake. Just as roast pork is a popular alternative filling for bánh mì, the ubiquitous Vietnamese baguette (see crispy roast pork belly in a baguette), canned fish in tomato sauce is also a popular option. Spot the small cans of mackerel at this street-side bánh mì stand.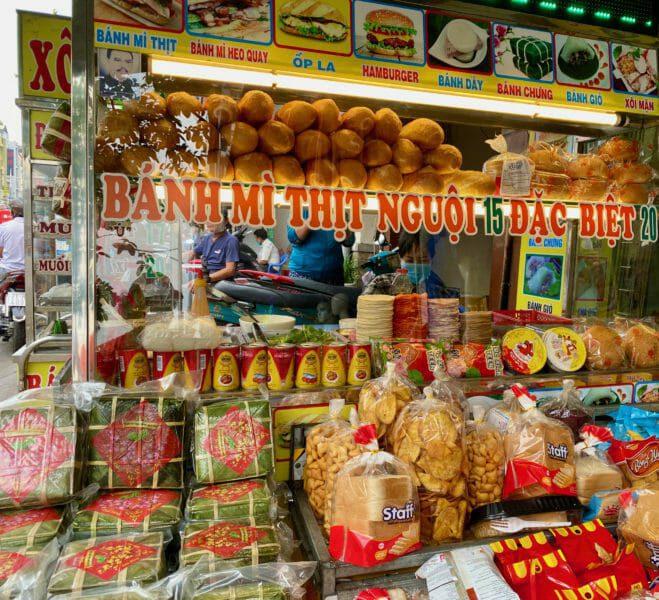 Apart from in bánh mì, conservas are great together with focaccia bread. After reading the Culinary Backstreets article, I found another great resource on canned fish by Serious Eats. This omega-3 rich canned fish delicacy deserved to be more than a sandwich spread. Complementing the canned mackerel with aioli was the first step towards the solution I was seeking. This garlic flavoured relative of mayonnaise will highlight the mackerel and the roasted cauliflower, becoming a bridge between these two components. It is not hard to make. However, it is easier to watch how to make it rather than read about it. Linked in the recipe below is a helpful video.
Finding Conservas
You will be able to find aisle's full of canned sardines, mackerel, salmon, and tuna at your local supermarket. However, we are looking for the real thing from the Iberian Peninsula (Spain or Portugal). Canned fish from Italy and Greece can also be excellent. Striking out at my local supermarket, I found what I was looking for at a gourmet market. If sources such as these don't work for you, try Amazon.
These mackerel fillets, packed in a mustard sauce, were delicious on a piece of sourdough bread. I was quickly back to buy more for this dish. The mustard sauce that coated the fillets worked very well with both the aioli and the roasted cauliflower. But the mustard component is by no means essential to this recipe. Mackerel fillets packed in tomato sauce or olive oil would work equally as well. If you can't get mackerel, use canned sardines. They, too, have a great taste but not so much of the texture that mackerel has.
Roasted Cauliflower
When roasting cauliflower, it undergoes an interesting transformation, becoming something quite different from its boiled version, as used in this cauliflower purée. Roasting accentuates cauliflower's nutty flavour while retaining that creamy mouthfeel.
A paste made of turmeric, smoked paprika, chilli flakes, garlic, and olive oil is brushed over the cauliflower before it is roasted. This paste enhances the natural flavours, adding earthy and smoky characters to the cauliflower's nuttiness. The Maillard reaction from the roasting process then adds its share of flavour. Your fellow diners will be amazed at how incredibly flavourful the humble cauliflower can be.
Aioli, like mayonnaise, is intended to draw attention to the flavours of whatever it accompanies. And so it does here. That garlicky creaminess complements and enhances the cauliflower, as it does that succulent and delicious canned fish.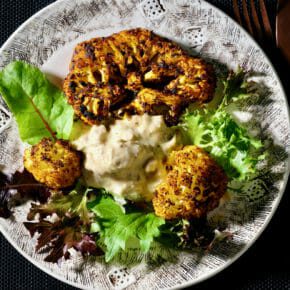 Spicy Roasted Cauliflower with Canned Mackerel in Aioli
Canned seafood is considered a delicacy on the Iberian Peninsula. While the spicy roasted cauliflower visually dominates this dish, the canned mackerel in aioli adds depth and balance.
Print Recipe
Ingredients
Roasted cauliflower
1

Tbsp

turmeric

1

Tbsp

smoked paprika

1

tsp

chilli flakes

5

cloves

garlic, crushed

1/2

tsp

salt

1/4

cup

olive oil

1

large head of cauliflower

or 2 small heads
Canned Mackerel Aioli
1

egg yolk

2

cloves

garlic, crushed

1/2

Tbsp

Dijon mustard

Juice from 1/2 a lemon or lime

100

ml

extra virgin olive oil

100

ml

grape seed oil

or other neutral oil

200

g

canned Mackerel

1/4

tsp

salt

you may not need any salt at all as the canned mackerel will be well seasoned

1/2

tsp

freshly ground black pepper
Instructions
Roasted cauliflower
Preheat the oven to 200 degC.

Combine all the ingredients except the cauliflower.

Trim the leaves and base from the cauliflower.

Cut through the top to the base to make 4 "steaks", each 15-20 mm thick.

Brush the steaks with the sauce and place on a baking tray.

Roast for 10-15 minutes per side, or until starting to char.
Canned Mackerel Aioli
Make the aioli according to this video…

Break up the mackerel a bit and combine with 2 or 3 Tbsp of the aioli.