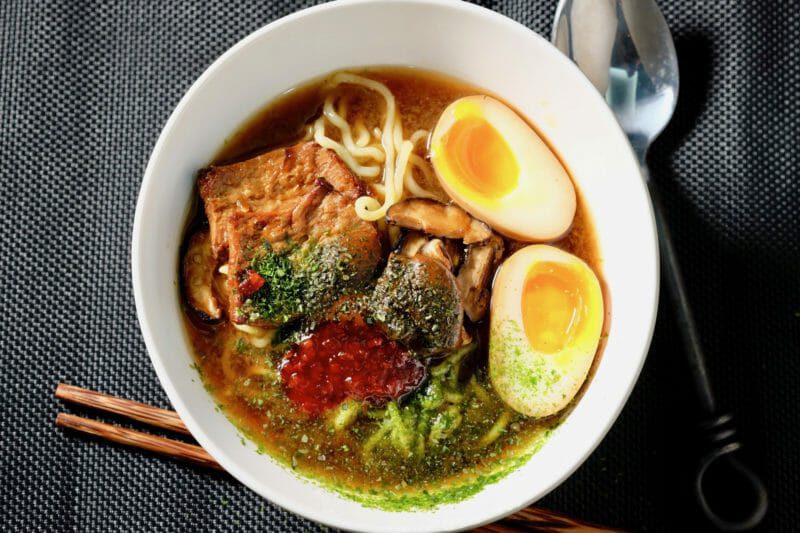 I love the diversity of ramen. There are styles but few rules. In keeping with that diversity, I wanted to create vegetarian miso ramen the equal of its flesh-and-bone based counterparts.
I have my ramen preferences. We are lucky to have an IPPUDO restaurant not far away. Their Akamaru ramen is wonderful. It is a miso style ramen served with a burnt garlic sauce and chilli sauce. Ramen recipes that have made it on to delectabilia are also something special. This ramen with a taste of the ocean is unusual yet so delicious. Also unusual, but for very different reasons, is this Saigon Miso Ramen, with toppings inspired by some of Saigon's most iconic street food.
This vegetarian miso ramen follows the shoyu style – a flavorful yet clean-tasting broth seasoned with soy sauce. While I love the tonkotsu style ramen, it is very rich, as you would expect from boiling pork bones for 12 hours or longer. For a vegetarian tonkotsu style ramen, Nami presents a great recipe using soy milk to develop the richness.
Fast Food?
Ramen is sometimes considered a "fast food". It is indeed served fast and is usually eaten fast in Japan. But the preparation time and technique is significant. A good bowl of ramen is as intensely satisfying as a good bowl of phở or a good bowl of laksa. As with nearly all amazing culinary experiences, it's all in the preparation. The "nearly" is inspired by childhood experiences at Castlepoint – eating raw sea urchin collected from the rocks – or simmering paua in their shells with a little butter over a fire on the beach.
Truffle and Black Garlic
A truffle and black garlic drizzle is an important part of this vegetarian miso ramen. I love the flavour of both truffles and black garlic. While they appear regularly in ingredients lists on delectabilia, do they have a place in a ramen dish? Absolutely. The world's first Michelin starred ramen restaurant, Tsuta in Tokyo, uses truffle and truffle oil. Btw, Tsuta now has an outlet in Singapore. And the Tsuta instant ramen, available from 7-Eleven in Japan or here, is truly superb for instant ramen. The truffle flavour is still evident, even in this instant ramen version.
Not so fast preparation
As noted above, ramen requires some preparation – specifically preparing the eggs and the dashi preparation of soaking the kombu and shiitake mushrooms. While you can fast track the dashi preparation (heat the kombu and shiitake mushrooms at 60 degC for one hour), marinating the eggs cannot be fast-tracked. You really need to marinate the eggs for at least 24 hours, or preferably 48 hours. They are so delicious.
Recreating the indulgence
Ramen traditionally comes with chashu pork. It is an indulgence, that tasty, tender, fatty piece of pork. How do we recreate that indulgence in a tasty bowl of vegetarian miso ramen? The answer is abura-age, a tofu-based ingredient marinated in the same chashu seasonings, then crisped under a flame or broiler.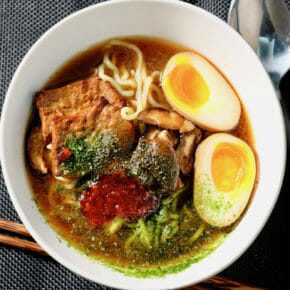 Vegetarian Red Miso Ramen
I love the diversity of ramen. There are styles, but few rules. In keeping with that diversity, I wanted to create a vegetarian ramen the equal of its flesh and bone based counterparts.
Print Recipe
Instructions
Ramen broth
To create the dashi, in a large bowl or saucepan, add the 8 cups of water, kombu, and dried mushrooms.

Allow to soak overnight.

Wash/scrub and dice the onion, ginger, celery, daikon, and carrots. No need to remove the skins or peel.

Rinse the head of garlic and halve through the middle.

In a large saucepan, stir fry the onion, ginger, and celery until starting to brown.

Add the dashi and corn to the saucepan and heat over a medium heat until it reaches a simmer.

Remove the kombu and discard.

Maintain a simmer for 1.5 to 2 hours.

Strain the broth to remove the solids.

Strain the broth again through muslin or coffee filters to get a very clear broth.

In a bowl, stir together the soy sauce, mirin, and miso until well combined.

Before serving, reheat the broth, add the soy miso mixture and stir.
Topping: Tofu chashu (Tàu Hủ Xá Xíu)
Soak the Abura-age for a few hours until well rehydrated.

Drain and press between paper towels to remove any remaining water.

Whisk together all the remaining ingredients.

Smother the tofu slices with the marinade and lay in a baking dish.

Cover and set aside for an hour or preferably a few hours.

Before serving, use a blow torch to sear the marinated tofu until the marinade caramelizes. Alternatively, roast in an oven until the marinade caramelizes.
Topping: Black garlic and truffle drizzle
Blend together the black garlic cloves, sesame oil, and truffle oil. Alternatively, mash the garlic and whisk together with the oil.
Topping: Ajitsuke Tamago (soft boiled and marinated eggs)
Combine all the ingredients except the eggs and stir until the sugar is dissolved.

Bring a medium saucepan full of water to a boil then reduce to a simmer.

Lower the eggs into the water and cook for 6 minutes. Turn the eggs occasionally in the first minute to help the yolks be centered.

Transfer the eggs to an ice bath to halt the cooking.

Carefully peel the eggs.

Put the eggs and soy marinade into a zip-lock plastic bag, remove any air, and seal.

Store in the refrigerator overnight, moving occasionally to ensure even coverage of the marinade.

Drain after 24-48 hours and discard the marinade. Store in the refrigerator until needed.
Shiitake mushroom slices
Rinse and dry the fresh shiitake mushrooms.

Remove the stems, then slice into 2mm thick pieces.

Sauté the shiitake slices in butter until starting to brown.

Drain on paper towels.
Final assembly
Cook the ramen noodles according to the instructions on the packet (usually 2 – 3 minutes for fresh noodles)

Divide the noodles up into 5 bowls (about 100 g each).

Pour over the hot broth, about 300 ml per bowl.

Top with tofu chashu, halved marinated eggs, shiitake mushroom slices, black garlic and truffle drizzle, diced spring onions, a tsp of chilli jam (if using), and a sprinkle of nori flakes.