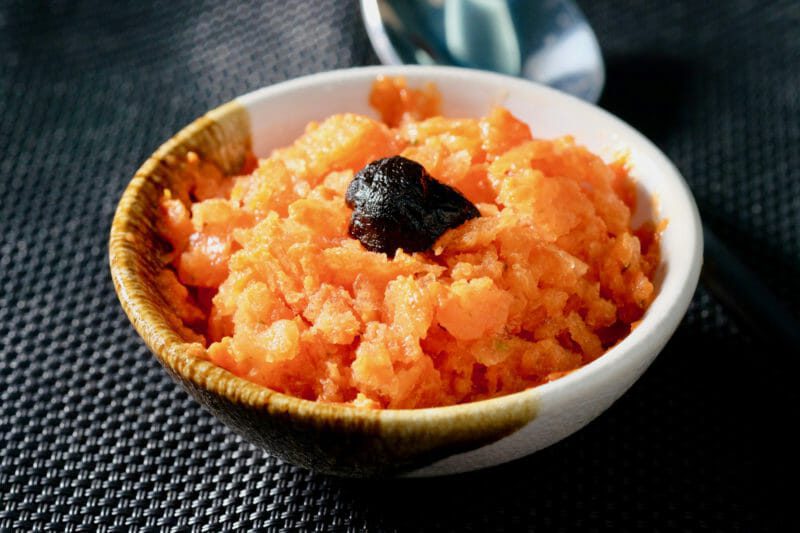 Gazpacho sorbet works very well as a palate cleanser, clearing away any lingering flavours and mouthfeel from the previous course. And then energizing the palate for the next course.
An article in The Guardian summarises gazpachos heritage :
The gazpacho is a classic of the genre: refreshing, and full of ripe, summery flavours. Lindsey Bareham's description of it as 'a salad soup' in A Celebration of Soup is absolutely spot on. It is, essentially, an Andalusian peasant dish designed to stretch cheap ingredients to their absolute limit. Early recipes call only for a mixture of bread, olive oil, garlic, and water. Tomatoes and peppers, imports from the New World, came much later to the party.

The Guardian
Transforming that 'salad soup' into a sorbet with an ice cream maker resulted in quite a different dish. This will be a perfect palate cleanser, such as one would use in a multi-course meal. Normally such a palate cleanser would be served after the main course, before the dessert.
There is one ingredient in this gazpacho that is not standard but is particularly appropriate for a sorbet. That is the gin. It works just as well here as it does in this cucumber fennel sorbet.
This gazpacho sorbet was originally conceived as a topping for this faux gras. It worked very well, setting up a great taste and temperature contrast. Or, try a teaspoon of the gazpacho sorbet on a rice cracker with an anchovy fillet. Top with a piece of black garlic. A memorable hors d'oeuvre.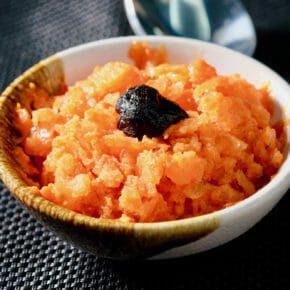 Gazpacho sorbet
Print Recipe
Ingredients
4

ripe tomatoes

1

medium red pepper

2

tsp

Tabasco

or similar fermented hot sauce like Kaitaia Fire from New Zealand

1

medium cucumber

4

cloves

garlic

peeled

1/2

tsp

salt

4

shallots

peeled and diced

1

Tbsp

sherry vinegar

1

Tbsp

gin

Hendricks preferred as it works together with the cucumber.

2

tsp

sugar

2

Tbsp

extra virgin olive oil

5

large cloves black garlic

halved (or 10 small ones)
Instructions
Blend all ingredients until smooth.

Chill in the refrigerator for 3 to 4 hours.

Put in the ice cream maker and process according to the manufacturers instructions until thick and icy.

Transfer to a plastic container (flat, with a lid) and store in the freezer for 6 hours or preferably overnight.
Notes
Serve in a small bowl, topped with a piece of black garlic