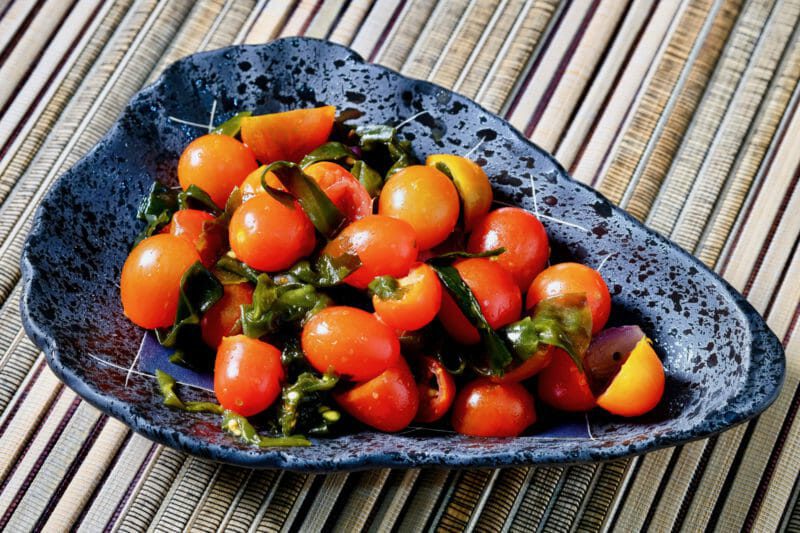 This salad sparkles. Cherry tomatoes have a wonderful sweet acidity of their own, enhanced here by the ginger juice and rice vinegar. Layer in umami and seasoning from the wakame seaweed and soy sauce, and you have a cherry tomato and wakame salad that stands on its own or would complement a robust main dish.
While so simple to make, this salad packs such a punch in terms of its own flavour, as well as how it complements a full-flavoured main dish. Umami from the seaweed and soy sauce enhance the flavours of what you are serving it with.
A few points on wakame salad ingredients worth noting…
Wakame is a seaweed widely available in dried form. It is what you get in typical miso soups at Japanese restaurants. It is also featured here in this seafood lasagna.
Japanese style rice vinegar is mild and mellow, perfect for this salad. Should you not find such a vinegar, best substitute it with white wine vinegar, diluted 50-50. A white vinegar or apple cider vinegar could easily over-power the flavours in this dish.
Soy sauce is ubiquitous. But there is mass-produced soy sauce, and there is soy sauce that has had the same level of attention over years of production as a good wine or sake. If you have Netflix, watch Fat Salt Acid Heat, or buy the book. In episode 2, you will see an example of the true art of creating soy sauce. My point here is, buy the best soy sauce you can. It does make a difference.
And finally, a note on the ginger juice. Squeezing the juice out of freshly grated ginger is totally worth the effort. Trying to substitute powdered ginger in this dish would be like having a bowl of instant noodles instead of a bowl of phở or ramen from a great noodle restaurant. This wakame salad will think you.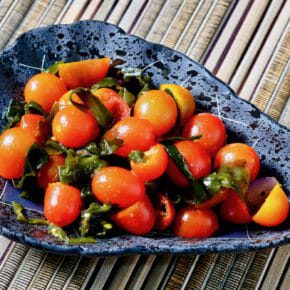 Wakame and cherry tomato salad
Print Recipe
Instructions
Soak the dried wakame in a cup of warm water for 15 minutes then drain well.

Wash and drain the cherry tomatoes. Halve the bigger ones.

Whisk together the vinegar, sugar, salt, ginger juice, and soy sauce until the sugar and salt are dissolved.

Toss together the drained wakame, cherry tomatoes, and vinaigrette. Set aside for an hour, tossing occasionally.

Drain the vinaigrette from the salad.

Serve sprinkled with toasted sesame seeds.