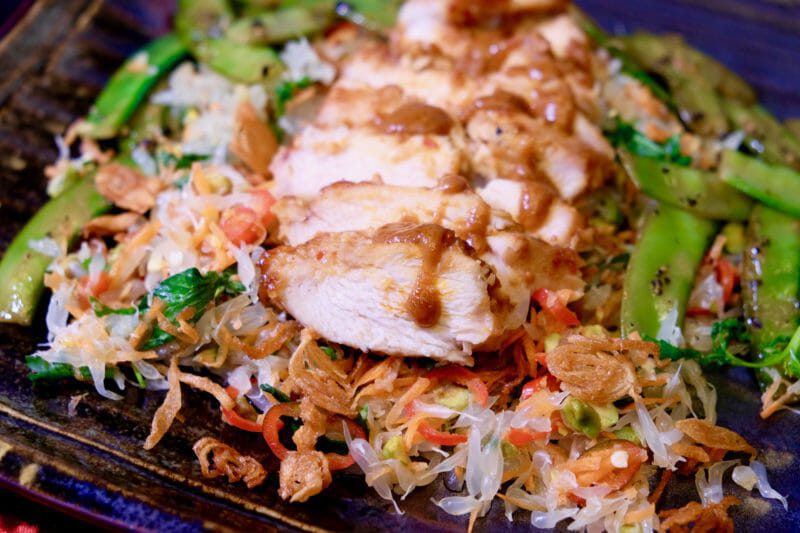 Chicken, like tofu, is one of those ingredients that takes on the flavours it is cooked with, they become part of its flavour. In this ginger miso chicken recipe the chicken clearly welcomes the sweet and salty ginger miso marinade and basting.
To complement these sweet and salty notes are the touch of acidity from the pomelo, and the umami of the fish sauce. The crispy fried shallots and crunchy snow peas provide nice contrasting textures.
Add crispy fried shallots to the salad for the texture as well as taste. Vietnamese salads and noodle soups often have crispy fried shallots added. You may be able to find them in your local Asian market, or use the epicurious recipe.
Although chicken is so flexible in terms of taste, it is not when it come to cooking time. Overcooked or undercooked chicken is not only unpleasant, it can be dangerous. Use a cooking thermometer to check the internal temperature. Don't have a cooking thermometer? You need to get one from you kitchen supply store now.
The sous vide method is an excellent way to get perfectly cooked chicken. For example, this chicken breast on carrot salad is a good example of using the sous vide method.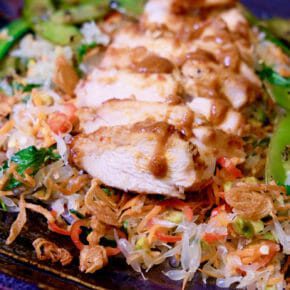 Ginger miso chicken on a pomelo salad. Sesame snow peas
Print Recipe
Ingredients
For the marinated chicken:
4

chicken breasts

bones and skins removed

2

Tbsp

red miso

2

Tbsp

sake

2

Tbsp

soy sauce

3

Tbsp

finely grated ginger

2

Tbsp

raw sugar

5

cloves

garlic

finely chopped

2

tsp

roasted chilli sauce

2

Tbsp

sesame oil
For the pomelo salad:
1

pomelo

segments separated from pith

1

carrot

grated

1

large mild chilli

finely chopped

1/2

cup

shelled pistachio nuts

pine nuts would work too

1/4

cup

chopped mint leaves

1/4

cup

chopped cilantro leaves

1/4

cup

crispy fried shallots
For the pomelo salad dressing:
2

Tbsp

lime juice

or lemon

2

Tbsp

fish sauce

use Vietnamese if available

1

Tbsp

water

1

Tbsp

raw sugar

2

cloves

garlic

finely chopped
For the sesame snow peas:
500

g

snow peas

or asparagus would work well too

1

Tbsp

sesame oil

1

lemon

juiced

1/4

tsp

salt

1/4

tsp

freshly ground black pepper

1

Tbsp

black sesame seeds for the garnish
Instructions
Marinated chicken:
In a medium bowl, combine all the marinade ingredients together, then add the chicken breasts and coat well in this mixture.

Cover with plastic wrap and refrigerate for at least 3 hours, or preferably overnight. Stir once or twice during this time.

Remove chicken from the marinade and drain off the marinade, leaving a thin coating. Retain some marinade to baste the chicken later.

Preheat the oven's broiler and set the oven rack about 6 inches from the heat source.

Broil the chicken for 12 to 15 minutes. Turn over at about 7 minutes and baste in a little more marinade if necessary.

Remove from broiler when the chicken reaches an internal temperature of 72 degC and allow to rest for 10 minutes.
Pomelo Salad:
Combine the ingredients for the dressing and set aside.

Break up the pomelo segments into spindles.

Toast the pistachio nuts until just starting to brown.

Combine all pomelo salad ingredients including the dressing, but excluding the crispy fried shallots.

When serving, sprinkle over the crispy fried shallots.
Sesame Snow Peas
Heat the sesame oil in a pan over high heat.

Add the snow peas (or asparagus), coat well in the oil, then reduce heat to medium.

Toss the snow peas constantly for 2 minutes, then remove from the heat and add the lemon juice, salt and pepper, and sesame seeds, and stir.

Serve immediately, or transfer to a cold plate to avoid overcooking.