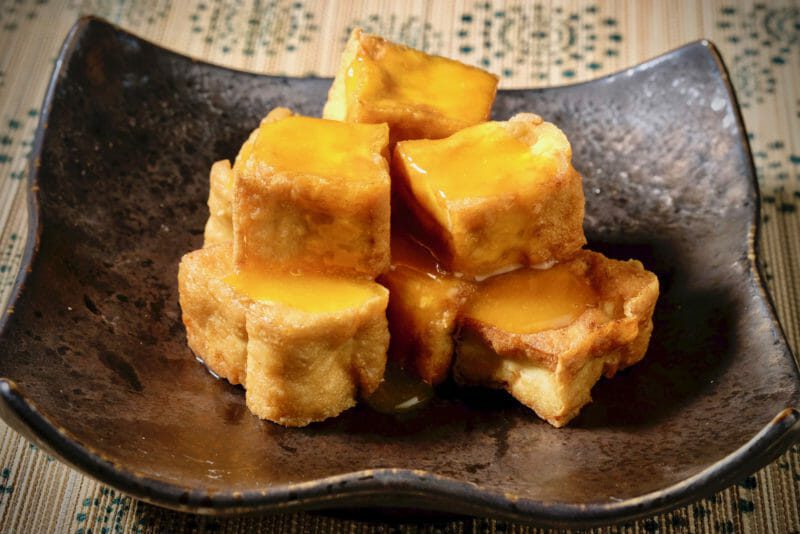 Runny egg yolk sauce sounds like decadence. When poured over crispy fried tofu, we achieve equilibrium – life in balance. 
Anyone who enjoys soft-boiled eggs, or fried eggs with runny yolks, will understand the attraction of this dish. Runny egg yolks are just so delicious. Why not make that deliciousness available as a sauce? Egg yolks are an emulsion, a creamy mixture of water, protein, and fat. That makes them related to other delicious emulsions – butter, cream, mayonnaise.
I first enjoyed this dish at an unassuming restaurant in Hanoi. Of the many Chinese and Vietnamese dishes we ate that day, the crispy fried tofu with egg yolk sauce was the highlight for me. It made such an impression I have been searching for it on menus ever since. It turned out to be a very uncommon menu item. So I decided to recreate this dish myself.
To sous vide, or not to sous vide
The easiest way to make this sauce is by using a sous vide device. By maintaining the egg yolks at 65 deg celsius for 32 minutes, not only do we get a delectable sauce of perfect consistency, the yolks are pasteurized as well, making this sauce totally safe to eat—no worries about undercooked eggs.
If you do not have a sous vide device, it is still possible to make this fried tofu with egg yolk sauce. Maintain the temperature of the water bath by adding either boiling water or cold water, and using an immersion thermometer to measure the water bath temperature.
Egg yolks are challenging to cook perfectly at any time. A lower sous vide bath temperature would be more forgiving. But then the eggs would not be pasteurized. So, with a higher temperature, we need to set the time according to the volume. 12 egg yolks will be cooked perfectly in 32 minutes at 65 degC. Thank you, America's Test Kitchen for this information.
So we have this great sauce. Which, by the way, can be refrigerated for up to 1 week. We also have 12 egg whites. What to do with them. Can I suggest making a consommé? Check out these recipes on delectabilia. Note that the egg whites will freeze well until you are ready to make your consommé.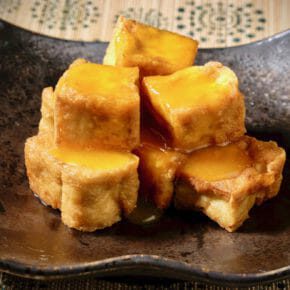 Egg yolk sauce on crispy fried tofu
Runny egg yolk sauce sounds like decadence. When poured over crispy fried tofu, we achieve equilibrium – life in balance. 
Print Recipe
Ingredients
Egg yolk sauce
12

large egg yolks

1/4

tsp

salt
Crispy tofu
400

g

firm tofu

Vegetable oil for frying
Instructions
Egg yolk sauce
Lightly whisk the egg yolks.

Strain egg yolks to remove any thicker bits.

Add egg yolks and salt to a sous vide bag. Remove air and seal.

Cook in a sous vide bath at 65 degC for 32 minutes.

To stop the cooking, plunge into an ice bath until cold to touch.
Crispy tofu
Cut the tofu into bite sized pieces.

To extract some moisture from the tofu, place on paper towels.

Sprinkle a little salt onto the tofu pieces.

Place some more paper towels on top of the tofu. Place a tray on top of those paper towels, and weigh it down with a 400g can of tomatoes or something of similar weight.

Leave for 20 minutes. The paper towels will become wet.

Heat the oil in a skillet to 160 degC.

Fry each piece of tofu until golden brown.

Allow to drain on fresh paper towels.
Serving
Warm the egg yolk sauce a little. Be very careful. They will go from runny to solid very quickly. A few seconds in a microwave will do it, or immerse in warm water for a few minutes.

Arrange the crispy tofu on a plate and pour the egg yolk sauce over it.