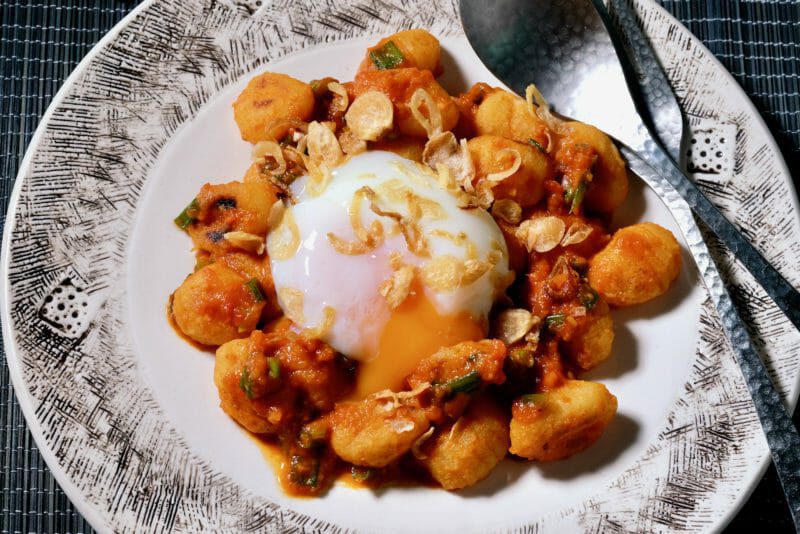 A bed of crisp pan-fried gnocchi, smothered with a flavour-packed gochujang sauce, sits beneath a silky onsen egg and fried shallots. Customise the spice level to your liking.
Gnocchi
Often considered a type of pasta, for me, gnocchi is in a category of its own. Pasta is usually the supporting act for a sauce. Gnocchi, though, is sufficiently interesting in its own right. Indeed, gnocchi can be the feature with the sauce in a supporting role. A sauce may not even be needed! Take a look at this beetroot gnocchi and this gnocchi with miso peas as examples.
Before this recipe, I cooked the gnocchi before crisping it up in some oil or butter. Then I read this great NYT article that suggested skipping the boiling step and directly pan-frying the gnocchi. This method works incredibly well with the packaged refrigerated gnocchi you can buy at your deli or good supermarket.
You can also find pre-made non-refrigerated gnocchi on the pasta shelves – don't use that. Never use that – unless you like gluey gnocchi.
The ultimate, of course, is to make the gnocchi yourself.
Gochujang Sauce
Other gnocchi recipes on delectabilia tend to have a Mediterranean influence – not so here. Gochujang is a Korean base ingredient made from fermented soybeans, glutinous rice, and chilli powder. It serves a similar flavour-enhancing role in Korean cuisine as miso does in the cuisine of Japan – except with a touch of spicy heat.
Another Korean base ingredient used here is the anchovy dashi. Again, similar to the Japanese version, though replacing the katsuobushi (bonito flakes) with dried anchovies. Substitute with a shiitake mushroom dashi for a vegetarian version of this dish.
Adding in the roasted red pepper, green onions, garlic, and canned tomatoes, and seasoning with soy sauce, we have a delicious sauce that perfectly complements the gnocchi.
Onsen Egg
An onsen is a hot spring. As a consequence of Japan sitting on the Ring of Fire, these springs are across the country. Many traditional hotels (ryokan), or public bathing facilities, are built around onsen. In the context of this recipe, an onsen is a hot pool that can slowly cook eggs so that they are effectively soft boiled. We don't have an onsen nearby (being a little far from the Ring of Fire); however, an immersion circulator (sous vide device), or diligent use of a digital thermometer, can achieve the same thing and produce great slow-poached onsen eggs.
As an alternative, you could poach an egg, but the silkiness of onsen eggs makes eating them a sensual experience, perfect with the crisp pan-fried gnocchi and tasty sauce.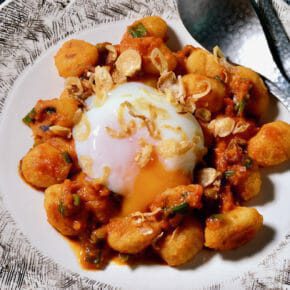 Pan-fried Gnocchi with a Gochujang Sauce and Onsen Egg
A bed of crisp gnocchi, smothered with a flavour-packed gochujang sauce, is topped with a silky onsen egg and fried shallots. Customise the spice level to your liking.
Print Recipe
Ingredients
Anchovy dashi
1

piece

kombu 10x10cm

1

Korean anchovy stock sachet or 15 g dried anchovies,

5-8 head and innards removed

500

ml

water
Gochujang sauce
1

red pepper

4

cloves

garlic

5

green onions

1

Tbsp

vegetable oil

450

ml

anchovy dashi

3

Tbsp

gochujang

1

Tbsp

chilli flakes

optional, or optionally use more!

1

Tbsp

soy sauce

400

g

can tomatoes
The rest
500

g

gnocchi

store bought refrigerated gnocchi

Vegetable oil for frying

using butter or duck fat makes them even tastier

4

eggs
Instructions
Anchovy dashi
In a small saucepan, add the water, kombu, dried anchovies or anchovy stock cache, and shiitake mushrooms.

Place over a low heat for 45 minutes. It should be just steaming a little, no bubbles. If your heat cannot go low enough and it starts bubbling, just take it on and off the heat as necessary to maintain the water at a hot temperature but not simmering.

Strain the dashi into a bowl. Retain the now rehydrated shiitake mushrooms.
Onsen egg – Sous Vide Method
Cook the eggs with an immersion circulator (sous vide device) at 63 degC for 60 minutes.
Transfer to an ice bath to stop the cooking.
Onsen egg – Traditional Method
Cook the eggs in a large saucepan of water maintained at 75 degC for 11 minutes.
Transfer to an ice bath to stop the cooking.
Gochujang sauce
Roast the red pepper in a 180 degC oven for 40 minutes.

Remove from the oven, put in a bowl or on a plate, and cover with plastic wrap. Allow to cool.

When cool enough to handle, remove the skins. Most should come off easily. Leave the stubborn bits.

Dice the roasted red pepper into 5-10 sqmm pieces.

Cut the stalks off the shiitake mushrooms retained from making the anchovy dashi. Dice the mushrooms into small pieces.

Separate the white sections from the green sections of the green onions.

Dice the green sections and set aside to add to the sauce just before serving.

Dice the white sections of the green onions and dice the garlic.

Sauté the garlic and onions until just starting to brown.

Add the canned tomato and break up if the tomato is in large pieces.

Add the anchovy dashi.

Add the gochujang, soy sauce, chilli flakes, diced shiitake mushrooms, and roasted red pepper. Stir to combine.

Allow to simmer for 15 minutes. It will reduce and thicken a little.
Pan-seared gnocchi
Heat 3 Tbsp oil in a non-stick pan or well seasoned wok.

Add the gnocchi to the pan directly from the packaging. No need to boil first.

Sauté over a medium heat until golden. As well as looking great, they will develop a cushion-like consistency.
Bringing it together
Combine the pan-seared gnocchi, chopped green onions, and the gochujang sauce together.

Sprinkle over some cheese.

Crack an onsen egg at the rounder end of the egg, Carefully peel away enough shell to let the onsen egg slip out on to the gnocchi in gochujang sauce.

Garnish with fried shallots.