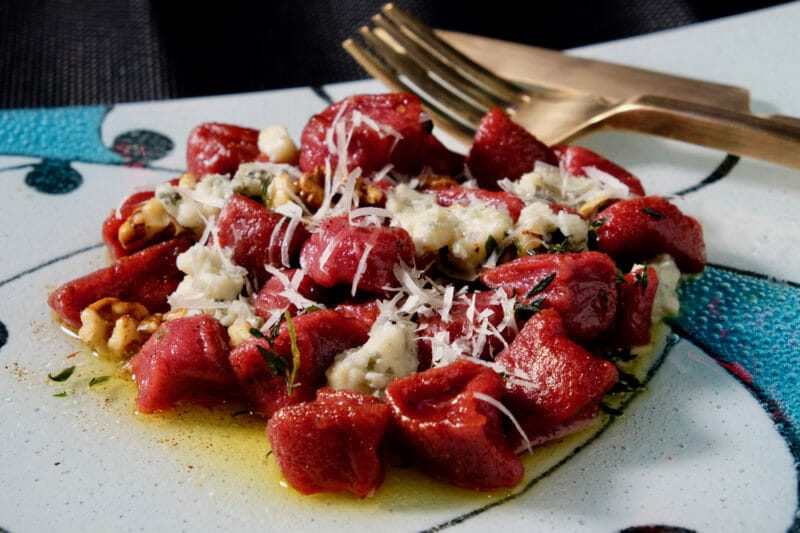 What sets this dish beet gnocchi apart is the way the ricotta and beetroot gnocchi is so perfectly complemented by the Roquefort cheese, walnuts, and brown butter sauce.
This beetroot gnocchi (aka beet gnocchi) looks beautiful and has a great flavour, though the texture is not the pillow-like ideal of potato based gnocchi. The texture is firmer, not unlike al dente pasta, or a piece of succulent chicken. Beetroot has a much higher moisture content than baked potatoes, so requires more flour to come together as a dough suitable for rolling out into gnocchi shapes. Maybe not pillow-like, but the beet gnocchi do have a very satisfying chewy texture.
I have made a vaguely similar dish before using sweet potato gnocchi. While that dish tasted great, it wasn't "greater than the sum of its parts" as this beet ricotta gnocchi is.
Other blue cheeses may work just as well as Roquefort. Although I enjoy a wide range of blue cheeses, I am always drawn back to Roquefort as it is such a truly wonderful cheese with a long interesting history and a complimentary bonus of potential health benefits.
The quantities in this beetroot gnocchi recipe will make enough gnocchi for about 8 people. Put the left-over beet ricotta gnocchi in a plastic container and freeze for next time.
If you haven't made a brown butter sauce before, there is a great guide at SimplyRecipes. It is crucial not to burn the milk solids that separate when the butter is heated. The solids should be brown but not burnt. Using a light coloured saucepan makes it easier to stop heating the butter at just the right moment. I used a ceramic dutch oven which had a useful off-white colour.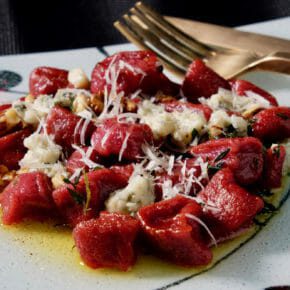 Beetroot and ricotta gnocchi with a brown butter sauce, walnuts and Roquefort
What sets this dish beet gnocchi apart is the way the ricotta and beetroot gnocchi is so perfectly complemented by the Roquefort cheese, walnuts, and brown butter sauce.
Print Recipe
Ingredients
Beetroot and ricotta gnocchi
500

g

beetroot

250

g

ricotta cheese

3

Tbsps

olive oil

1

tsp

salt

1

tsp

freshly ground black pepper

1/2

tsp

ground nutmeg

1/2

cup

finely grated parmesan

3

cups

all purpose flour

1

egg
Brown butter thyme sauce
100

g

unsalted butter

10

sprigs fresh thyme
Garnish
1/2

cup

walnuts

coarsely chopped

1/2

cup

Parmigiano-Reggiano

1/2

cup

Roquefort cheese

crumbled
Instructions
Beetroot and ricotta gnocchi
Pre heat the oven to 190 degC.

Wrap the beetroot in foil together with a drizzle of olive oil and a pinch of salt. Bake for 1 hour.

Remove from the foil, and when cool enough, peel off the skins. They should just slide off.

To a food processor, add the beetroot, ricotta, egg, parmesan, nutmeg, salt and pepper. Process until smooth.

Add the mixture to a large bowl and add 2 cups of flour.

Mix well using your hands until a sticky dough forms. Add more flour if necessary to get a consistency suitable for rolling out into a "rope".

Form the dough into a ball, adding more flour if necessary to prevent it sticking to your hands or work surface.

Wrap the dough ball in plastic wrap and let sit at room temperature for 30 minutes.

Cut the dough into 8 pieces then roll out each piece into a "rope" about 1.5 cm thick.

Cut each strip into 2 cm pieces and place the on a tray dusted with flour. Keep separate to prevent sticking.

Bring to the boil a large pot of well salted water. Reduce to a simmer.

Add the gnocchi to the simmering water. Once they start floating, they are ready. Remove to a colander to drain.
Toasted walnuts
In a large skillet, toast the walnuts over a medium heat until golden, around 3 – 4 minutes. Transfer to a plate and set aside.
Brown butter thyme sauce
Bring a light colored saucepan to a medium heat. The light colour is so that you can see how brown the milk solids are.

Add the butter to the saucepan. When melted, add the thyme sprigs.

Cook until the solids separate and turn a golden brown colour, around 2 – 3 minutes. Be careful not to overcook.

Poor the browned butter into a cool bowl, to prevent overcooking. Remove the thyme sprigs, leaving behind the leaves that have separated.
Plating
Bring a large skillet to a medium low heat and add a Tbsp of extra virgin olive oil. Add enough gnocchi for the servings required and toss in the oil.

Once the gnocchi have warmed through, remove from the heat and transfer to the plates.

Spoon the brown butter sauce over the gnocchi, and add the toasted walnuts and crumbled Roquefort.

Sprinkle with some grated Parmigiano-Reggiano.