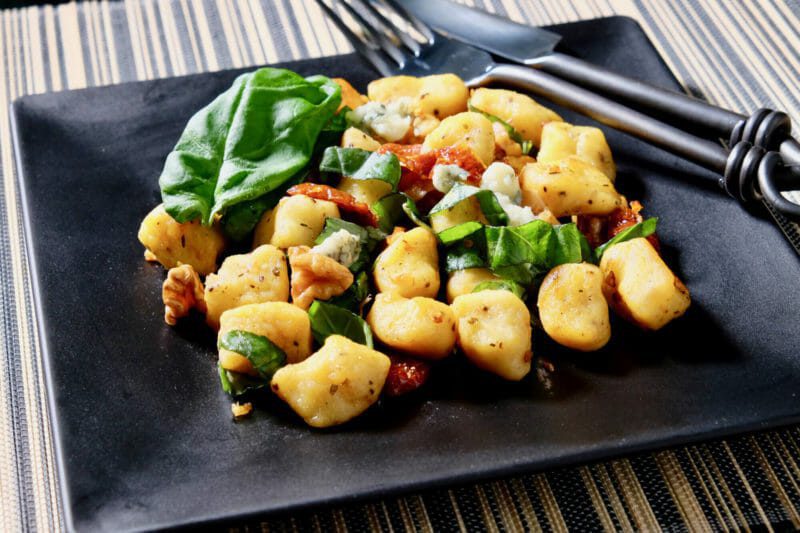 Pillow like gnocchi made with sweet potatoes was a great foundation for some favorite tastes – the salty intensity of roquefort, the tang of sun-dried tomatoes, and the fresh fragrance of basil. This gnocchi with blue cheese was a symphony of bold flavours.
If you have the time, make your own gnocchi. It's not that difficult, and quite fun. The results are certainly better than the bought stuff. But if time is a constraint, buy some pre-prepared gnocchi. It is not as pillow-like, but it is still a wonderful base for some defining flavours like the blue cheese, sun-dried tomatoes, and basil.
The blue cheese in this gnocchi with blue cheese dish is roquefort cheese from France. Intense flavour, a little crumbly, and not too salty, my sort of blue cheese.
And if you haven't tried it yet, one of my favourite Italian pasta dishes, Gnocchi Al Forno.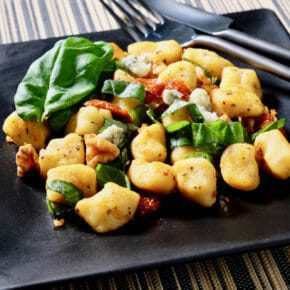 Gnocchi with Sun Dried Tomatoes, Basil, Walnuts, and Roquefort Cheese
Print Recipe
Ingredients
2

cups

Gnocchi

1/2

cup

sun dried tomatoes

diced

50

g

roquefort cheese

1/2

cup

chopped basil

1/2

cup

coarsely chopped walnuts

1

Tbsp

extra virgin olive oil

choose a very good one

10

g

butter

a good one. No substitutes

4

cloves

garlic

4

sprigs thyme

4

sprigs parsley

basil stalks

Basil leaves for garnish
Instructions
Drain well after cooking.

Drain the sun dried tomatoes and dice.

Crumble the roquefort cheese.

Finely dice the garlic.

In a heavy pan, add the olive oil, thyme, parsley, and basil stalks.

Sauté until fragrant. The intent is to infuse the herb flavours into the oil.

Remove the herbs from the oil before they get crispy.

Add the butter and diced garlic and sauté for a minute.

Add the gnocchi and sauté for a few minutes until starting to brown.

Add the sun dried tomatoes, walnuts, and basil, and gently combine.

Transfer to a bowl and allow to cool a little.

Stir in the crumbled roquefort serve with a salad.