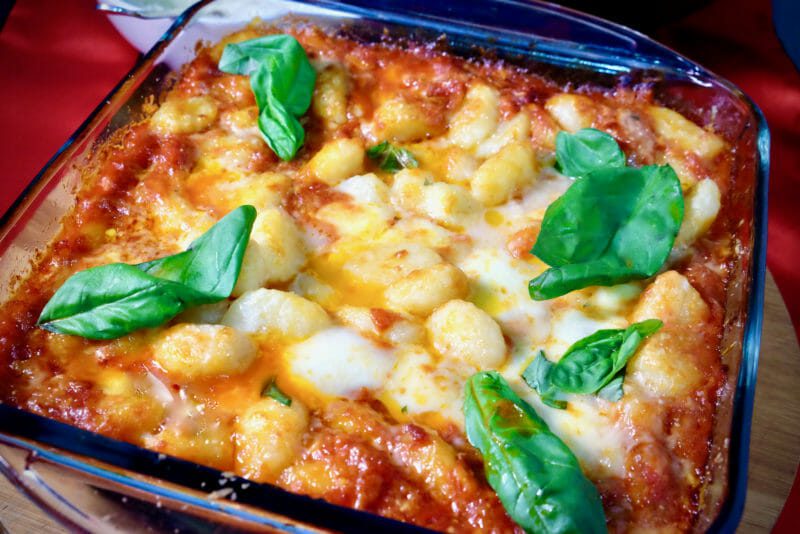 Gnocchi with pomodoro sauce is an Italian classic. Fresh basil, fresh mozzarella, and a sauce made from fresh tomatoes. This gnocchi pomodoro tastes as delicious as it looks.
There is an abundance of pasta in tomato sauce recipes. They vary from bland to the divine. This recipe certainly tends to the divine end of the spectrum. And like this amazing fusilli in tomato sauce recipe, sometimes it is the simplicity of the recipe that is the key.
What is pomodoro sauce?
Pomodoro is a tomato-based pasta sauce made using fresh tomatoes, extra virgin olive oil, and fresh herbs, principally basil. It is important to cook the pomodoro sauce slowly and not for too long. Compared to a marinara sauce, the cooking time for a pomodoro sauce is relatively short. However, cooked too fast, the tomatoes can become too acidic. Cooking over a low heat brings out the tomatoes' sweetness, while the relatively short cooking time ensures much of the tomatoes freshness remains. Perfect for this gnocchi pomodoro.
While fresh tomatoes are preferred, that is not always possible. Using a good quality canned tomato will also work for this recipe. Some would argue that good quality canned tomatoes are better than fresh tomatoes for pasta sauces.
Gnocchi
You may be able to buy pre-made gnocchi for your gnocchi Pomodoro at your local gourmet store, supermarket, or online. Buy the product you find in the refrigerated section rather than the versions out on the shelf. The latter tend to be chewier and sometimes even gluey. Store-bought gnocchi is great if you are in a hurry. If you have the time and inclination, though, making your own gnocchi can yield much better results. You can achieve lighter and more pillow-like gnocchi – clearly a worthy goal. And, it is fun to make at home. Make it a group activity!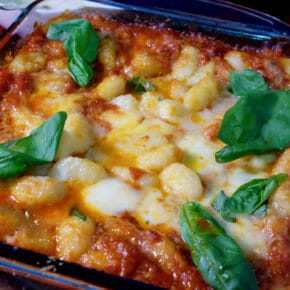 Gnocchi with pomodoro sauce and fresh mozzarella
Gnocchi with pomodoro sauce is an Italian classic. Fresh basil, fresh mozzarella, and a sauce made from fresh tomatoes. This gnocchi pomodoro tastes as delicious as it looks.
Print Recipe
Ingredients
8

medium tomatoes

immersed boiling water to remove their skins.

170

g

tomato paste

1/2

cup

fresh rosemary

1/2

cup

fresh basil

1/2

cup

fresh parsley

1/4

cup

olive oil

10

g

butter

2

onions

8

cloves

garlic

500

g

gnocchi

150

g

fresh mozzarella

cut into gnocchi sized pieces

1/4

cup

freshly grated parmesan cheese
Instructions
Put the olive oil and butter into a heavy based pad and bring to a medium heat.

Reserve a few basil leaves for a garnish and add the rest, plus the rosemary and parsley to the pan.

Fry the herbs until fragrant and crispy.

Discard the herbs and reserve the oil.

Finely dice the onion and garlic and simmer in the herb oil until starting to brown.

Add the tomato paste, stir and cook for 5 minutes until the tomato becomes very fragrant

Remove the stalky bits from the fresh peeled tomatoes and add to the pan with the onions and tomato paste.

Cook on a low heat for 20 – 30 minutes until reduced and thickened.

Meanwhile, bring a pot of water to the boil and add a half teaspoon of salt.

Add the prepared gnocchi to the boiling water.

When the gnocchi float to the top of the boiling water, scoop them off and drain.

Mix fresh mozzarella with the fresh gnocchi.

Spoon the tomato mixture into an oven proof dish.

Spoon the gnocchi and mozzarella mixture over the tomato and let it settle in.

Sprinkle some freshly grated parmesan over the dish, followed by a drizzle of olive oil.

Put back into the oven and grill for a few minutes until the top is starting to brown.
Notes
Serve with grated parmesan, and a mixed lettuce salad with a delectabilia salad dressing.