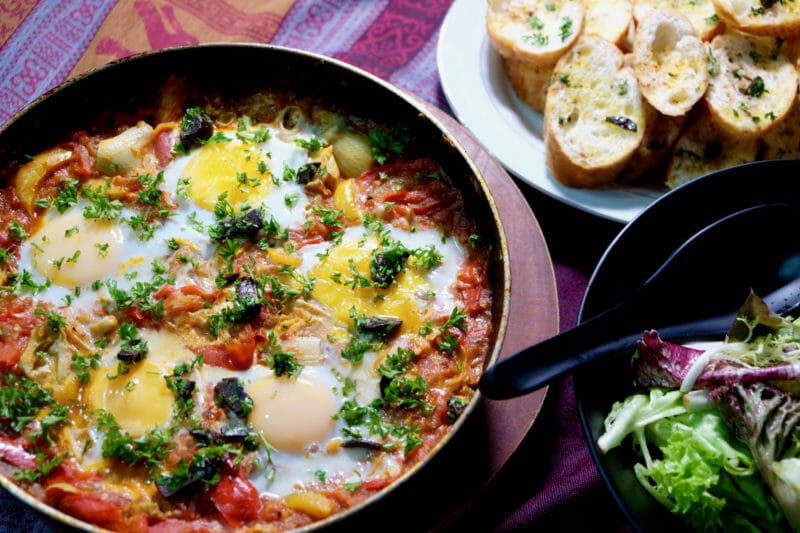 Adding some spice and earthiness to a classic North African dish, this shakshuka with chorizo and artichoke makes a quick, healthy, and delicious brunch or lunch.
North African cuisine, much like Vietnamese, has been significantly influenced by the cuisines of occupying cultures over the centuries. Fusion cuisine appears to have gone out of favour with some food commentators. They seem to have forgotten that most cuisines worldwide are a fusion of influences from far away places. Fusion cuisine indeed goes back a long way.
The fusion of Middle Eastern and European influences in this artichoke chorizo shakshuka has clearly endured the test of time. Chowhound has an interesting article on the history of shakshuka.
Neither chorizo nor artichokes are common ingredients in a shakshuka. However, they both contribute flavours that fit so well with the tomato, red pepper, and onion base. Chorizo is contributing just the right amount of spice and is packed with umami. The artichoke contributes an earthiness, complementing the sweetness of tomatoes and the spice.
A comparison with the very kiwi bacon and egg pie may seem a little odd, but to me, it is valid. Both are comfort foods with so many different interpretations and such high expectations.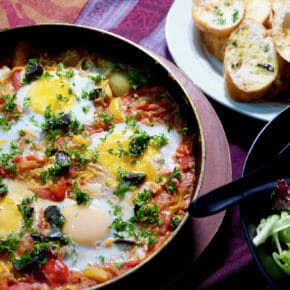 Shakshuka with chorizo and artichoke
Adding some spice and earthiness to a classic North African dish, this shakshuka with chorizo and artichoke makes a quick, healthy, and incredibly tasty brunch or lunch.
Print Recipe
Ingredients
10

medium sized tomatoes

as red as possible

2

red peppers

2

medium onions

diced length wise

3

large mild chillies

1

head of garlic

400

g

artichoke hearts

one can

2

tsp

cumin

2

tsp

smoked paprika

1

tsp

ground black pepper

1/2

cup

Parsley

chopped finely

100

g

chorizo

chopped into small pieces

5

eggs

4

Baguettes
Instructions
Halve and de-seed peppers.

Place peppers and tomatoes on a baking tray, sprinkle with olive oil, salt and pepper, and bake at 180 deg for 40 minutes.

Roast garlic at the same time (method).

Simmer the chorizo in a skillet until the fat has rendered (3-4 minutes).

Add the onion to the skillet and saute together with the chorizo until softened.

Add finely chopped chillies and simmer for 5 minutes more.

Remove skins from tomatoes, chop out and discard the hard white inner core, chop and add flesh and juices to the pan with the onions.

Dice the peppers length ways, then in half (to get 5mm x 50mm pieces). Add to the pan.

Squeeze garlic cloves from the roasted bulb. Add to the pan.

Add the cumin, smoked paprika, and pepper to the pan.

Simmer until juices evapourate and it becomes a thick sauce.

Halve or quarter the artichoke hearts and add to the ragout, fold gently in.

Make depressions in the ragout and break an egg into each one. (you should break into a bowl first, and remove shell and excess white if necessary).

Cover and cook until the whites are white but the yolks still a little runny.

Serve with a salad, and some sliced baguettes drizzled with olive oil and parsley and baked a little until just starting to get crispy.