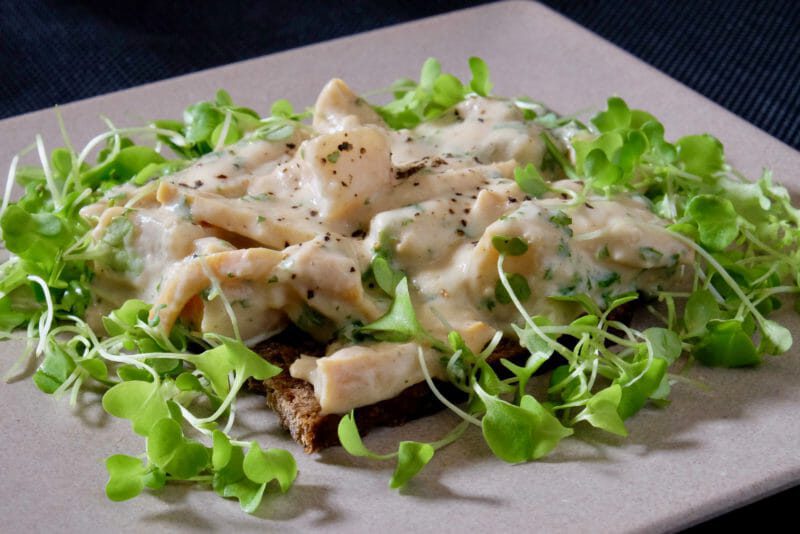 Scallops are one the most subtle and delicate tasting shellfish and so deserves a sauce that highlights their qualities and character. This velouté style parsley sauce, using salmon head stock, brings out the best in these succulent delicacies.
I also included diced abalone in this dish, as I had acquired a can from a well meaning friend. Abalone is expensive, and in my opinion, there are better ways to spend your money. Still, I had some, and needed to use it, and a pairing with scallops was appropriate.
Abalone is in the same shellfish family as New Zealand paua. However paua is a much stronger tasting shellfish, and would not work in this dish, though makes great fritters! This farmed abalone has a more subtle taste, yet still needs to be cooked carefully too avoid becoming tough. Tinned (canned) abalone is cooked already, so just discard the liquid, finely slice, and heat up in the sauce.
If you cannot get abalone, or it stretches your budget too much, no problem, this dish also works great with just scallops.
The pumpernickel bread adds a nutty texture and taste which works great with the sauce. But again, it may be hard to find in some places. Substitute for a whole grain bread. If you live in New Zealand, it doesn't get better than Vogel's bread.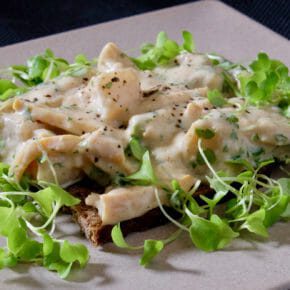 Scallops and abalone in a parsley sauce on toasted pumpernickel bread
Print Recipe
Ingredients
2

Tbsp

butter

2

Tbsp

all purpose flour

1

cup

salmon head stock

or other fish stock, or vegetable stock

1/2

cup

cooking cream

1/4

cup

finely chopped parsley

12

large scallops

1

can

abalone

200g dry weight (alternatively add 8 more scallops)

1/4

cup

finely grated parmesan

1

tsp

salt

1

tsp

freshly ground black pepper

4

slices

pumpernickel bread

Salad – miniature brassica

or something similar. Radish sprouts are good.
Instructions
Rinse and dry the scallops with paper towels.

Drain the abalone and cut into thin (1mm) slices.

Bring a large skillet to a high heat – smoking – then add a little cooking oil.

Sear the scallops, 1 minute per side. Remove from the pan and set aside. If preparing ahead of time, put in the freezer for 5 minutes, then transfer to the refrigerator.

Reduce heat to medium and add the butter.

When the butter is melted, stir in the flour. Keep stirring for 2 or 3 minutes, until the mixture starts to turn golden.

Slowly add the salmon head stock, stirring constantly.

Add the cooking cream, and stir to combine.

Add more stock, or some water, if the sauce it too thick.

Quarter the scallops, add to the sauce, together with the sliced abalone, parsley, and parmesan. Gently stir in to the sauce.

When the scallops and abalone have heated through, and the parmesan melted, remove the pan from the heat.

Lightly toast the pumpernickel bread.

Serve the scallop mixture on to a piece of pumpernickel bread, garnish with miniature brassica salad, and sprinkle with some black pepper.