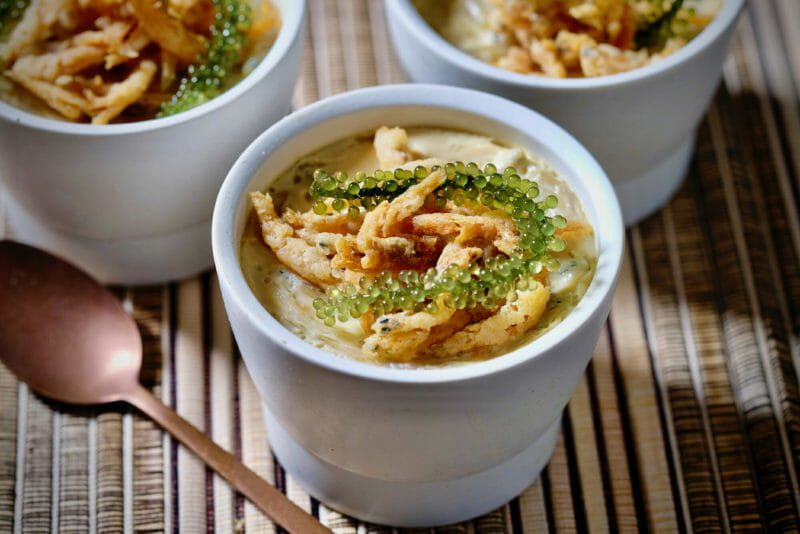 Delicate tasting whitebait are the highlight of this chawanmushi recipe, a silky smooth Japanese egg custard. The dashi in the chawanmushi enhances these delicate whitebait flavours.
This is a reinterpretation of a recipe by Makoto Tokuyama from the book The Recipe by Josh Emett. The book is a compilation of recipes from some of the world's best chefs. Highly recommended.
The whitebait
Whitebait are juvenile fish, typically between 20 and 40 mm long. They travel in schools along the coast where they were born. They then find their way up estuaries where they would be expecting to live. Unluckily for many of them, fishing nets will end many of these journeys. Luckily for us, these small fish are tender and edible, bones, head, everything.  
Whitebait is not a single species. Different species exist in different parts of the world. Some of these species are better for eating than others. The species found in Japan and New Zealand are particularly good!
Shirasu 'シラス' is the Japanese word for whitebait. Considered a delicacy in Japan, they produce enough whitebait to export. Japanese vacuum packed and frozen whitebait is what is used in this dish.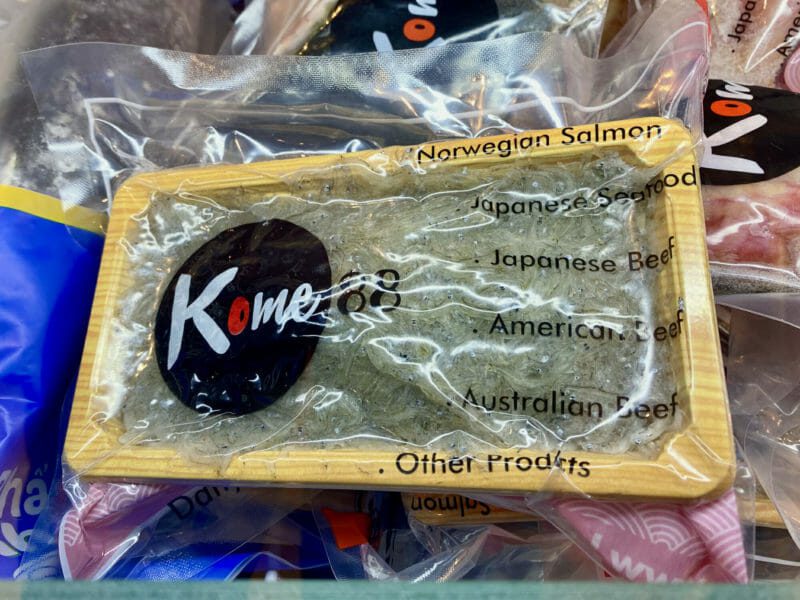 The taste of whitebait is very delicate and is easily overpowered by the other ingredients they are served with. That is one reason why the most common way to eat whitebait in New Zealand is as a fritter served on buttered white bread! It is also why a whitebait chawanmushi recipe makes so much sense. Chawanmushi doesn't contribute strong flavours itself. It is more a vehicle for other ingredients, most commonly prawns, chicken, shiitake mushrooms, and scallops. 
The chawanmushi
A quote from the original creator of this dish…
Chawanmushi is a Japanese custard steamed in a cup. In Japanese, chawan means tea cups or rice bowls, and mushi means steaming. You can replace the whitebait with other favourite items.

Makoto Tokutama
Indeed, Chef Tokutama sometimes has paua chawanmushi on the menu. This is presumably when whitebait are not in season, which in New Zealand is most of the year. Another example of chawanmushi enhancing subtle flavours is uni chawanmushi. Uni, the sex organs of a sea urchin, has a subtle, delicate taste. So like whitebait, its flavour really gets to shine when included as an ingredient in chawanmushi.
Chawanmushi is such a great host for ingredients like whitebait and uni because one of the primary ingredients is dashi. Dashi is packed with glutamates which enhance the flavours of anything it is used with. And so, perfect for whitebait.
There is one variable in this chawanmushi recipe to be aware of. That is the ratio between dashi and eggs. To get the best silky smooth texture, the ratio should be 3 parts dashi to 1 part eggs. Use too much dashi, and the result will tend to soupy. Too little dashi, and you will have a quiche rather than a custard.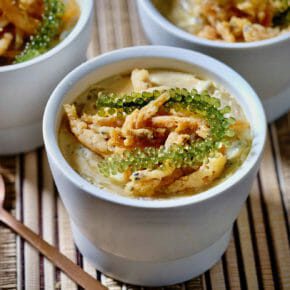 Whitebait chawanmushi
Delicate tasting whitebait are the highlight of this chawanmushi recipe, a silky smooth Japanese egg custard. The dashi in the chawanmushi enhances these delicate whitebait flavours.
Print Recipe
Ingredients
250

g

whitebait

1

cup

water

2

tsp

salt

2

Tbsp

sake

500

ml

dashi

ichiban, or first brew. No hondashi here please!

160

ml

eggs

3 eggs

1

tsp

soy sauce

1/2

tsp

salt

1

tsp

mirin

1

tsp

sake

1

Tbsp

canola oil

or other neutral oil

1/4

cup

potato starch
Instructions
Heat a cup of water, 2 tsp salt, and 2 Tbsp of sake is a small saucepan until boiling. Remove from the heat.

Plunge 150 g of the whitebait into the pot. After 5 seconds strain the whitebait out, spread out on a plate, and put in the freezer for several minutes to quickly reduce their temperature.

Lightly beat the eggs in a bowl, without aerating them.

In another bowl, add the dashi stock, soy sauce, 1/2 tsp salt, 1 tsp mirin and 1 tsp sake, and stir together.

Slowly add the dashi mixture to the eggs, stirring to combine.

Strain the mixture to ensure there are no eggy bits.

Divide the chilled whitebait between 4 chawanmushi cups (150 ml size cups).

If the chawanmushi cups have tops, so put them on now. Otherwise, cover with plastic wrap.

Steam the chawanmushi in a steamer over a high heat for a few minutes, then reduce to a low heat and steam for 15-20 minutes. The temperature of the steamer should be around 82 degC.

While the chawanmushi are steaming, heat the oil in a small frying pan.

Dust the other 100 g of reserved whitebait in flour.

Add the whitebait to the oil, trying to keep them from sticking together, and fry until crispy. Drain on paper towels.

When the chawanmushi is cooked, garnish with some of the fried whitebait, and a sprig of sea grapes.