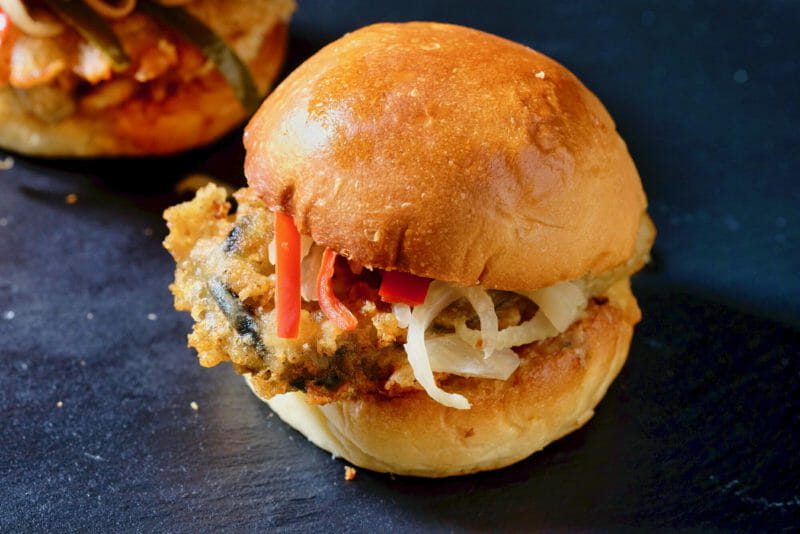 Inspired by the oyster poor boy (aka Po'Boy), these fried oyster sandwiches or sliders pack a briny, buttery beer-battered oyster and refreshing, spicy pickled fennel in a mini burger bun.
The inspiration for this fried oyster sandwich came during an episode from season 4 of the great food show, The Mind of a Chef, executive produced by Anthony Bourdain. The particular segment where chef David Kinch makes an oyster "poor boy" in New Orleans is available on YouTube. Kinch is the owner and executive chef at Manresa, an iconic Californian restaurant.
As things evolved, placing a fried oyster between two pieces of bread is about all this recipe has in common with the Kinch version. Rather than a panko crumb encasing the oyster, here we use a beer batter. It has its own unique crunch, one that I prefer. The batter is not just about the texture but contributes a taste of its own. The bubbles from the beer help make a great crisp batter, but the taste of the beer is just as important.
Fun fact: Have you ever wondered where the term "slider" came from? Here is Wikipedia's explanation: "A slider is an American term for a steam-grilled sandwich, typically around 2 inches (5 cm) across, made with a bun."
The beer batter
I wanted the batter to be more than just crispy packaging for the oyster. To do that, I needed a beer that brought its own distinct but complementary flavour. I selected an IPA made here in Saigon, appropriately named Kurtz's Insane IPA.
Heart of Darkness' biggest, hoppiest beer. A wonderfully vibrant beer, with grapefruit and piney tones, we've crammed in 7 kinds of hops which deliver a full-blown assault on your taste buds. This is a big, but beautifully balanced IPA, with a bright and fun bitter flavour – a true hop head's delight.

Heart of Darkness Craft Brewery
A truly amazing beer. It has made other beers seem a little boring to me. Unfortunately, unless you live in one of the few countries they export to, you will need to find an alternative. And that is part of the fun. I certainly had fun with that selection process!
It is better to use a high alcohol beer. Kurtz's Insane is 7.1%. The reason is that the alcohol evaporates off very quickly, resulting in a lighter, more crisp batter. Some cooks add vodka to a batter to get the same effect. 
That crisp and light batter texture is also helped by ensuring the beer is icy cold before adding to the other ingredients. And that you keep the batter cold. The cold batter hitting the hot oil makes it even more crispy. That works for any fried fish dish, including fish and chips.
The spicy pickled fennel
Fried oysters develop a wonderful buttery mouthfeel. That, together with the fact they are fried and retain some of the fat from that process, we need an acidic component to provide some balance. This comes from the spicy pickled fennel.
Not only is there some acid from the pickling process to balance the battered oyster, but the fennel also contributes its own special anise flavour. Not a common pairing, but it works so well. As did the mild bite of the chilli that was pickled along with the fennel.
There's mayo right?
What would an oyster burger, even a mini-burger, be without some sauce, or at least some mayo. I first used this katsuobushi yuzu kosho mayo in this kimchi chicken burger. That flavour enhancing combination works just as well in these beer-battered oysters and spicy pickled fennel sliders.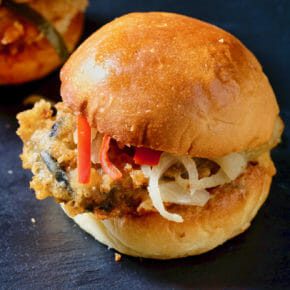 Fried oyster sandwich (oyster poor boy)
Inspired by the oyster poor boy (aka Po'Boy), these fried oyster sandwiches or sliders pack a briny, buttery beer-battered oyster and refreshing, spicy pickled fennel in a mini burger bun. 
Print Recipe
Ingredients
Pickled fennel
2

fennel bulbs

1

large mild green chilli

1

large mild red chilli

1 1/2

cups

rice vinegar

2

cups

water

1/4

cup

sugar

1/2

Tbsp

peppercorns

mixed black and white

1

tsp

chilli flakes

1

star anise

2

Tbsp

salt

1

clove

garlic peeled and crushed under the side of a knife

1/2

thumb ginger sliced
Beer battered oysters
1/2

cup

all purpose flour for dredging

3/4

cup

all purpose flour for the batter

cake flour would be even better

1/4

cup

cornflour

or try potato starch

1/2

tsp

salt

1

tsp

freshly ground white pepper

12

oysters

shucked

1

cup

of ice cubes

330

ml

bottle of beer

very cold

Oil for frying
Instructions
Pickled fennel
Trim, de-core, and finely dice the fennel bulbs.

Halve the chillis length wise and remove the pith and seeds.

Place in a clean heatproof jar.

To a saucepan add 2 cups water, the rice vinegar, sugar, 2 Tbsp salt, star anise, garlic, and ginger, and bring to a boil.

Pour over the fennel and allow to cool.

Cover and refrigerate for at least 24 hours, or up to a couple of weeks.
Beer battered oysters
Preheat the oil in a frying pan or deep fryer to 175 degC.

Add the flour for dredging to a bowl

Dust the oysters in the flour and set them aside.

In another bowl, add the flour, cornflour, salt and pepper and mix together.

Slowly add beer to the flour, stirring a little to combine, until it reaches a thick batter consistency. Having a few flour lumps remaining is OK. You probably will not need all the beer. Drink the rest.

Add the ice cubes to the batter. The colder it is the better.

In batches of 3 or 4, dip the oysters in the batter and fry in the oil until golden. Keep the batter in the refrigerator or freezer while each batch is cooking.

Drain on paper towels.
Katsuobushi mayo
Mix together the mayo, katsuobushi, and yuzu kosho.
Assembly
Preheat the oven to 180 degC.

Halve the mini burger buns and place in the oven for a few minutes until they start to crisp up.

Smear some katsuobushi mayo on the inside top and bottom of the buns.

Lay an oyster on the bottom half of the bun, add some pickled fennel, then top with the top half of the bun.