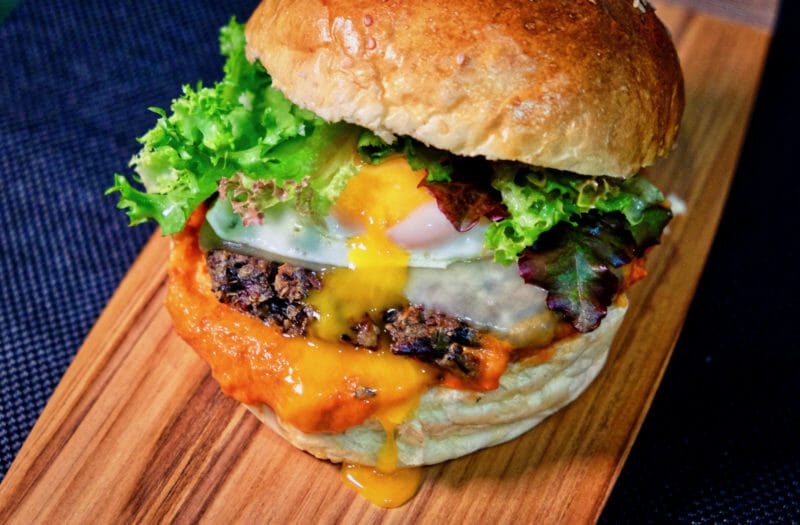 There is something about burgers. Select ingredients in a bun. Usually those ingredients include beef. The challenge was to create a veggie burger that is as delicious as those containing meat (as judged by a meat eater!).
The combination of black rice, quinoa, and mushrooms, does a pretty good job of simulating the texture and tastiness of a meat patty. Maybe not as well as the Impossible Burger patty. I would love to do a comparison with this veggie burger. As an aside, I really like what Impossible are doing. I haven't tried an Impossible Burger patty yet, but reviews are good. And their Mission is well aligned with delectabilia's world view.
But back to the topic at hand… with this veggie burger patty, the relish, cheese, egg, and salad, these ingredients make a very tasty and satisfying burger. Another delectabilia recipe is a beef burger. Substituting in the veggie patty to that recipe just might improve it. It certainly will from an environmental and health point of view!
Considering the carbon footprint of producing beef, and the negative health implications of eating it, there are really no excuses for not experimenting with the alternatives.
What is a burger without a special sauce? The roasted garlic, red pepper, and tomato relish was a perfect complement to this veggie patty, as it would be to a beef patty. The umami packed roasted garlic helps bring out the flavours in all the other ingredients.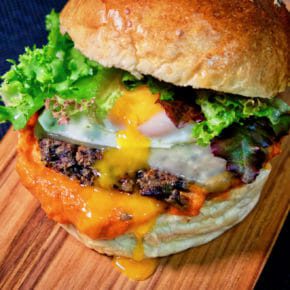 Veggie burger. Roast garlic, red pepper, and tomato relish
Print Recipe
Ingredients
Patties (make 7 patties)
3/4

cup

cooked quinoa

3/4

cup

cooked black rice

3/4

cup

bread crumbs

2

cups

finely chopped button mushrooms

1/4

cup

ground nuts

(I used cashews as they are cheap in Vietnam)

3

eggs

lightly whisked together

1/2

tsp

salt

1

tsp

smoked kelp

1

tsp

freshly ground black pepper
Relish
2

red peppers

2

medium tomatoes

2

mild large chilli peppers

1

head of garlic

Pinch of salt

1

Tbsp

balsamic vinegar
Other ingredients (per burger)
1

egg

1

slice

of cheese

1

handful of salad

1

burger bun
Instructions
Patties
Saute the mushrooms until soft and reduced in volume

Combine all ingredients. The consistency should allow the mixture to be easily formed into patties. If not thick enough, add more breadcrumbs. If too thick, add another egg, or just a yolk.

Form into patties. These could be wrapped in plastic wrap and chilled until close to serving time.

To cook, brown patties on both sides in a little olive oil in a pan over a medium heat.

Keep warm in the oven until ready to serve.
Relish
Halve and trim the red peppers

Halve the tomatoes and cut out the stalk

Halve the chillies and remove the seeds, then chop into 1cm pieces

Cut the pointy end off the head of garlic, exposing the tops of each clove

Wrap the head of garlic in foil with a little oil and lunch of salt

Lay the red peppers and tomatoes, skin side down, in a baking tray.

Distribute the chopped chilli between the peppers

Drizzle with olive oil, balsamic vinegar, and a pinch of salt

Roast for 1.5 hours at 180 degC

Allows to cool, then remove the tomato skins

Squeeze the cloves out of the head of garlic

Blend all until smooth
Assembly
While the patties are still in the oven, put a cheese slice on top of each one.

Fry egg(s). More accurately, poach egg(in a little butter.

Halve the burger buns

Spread some relish on the base

Add the patty and cheese

Add the fried egg

Add some salad

Top with the top half of the bun.