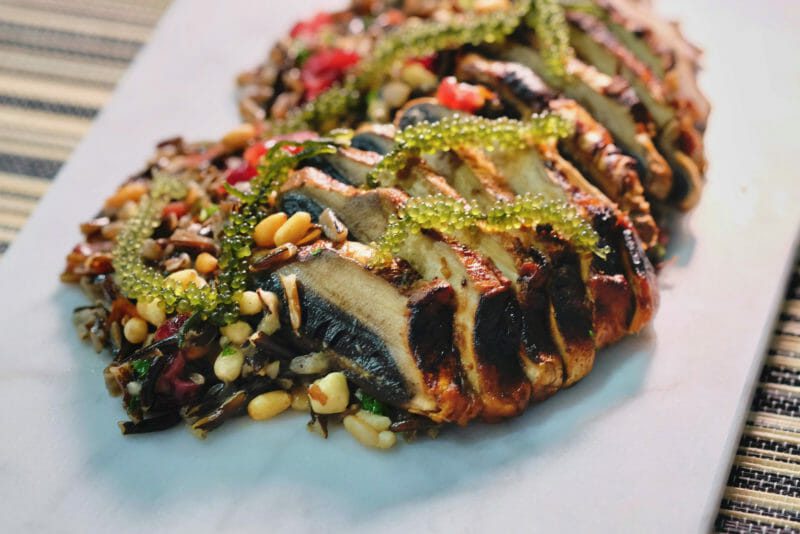 This portobello mushroom recipe features a miso-glazed and grilled portobello mushroom. A wild rice salad accompanies this sweet yet earthy delight.
Miso-glazed portobello mushrooms
Miso and mushrooms are both widely used to enhance the flavour of other ingredients. The savour umami character responsible for that enhancement is abundant in each. It is no surprise then that they work so well together in the portobello mushroom recipe. The mirin adds to the miso's sweetness, while the ginger brightness to this sweet earthy dish.
We can get many types of mushrooms here in Saigon, but portobellos aren't yet one of them. Asian cuisine does not typically include portobello mushrooms. Being native to Europe and North America may be a reason for that. Now and then, a batch arrives from somewhere, and I relish the opportunity to cook with them. Portobello mushrooms are just button mushrooms or cremini mushrooms that have been allowed to grow older. As they do, they develop much deeper and more earthy flavours than when in their immature state.
Interestingly an organic vegetable grower in Dalat briefly produced portobello sized shiitake mushrooms. These made a very delicious giant shiitake mushroom soup. Always on the lookout for more of these delicious mushrooms.
A French Revolution food blog recipe was the initial inspiration for this grilled portobello mushroom dish. While these miso-glazed mushrooms stayed pretty true to that recipe, the black rice salad became a very different wild rice salad.
Wild rice salad
The wild rice salad has a delicious nutty flavour and a satisfyingly chewy texture. It is a perfect complement for this miso-glazed portobello mushroom recipe. In fact, it was so good that it gets its own wild rice salad recipe page.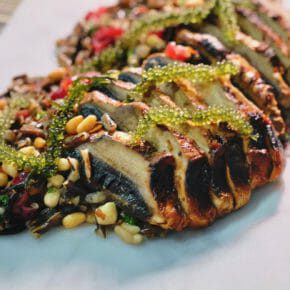 Miso-glazed portobello mushroom recipe
This portobello mushroom recipe features a miso-glazed and grilled portobello mushroom. This sweet yet earthy combination is accompanied by a wild rice salad.
Print Recipe
Instructions
Combine the miso, 2 Tbsp mirin (or sake), and 2 Tbsp finely grated fresh ginger.

Set a baking tray or rack 10 to 15 cm from a broiler element.

Smear the miso mixture over the portobello mushrooms.

Place the mushrooms on the rack and broil for 20 minutes or so, turning once, until charred a little.

Cut up the charred mushrooms like a steak.
Notes
Garnish with umibudou (sea grapes) or whatever else you have on hand.