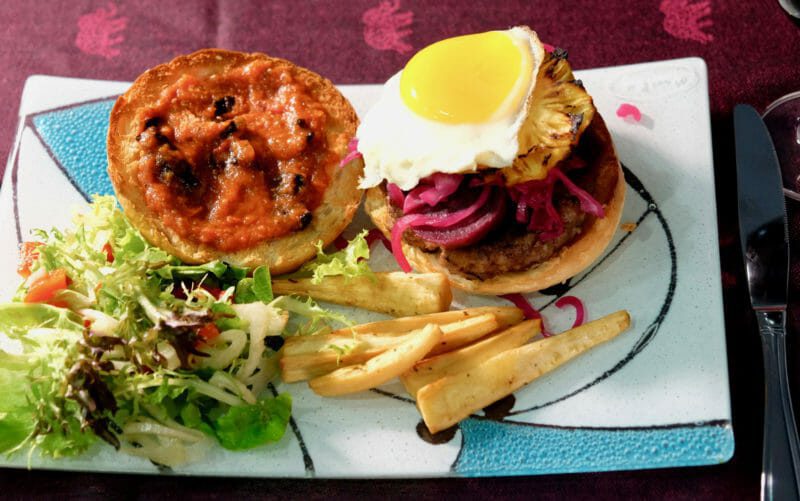 There is something special about piling a few select ingredients between a couple of pieces of bread. This burger with tomato and black garlic sauce together with a few other select ingredients, is simple yet so delicious.
Burgers, like Vietnamese banh mi, including many variations like this bánh mì heo quay, take the concept of a sandwich in new directions. MacDonald's and Burger King, while building billion dollar businesses out of this, have unfortunately lowered many people's expectations. We should see them as outliers while we focus on the amazing potential of this simple culinary structure.
The Big Mac has its secret sauce. It is amazing what a difference a great sauce can make. For this burger the tomato and black garlic sauce, together with the smoky pineapple and pickled beets, really differentiates it from the masses.
There are many dedicated to making great burgers. My go-to burger restaurant in Ho Chi Minh City certainly takes the art of the burger very seriously…
The subject of this post was inspired by a recipe from the Food & Wine site. With the addition of the tomato and black garlic sauce, the burger took on a very interesting and distinct character. I was certainly very pleased with the results.
Many burgers, while looking pretty yummy, are not particularly healthy. This one omits the cheese and rich salty sauces, but it is nevertheless very tasty and will leave you more than satisfied.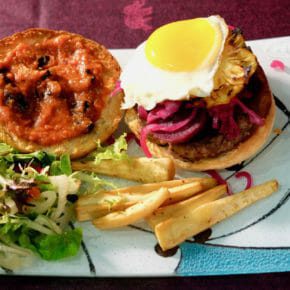 Burger with tomato and black garlic sauce, pickled beets, smoky grilled pineapple, and fried egg.
Print Recipe
Ingredients
600

g

quality minced beef

2

large or 4 small beetroots

1

onion

sliced thinly lengthwise

1

pineapple

cut into 10mm rounds

3

tomatoes

1

red pepper

2

cloves

black garlic

or 1/2 bulb roasted garlic

5

eggs

1 spare

1/2

cup

breadcrumbs

4

burger buns

1/4

cup

brown sugar
Instructions
Wash the beetroot and wrap in foil with a drizzle of olive oil. Bake at 200 degC for an hour. Allow to cool.

Halve the tomatoes and peppers, lay on a baking tray and drizzle with olive olive, salt and pepper, and bake at 200 degC for 40 minutes

Peel and chop the parsnips into chip sized pieces

Drizzle with olive oil and bake until nicely browned

When the beetroot has cooled, peel and slice, and put into a bowl

Add the thinly sliced onion

Bring the vinegar and sugar to the boil, then pour over the beetroot and onion and let sit for 20 minutes. Drain.

Add beaten 1 egg and 1/2 cup of breadcrumbs to the beef mince and mix in by hand.

Form the beef into 4 round patties, separate with baking paper, and store in refrigerator for at least 1 hour

Peel the skin from the baked tomatoes. Remove the hard core. Blend tomatoes and peppers to make a sauce. Stir in the black or roasted garlic.

Grill the pineapple rounds over a wood fire, or grill in an oven then smoke. Or just grill and omit the smoking bit.

Grill the beef patties for 3 minutes per side, or until medium rare, or as per your preference. Let rest for 5 minutes.

Halve the buns and grill until just starting to brown

Add a beef patty to the bun base, top with beetroot and onion, a pineapple slice, and a fried egg

Apply the sauce to the other half of the burger bun
Notes
Serve with a salad and healthy parsnip fries.