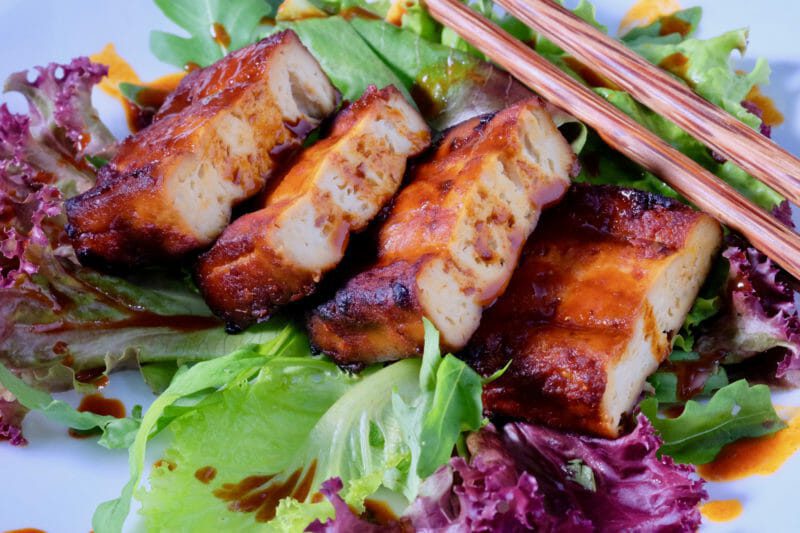 The versatility of tofu is a legend. Here the firm tofu becomes almost cheese-like after marinating in gochujang and grilling. The gochujang tofu has a spicy complexity that only a fermented ingredient can bring.
The genesis of this gochujang tofu dish came from one of my favourite food-related sites, Serious Eats. While their grilled tofu chipotle miso recipe was delicious, I couldn't help thinking how it would work even better with gochujang, a Korean ingredient in which chilli and fermented soya beans are the primary components. And indeed, it did work out very well.
Gochujang has quite a unique taste. As a result, it is one of the key ingredients that make Korean cuisine so unique. But it still works in a variety of other contexts. Try these kimchi waffles with a gochujang drizzle or this pan-fried gnocchi with gochujang sauce.
Firm tofu is used for this dish. Using softer tofu will result in a different and inferior result. The texture of firm tofu allows it to absorb more of the gochujang marinade and take on more of its flavour.
Although this dish uses a very Korean ingredient, it is not a Korean dish, rather an Asian inspired dish. While sacrilege to some, I love drawing on Asia's diverse flavours to create something new.
I mentioned the value of fermented ingredients above. If you have Netflix, be sure to watch the series Cooked, especially episode 4.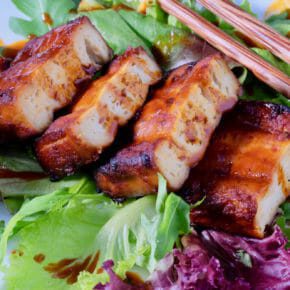 Marinated and grilled gochujang tofu
Print Recipe
Ingredients
Marinade
5

Tbsp

gochujang

1

thumb sized piece of ginger

finely grated

5

cloves

garlic finely chopped or minced

3

Tbsp

soy sauce

1

Tbsp

liquid honey

1

Tbsp

sesame oil
Tofu and salad
600

g

firm tofu

cut into 1.5 to 2cm thick slabs

mixed green salad

1

zest of a lime

1

juice of a lime

1

Tbsp

extra virgin olive oil

1

Tbsp

soy sauce
Instructions
Preparation
Combine the marinade ingredients.

Reserve 2 Tbsp of the marinade to use in the dressing later.

Drain the tofu on paper towels, top and bottom. Quite a lot of moisture can drain out, so you may need to replace the paper towels once or twice, until little moisture remains.

In a glass or ceramic baking tray, smear a third of the marinade on the bottom.

Lay the tofu on top of the marinade, then spread out the remaining marinade on the tops and sides of the tofu.

Cover with plastic wrap and marinate overnight or for at least a few hours.

Create a dressing by combining the reserved marinade, zest of a lime, juice of a lime, 1 Tbsp soy sauce, and 1 Tbsp olive oil. Shake well and allow the flavours to merge for at least an hour.
Final steps
Grill or broil the tofu until a little charred.

Strain the dressing.

Serve on a mixed green salad with a drizzle of the dressing.