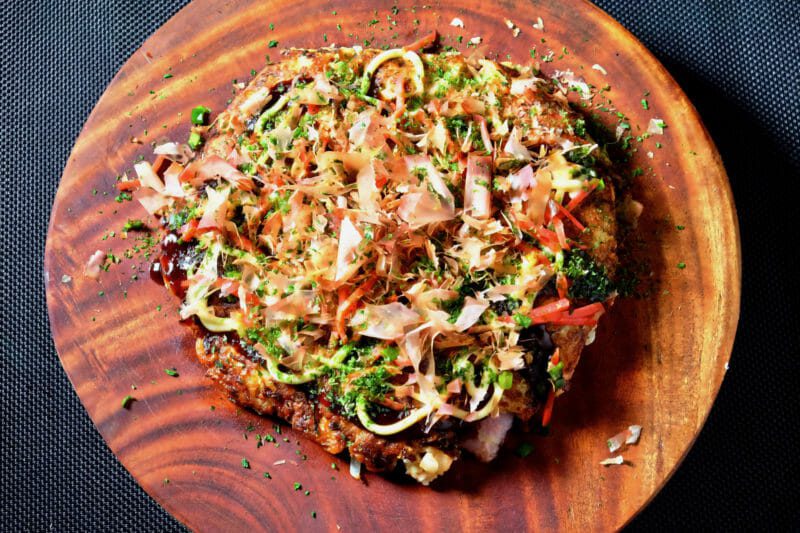 The Japanese word okonomiyaki means "what you like, grilled" or "grilled as you like it". That certainly creates some room for experimentation with this kimchi and scallop okonomiyaki recipe.
This okonomiyaki is of the Osaka or Kansai style. The other major style is from Hiroshima. The okonomiyaki there is more layered and includes noodles.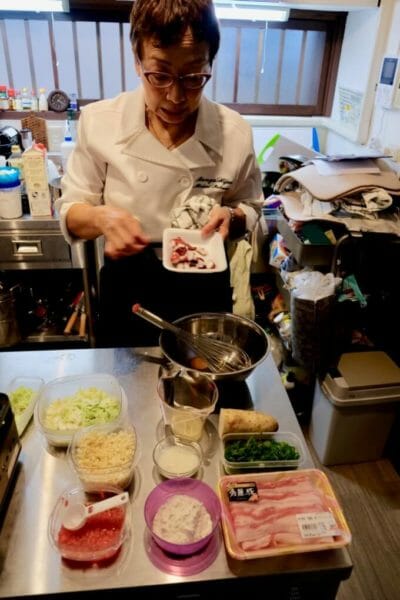 My daughter and I did a great cooking class with Midori in Kyoto. As well as learning how to make okonomiyaki, we also prepared takoyaki and gyoza. More on those to come. This is a photo of Midori explaining the okonomiyaki ingredients. In this version, Midori used octopus.
As the meaning of the name suggests, experimentation with ingredients is to be expected. While the basic okonomiyaki recipe is delicious, as its popularity as street food throughout Japan attests, experimenting with different ingredients is encouraged.
In this version, substituting some of the fresh cabbage with kimchi adds a funky fermented note. The scallops worked well too – their sweet subtle flavour complimenting the custardy batter.
And should you not need to feed 6 people, make the second okonomiyaki anyway and keep in the refrigerator for the next day, or the freezer for a few weeks. Okonomiyaki made from raw batter that has been frozen does not work well.
Ingredients notes
Some of the ingredients in this kimchi okonomiyaki recipe may be unfamiliar. The following notes may be useful:
Yamaimo: this is a yam type root vegetable which when grated becomes sticky and creamy. It is important for the custard-like texture of the okonomiyaki. I managed to buy frozen grated yamaimo from a Japanese grocery shop. There is also a dried version. You may also be able to find an okonomiyaki dry mix at a Japanese shop. Failing that, grated starchy potato is a suitable substitute.
Okonomiyaki sauce: Okonomi sauce or takoyaki sauce can be found at a Japanese shop or Asian market. Otherwise, combining 3 Tbsp ketchup, 2 Tbsp Worcestershire sauce, and 1 Tbsp soy sauce to get a sauce that is very close to the original.
Beni-shouga: This is a pickled ginger, usually with a distinct red colour. It is a little different from the pickled ginger that comes with sushi at sushi restaurants, but if you cannot locate any, the sushi restaurant version will suffice.
Kewpie mayonnaise: Japanese mayonnaise is different from the European and North American versions. Still, if you cannot find any, European or North American mayonnaise will work fine too.
Ao-nori: This is like very small pieces of nori (the sort of dried seaweed sheets available as a snack). If ao-nori is not available near you, just cut/crumble up some nori sheets.
Pork belly/bacon: Classic okonomiyaki uses thin slices of pork belly. Outside of Japan, you may need to get your local butcher to prepare this. Alternatively, use a mild bacon, as I have done in this recipe. If the bacon has too strong a flavour, it can dominate the whole okonomiyaki.
Kimchi: Try to find the Napa cabbage style of kimchi, and get the best quality you can from a deli or Asian market.
"What you like, grilled."
Other filling combinations I have tried and highly recommend:
Some ingredients I look forward to experimenting with: basil, mussels, smoked salmon…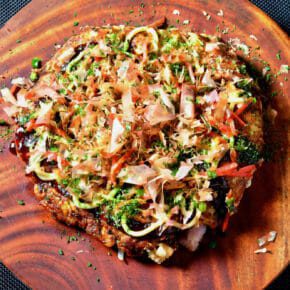 Kimchi and scallop okonomiyaki
The Japanese word okonomiyaki means "what you like, grilled" or "grilled as you like it". That certainly creates some room for experimentation with this kimchi and scallop okonomiyaki recipe.
Print Recipe
Ingredients
Okonomiyaki
1/2

cup

dashi stock

1/4

tsp

salt

1/4

tsp

sugar

120

g

grated yamaimo

or nagaimo

3

eggs

120

g

all purpose flour

30

g

beni-shouga

pickled red ginger

10

g

katsuobushi

bonito flakes

200

g

finely chopped cabbage

about 2 packed cups

4

spring onions, finely diced with green parts reserved for the topping

200

g

Japanese style bacon

6 slices

200

g

scallops, diced into eighths

2

Tbsp

cooking oil
Toppings
Okonomiyaki sauce

or… see above

Kewpie mayonnaise

or… see above

Ao-nori

crushed dried seaweed to sprinkle

5

g

Katsuobushi

20

g

beni-shouga

Green parts of the spring onions
Instructions
Whisk together the dashi, eggs, and yamaimo in a large bowl.

Whisk in the flour to form a batter.

Add the finely diced cabbage, kimchi, katsuobushi, beni-shouga, white parts of the spring onions, and diced scallops, and mix well.

Bring a non-stick skillet to a medium heat.

Add a Tbsp oil, spread around, then add half the batter. The thickness should be about 2cm.

Add slices of Japanese style bacon on top of the batter.

Cook for 5 minutes the cover and steam for a further five minutes.

Turn over the okonomiyaki, either with 2 large spatulas, or by tipping it into a plate, or the fry pan lid, then sliding it off back into the skillet.

Cover and cook for a further 8 minutes or so until the bacon is crispy.

Slide onto a plate or round chopping board.

Drizzle with okonomiyaki sauce and kewpie mayonnaise.

Sprinkle on half the spring onions, katsuobushi, beni-shouga, and ao-nori.

Repeat for the rest of the prepared batter.