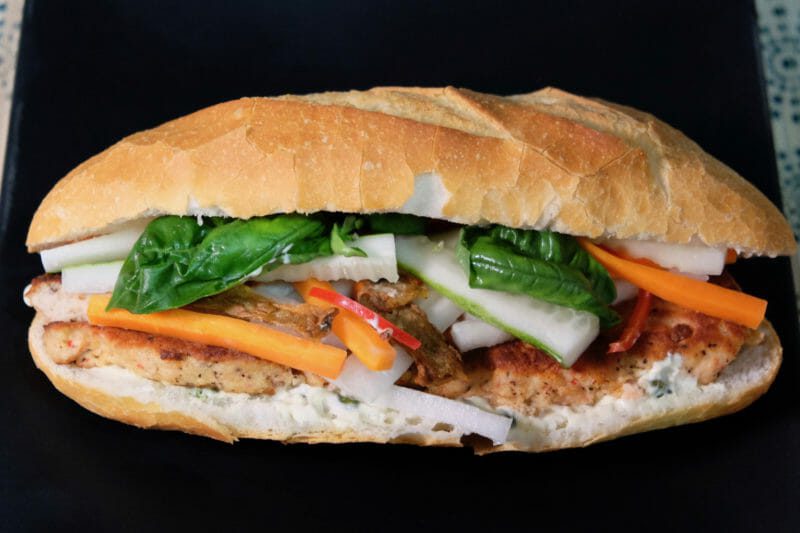 Vietnamese baguette, or "bánh mì", is popular well beyond Vietnam. And, the variations available in Vietnam go way beyond the well known "jambon" version. This salmon banh mi is inspired by bánh mì chả cá (fish cake in a baguette), a version widely available in Saigon.
If you are lucky enough to have tried authentic Vietnamese baguettes, chances are you will be looking forward to your next banh mi experience. There is something magical about this street food staple. Partly it is the baguettes themselves. Vietnamese baguettes are very crisp on the outside yet very light and airy on the inside – almost cloud-like.
Salmon cake (chả cá hồi)
I have used salmon in this recipe instead of the more traditional white fish, usually catfish. Two reasons: I love salmon, and salmon is a really healthy food choice. Even farmed salmon! OK, wild salmon may be better, but how realistic is that for most of us? Farmed salmon is a very healthy option, given the choices most of us face.
Chả cá, or fish cake, is made by mashing fish flesh together with seasonings. The result is then broiling or grilling. It is a common ingredient in noodle soups in South-East Asia, as well as in bánh mì.
Pickled carrot and daikon, and more
The other ingredients of this bánh mì chả cá are typical of the Saigon street food version: pickled carrot and daikon, cucumber, mayo, chilli, and coriander. Actually, there were a couple of variations: crushed green peppercorns gave a mayo a lot more character. Also, I substituted basil for the coriander. The variations worked and distinguished this version from the street food variety.
Salmon banh mi is not the only bánh mì sandwich on delectabilia. Also, check out the Bánh Mì Heo Quay (roast pork baguette) and bánh mì chay (vegetarian baguette).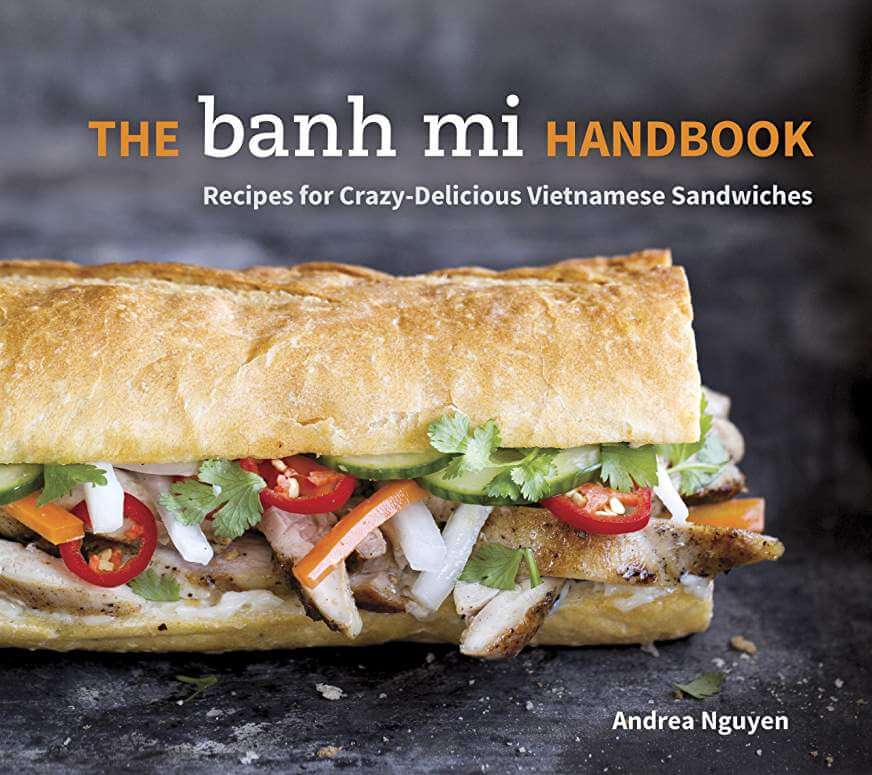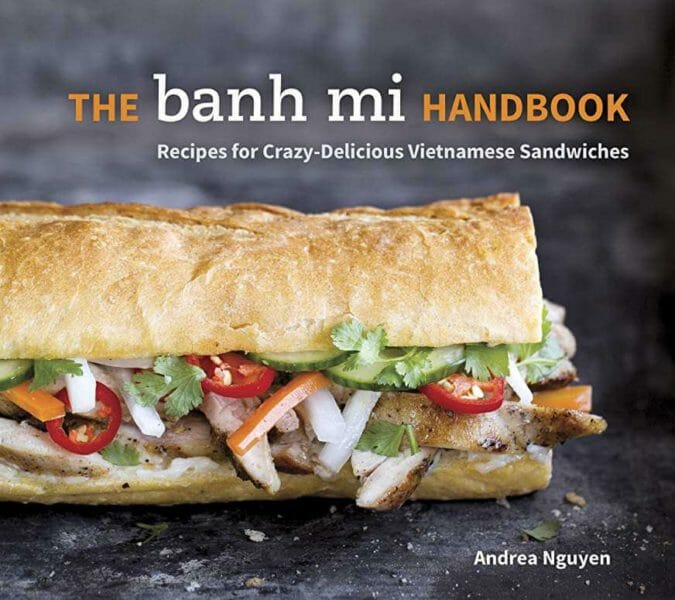 Interested in exploring this vector of Vietnamese cuisine further, then I highly recommend this book…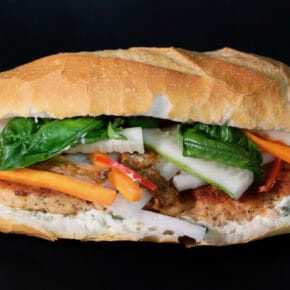 Salmon cake in baguette, Vietnamese style (Bánh mì chả cá hồi)
Print Recipe
Ingredients
Pickled carrot and daikon
1

large daikon

1

large carrot

2

tsp

salt

2

tsp

sugar

1/2

cup

sugar

1

cup

warm water

1 1/4

cups

distilled white vinegar
Salmon cakes
400

g

salmon fillets

skin on

150

g

smoked salmon

1

Tbsp

mayonaise

2

eggs

1/2

tsp

salt

1

tsp

freshly ground black pepper

1

half lemon

juiced

1

Tbsp

breadcrumbs

1

onion

3

cloves

garlic
Green pepper mayo
3

Tbsp

mayo

1

Tbsp

green peppercorns
Other items
4

baguettes

1

cucumber

1

red chilli

1

bunch fresh coriander
Instructions
Pickled carrot and daikon
Julienne the carrot and daikon and place in a bowl.

Sprinkle the 2 tsp salt and 2 tsp sugar over the carrot and daikon. Toss well and set aside for 15 minutes.

Drain the carrot and daikon in a colander, and rinse under cold water. Allow to drain.

Combine vinegar, 1/2 cup sugar, and water in a bowl. Stir until the sugar is dissolved.

Add the carrot and daikon to the vinegar, cover and refrigerate for a couple of hours before using.
Salmon cakes
Finely chop the onion and garlic.

Sauté until soft and transparent.

Remove the salmon skins and set aside.

Set aside a third of the fresh and a third of the smoked salmon.

Coarsely chop the 2/3 rd of the salmon and add to a blender.

Add mayonnaise, salt, pepper, lemon juice, and sautéed onion and garlic to the blender.

Blend until smooth.

Finely chop the remaining salmon into 5x5mm pieces.

In a bowl, combine the blended and finely chopped salmon, eggs, and breadcrumbs.

Form into patties and set aside in the refrigerator for an hour.

Add some oil to a skillet over a medium high heat.

Brown the patties on both sides, 3 to 4 minutes per side.

Drain on paper towels.
Crispy salmon skin
Cut the salmon skin into 5 cm x 1cm strips.

Fry in a drizzle of oil until crispy.
Green pepper mayo
Crush the green peppercorns and combine with the mayo.
Construction
Slice the cucumber length ways into long flat strips

Finely dice the chilli into thin rounds

Remove stalks from the coriander

Slice open baguettes length wise

Smear on some green pepper mayo

Add salmon cakes

Top with cucumber slices, pickled carrot and daikon, coriander, and sliced chilli.