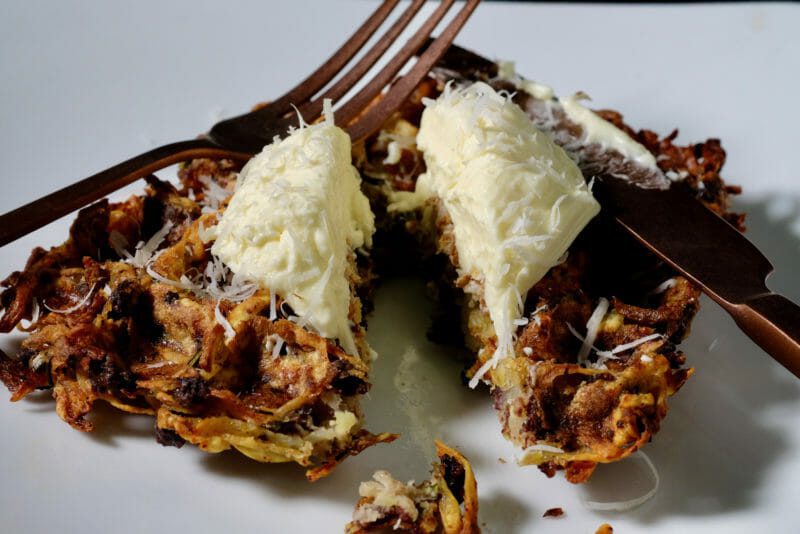 Crispy potato waffles are a delight any time. Add the complexity of black sausage and a dab of crème fraîche to this potato waffle recipe, and you have something worthy of savouring together with a glass of good wine.
Black sausage goes by many names and styles. I used Blackball Black Pudding from the West Coast of New Zealand's South Island for this dish. It is usually associated with Western European countries, including Ireland, the UK, France (boudin noir), Spain (morcilla), and Germany (blutwurst). However, very similar sausages are also popular in Africa (mutura), Korea (soondae), and Vietnam (dồi huyết).
Whatever name it goes by, this ingredient has a wonderfully complex and rich taste. It is a great addition to a wide range of dishes. Strangely most of my NZ family and friends do not share my enthusiasm for this delicacy!
A dollop of crème fraîche topped these potato and black sausage waffles, its creamy and sour character complimenting the complexity of the waffles perfectly. Sour cream would, of course, work nearly as well in this potato waffle recipe and be quite a bit cheaper.
If you serve this as a breakfast or brunch, try replacing the sour cream with a poached egg. Follow that up with a good coffee. That's my plan for tomorrow.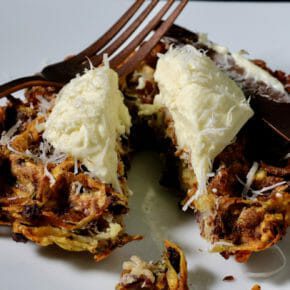 Potato and black sausage waffles with crème fraîche
Crispy potato waffles are a delight any time, but add the complexity of black sausage and a dab of crème fraîche and you have some something worthy of savoring together with a very good wine.
Print Recipe
Ingredients
Waffles
300

g

roasting potatoes

peeled (russet, yukon gold, desiree)

300

g

sweet potatoes

peeled

3

Tbsp

all purpose flour

2

eggs

1/3

cup

grated parmesan

1

tsp

freshly ground black pepper

2/3

cup

black sausage cut or crumbled into small 5x5mm pieces

1/4

cup

chives chopped
Garnish
8

Tbsp

crème fraîche

or sour cream

grated Parmigiano-Reggiano

or Parmesan
Instructions
Grate the potatoes.

Place the grated potato into a large pot of cold water. Allow to sit for 15 minutes. This removes the starch from the potato, resulting in more crisp waffles.

Whisk together the eggs and flour, and let sit for 10 minutes.

Drain the grated potato in muslin or a clean tea towel, squeeze out as much water as possible.

Add the egg and flour mixture, the parmesan, black sausage pieces, and the chives to the grated potatoes. Stir until the black pudding and chives are evenly distributed through the mixture.

Bring the waffle iron up to temperature (high), and pre-heat the oven to 120 degC.

Spay the waffle iron with non-stick spray, or brush with melted butter.

Add an appropriate amount of potato mixture to the waffle iron. This will depend on the waffle iron. You may have to experiment a little if you are unfamiliar with the waffle iron you are using.

Cook the waffles for 5 to 7 minutes.

Carefully open the waffle iron a little. If the mixture is sticking to the iron, cook another few minutes.

Once the waffles are a deep golden brown and separate easily from the waffle iron, transfer them to a tray in the pre-heated oven and repeat the cooking process until you have used up the mixture.

Serve topped with a dollop of crème fraîche or sour cream and a few Parmesan shavings.