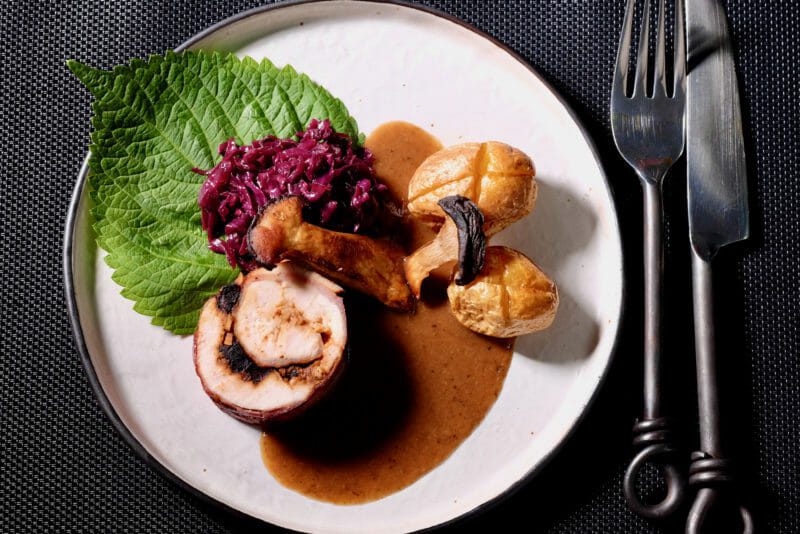 A trio of garlic – roasted, black, and raw – are wrapped in chicken and sealed with that tastiest of cured hams – speck. The braised red cabbage adds a nice sparkle to complement the garlic stuffed chicken breast.
This is very much a garlic lovers recipe. Although made from the same base ingredient, these three preparations of garlic are distinctly different. And what better way to host these amazing flavours than to have the garlic wrapped in chicken. Chicken can, like tofu, compliment and not dominate the flavours it is cooked with. Note to self: try a vegetarian version of this dish using tofu.
Raw Garlic
Raw garlic has a flavour profile of herbaceous pungent spiciness. This is the garlic people either love or hate. Even so, garlic is a foundational ingredient in many cuisines, including the South Asian and South-East Asian cuisines of India, Thailand, Vietnam. It also plays a significant role in the cuisines of the Middle East and the Mediterranean.
Rosted Garlic
Slow roasted garlic has a sweet buttery intensity that is very addictive. It is a great addition to a wide range of dishes such as sauces, soups, purees, and vinaigrettes. The slow roasting process softens the pungency of raw garlic, adding sweet caramel notes. Roasted garlic is great, even just smeared on a piece of sourdough bread.
Black Garlic
Black garlic is in some ways similar to slow-roasted garlic. It is, however, "cooked" at a much lower temperature for a much longer time. This results in the fermentation of the sugars rather than caramelizing. The taste profile is sweet yet sharp, reminiscent of balsamic vinegar. The garlicky flavour almost totally disappears. This is due to the reduced content of allicin, which is converted into alkaloids and flavonoid compounds.
This trio of garlic is wrapped in chicken and then again in speck. We need to minimize our consumption of processed meats such as speck, prosciutto, pancetta, and of course, bacon. And I do limit them. But these smoky, salty, umami-packed slices of goodness are too good to eliminate. Speck, from northern Italy, is my favourite. It is uncooked, salted, and smoked pork aged anywhere from six months to two years. So good.
Sous Vide Chicken
I have used the sous vide technique to cook this garlic stuffed chicken breast perfectly. It is then finished with a sear under the broiler. This results in wonderfully tender and juicy chicken. I highly recommend getting a sous vide device if you don't have one already. But if you don't, you could bake the chicken roll in a 200 degC oven until the chicken roll's internal temp is 72 degC—about 10 to 15 minutes.
This garlic stuffed chicken breast needed some complementary brightness in terms of taste profile and visually. The braised red cabbage fulfils this role perfectly. I borrowed this from a Great British Chefs recipe. So glad I did. It was so at home here.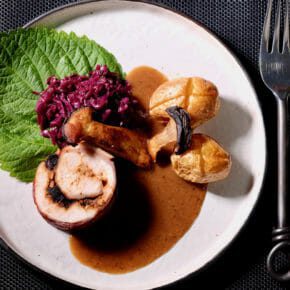 A trio of garlic stuffed chicken breast wrapped in speck
A trio of garlic – roasted, black, and raw – are wrapped in chicken and sealed with that tastiest of cured hams – speck. The braised red cabbage adds a nice sparkle to complement the garlic stuffed chicken breast.
Print Recipe
Ingredients
Chicken roulade
2

heads

roast garlic

15

g

fresh garlic finely diced

30

g

black garlic cloves

removed from the skins, and quartered

600

g

chicken breasts

2 large or 3 medium

100

g

speck

in 4 long slices

10

g

butter

1

sprig parsley
Braised red cabbage
1

small red cabbage

or 1/2 a large one

1

cup

red wine

50

ml

red wine vinegar

30

g

brown sugar

1

star anise

1/2

tsp

salt

1

tsp

freshly ground pepper

1/2

cinnamon stick

1

Tbsp

vegetable oil

e.g. canola or grapeseed

10

g

butter
Other (suggestions)
2

King oyster mushrooms

Potatoes

preferably new potatoes

Perilla leaves

or some other green leaf
Instructions
Chicken roulade
Remove the roast garlic from the skins.

Bash the chicken breasts between to pieces of plastic wrap so that they are around 10-15mm thick.

Roll out a piece of plastic wrap onto you bench top.

Lay out the speck on the plastic wrap, extending length ways away from you. It should be roughly a square.

Lay chicken pieces onto the speck.

Distribute the roast garlic, fresh garlic, and black garlic across the chicken.

Using the plastic wrap to help, roll up the speck, chicken and garlic into a roulade.

Wrap the plastic wrap around the outside of the roll and put in the freezer for 30 minutes to make it more firm.

Remove the plastic wrap from the roll then tie with kitchen string, in 6-8 positions along the roll.

Place to roll in a sous vide bag along with 10 g butter and a couple of sprigs of parsley.

Sous vide at 63 degC for 2 hours.

Remove from the sous vide bag and discard the parsley. Pour the juices into a saucepan and retain for the gravy.

Broil under a hot grill until the speck gets a little crispy – just a few minutes, turning regularly.

Cut into serving sized pieces.
Braised red cabbage
Remove outer leaves and wash the cabbage.

Finely slice the cabbage.

Add the vegetable oil and butter to a large saucepan and place over a medium heat.

Add the cabbage to the saucepan, toss in the oil, and cook until the cabbage starts to soften.

Add the sugar, salt, pepper, red wine, vinegar, star anise and cinnamon stick.

Reduce the heat to maintain a simmer.

Simmer until the liquid has reduced to almost nothing and the cabbage is soft.

Remove the star anise and cinnamon stick.
Gravy
In a saucepan bring the sous vide juices to a boil. Boil until scum forms on the surface. This is protein from the sous vide cooking process.

Finely dice the onion and dice the shiitake mushrooms.

In another saucepan sauté the onion and shiitake mushrooms in butter until the onion is soft and the shiitake mushrooms are starting to brown.

Add the brown chicken stock.

Through a fine strainer, pour in the sous vide juices. Discard the scum that remains in the strainer.

Simmer for 20 minutes.

Blend using and immersion blender. Doesn't need to be thoroughly blended, we just need to thicken it up a bit.

Strain the gravy through a fine strainer. Use a spatula to push the liquid gravy though.
Other
Coat the potatoes in olive oil then bake in a 180 degC oven for 1 hour, turning once.

Cut the king oyster mushrooms lengthways into halves or quarters, depending on their size.

In a skillet, fry the mushroom slices in butter until golden brown.