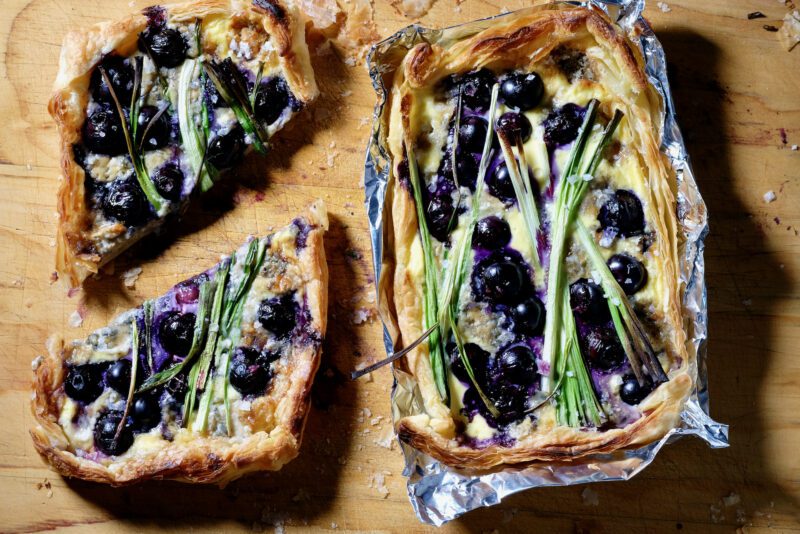 Flakey pastry, yoghurt, and eggs serve as a platform for two of the worlds most exquisite foods – blueberries and blue cheese. These savory blueberry tarts are luxurious and mostly healthy.
What is the best blue cheese for savory blueberry tarts?
There is such an incredible variety of cheese. Each style has unique characteristics. As with choosing cheeses for a cheese board, the choice of cheese to use for cooking is equally important.
For this recipe, I wanted a blue cheese that would not melt into the egg and yoghurt mixture. Although Roquefort cheese, a sheep milk cheese from Southern France, is my favourite style of blue cheese, I selected something drier and more crumbly for this dish. Stilton Blue, an English cheese, is a cow's milk cheese that is less creamy and more crumbly than Roquefort – perfect for this dish.
If Stilton Blue cheese is not available where you are, look for Shropshire Blue. And while not quite as crumbly as Stilton and Shropshire, Roquefort will be happy to bring all of its unique flavours to this dish.
But if it is an alternative to blue cheese that you seek, look no further than feta cheese. It is crumbly and packed with flavour-enhancing compounds, and it doesn't have the funky characteristics of blue cheese that may not be to your liking.
Do I need to use blueberries?
Blueberries can be expensive – if you can buy them at all. Fresh blueberries are seasonal and may not be available where you are. Check the frozen section of your supermarket or gourmet store. Frozen blueberries are still delicious, and once cooked, you probably won't notice the difference, visually or taste.
Blueberries are one of nature's superfoods. There are so many reasons to include them in your diet. I am so lucky here in Saigon – we have New Zealand blueberries for half the year and blueberries from the US for the other half. Eat them as a snack, perhaps with a sliver of cheese. Or cook with them like this delicious Duck Breast with Blueberry Cacao Sauce, this Blueberry Pizza, or this Panna Cotta.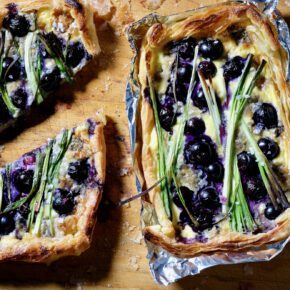 Blueberry and Blue Cheese Tarts
Flakey pastry, yoghurt, and eggs serve as a platform for two of the worlds most exquisite foods – blueberries and blue cheese. These savoury blueberry tarts are luxurious and so healthy.
Print Recipe
Ingredients
500

g

sheet flakey pastry

250

g

Stilton Blue cheese

or Roquefort will work well

4

eggs

100

g

Greek yogurt

or sour cream or creme fraiche

1

bunch green onions

250

g

blueberries
Instructions
Preheat the oven to 220 degC

Cut the sheet of pastry into quarters. You should have 4 squares or rectangles about 400 cm2 each.

Fold up the edges of each piece to form a 1 cm high "wall" which will keep our toppings contained.

Pinch the corners to help the walls stay upright. Form pieces of aluminium foil around the pastry base so that the sides are supported.

Use a fork to punch a few holes in the pastry base (to allow steam to escape and so stop bubbles forming).

When the oven is up to temperature, pre-bake the pastry bases for 15 minutes or until the pastry is just starting to brown.

Whisk the eggs with the yogurt.

Wash and trim the green onions, cut to a length that will fit in the pastry bases. Cut in half length-ways unless they are already quite thin.

Blanch the green onions in boiling water for one minute.

Place the blanched green onion between paper towels and squeeze out any water.

Crumble the blue cheese. (Stilton crumbles particularly well)

Remove the partially cooked bases from the oven and allow to cool for 5 minutes.

Sprinkle the crumbled blue cheese evenly over the 4 bases.

Distribute the egg and yogurt mixture evenly between the 4 bases.

Lay the green onions on to the egg and cheese.

Sprinkle the blueberries evenly over the 4 bases. Push them down a bit so that they are partially submerged in the mixture.

Bake for 15 minutes, or until the egg has set and the pastry is golden brown.