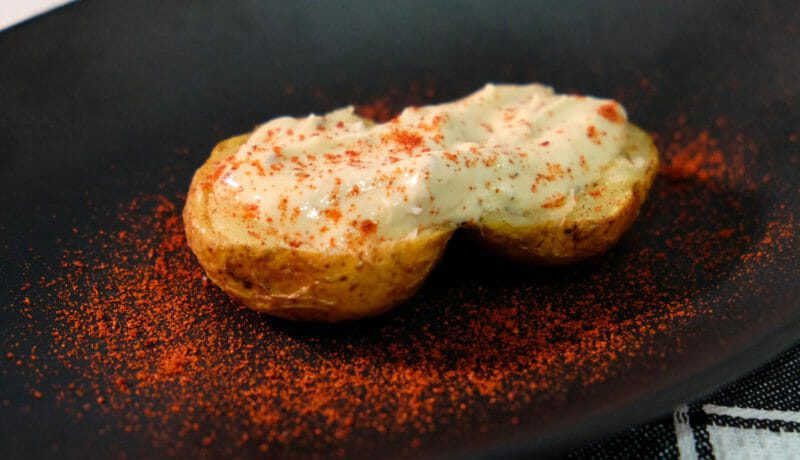 While these baked potatoes with a blue cheese topping work great as a side, they are so flavorful that they make an impressive appetiser or tapas style dish.
The great thing about potatoes, like white rice and tofu, is that they provide volume to small amounts of stronger and distinct flavours – in this case, the flavour of Roquefort. Not only is the flavour great, but the sensation of eating the warm potato with the cold blue cheese and sour cream mixture is an experience in itself.
I used Roquefort cheese in this recipe as it is easily my favourite blue cheese. If you are not familiar with blue cheeses, I encourage you to explore the range. Start by reading the Cooks Thesaurus page on this, then go buy some samples at the deli counter. A good red wine and a few crackers aid the tasting experience! Or for a less conventional pairing, try a good sake.
A very different potato and Roquefort pairing is this gnocchi with blue cheese dish. As with these baby potatoes, the gnocchi provide some bulk and texture to carry the more intensely flavored ingredients such as the Roquefort and sun dried tomatoes. These crispy smashed potatoes are yet another example.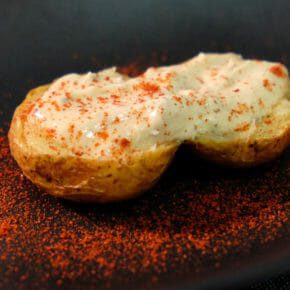 Baked potatoes with a blue cheese topping
Print Recipe
Instructions
Pre heat the oven to 200 degC

Clean the baby potatoes so no grit or unsavory bits remain, but keeping skin on.

Put the potatoes in a bowl, pour over the olive oil, and sprinkle over the salt and pepper. Mix around until the potatoes are well coated with oil and seasoning.

Distribute the potatoes evenly on a baking tray and bake for 1 hour.

Break up the roquefort cheese and mix together with the sour cream.

When the potatoes are done, cut in half, spoon some roquefort cheese dressing over them, and dust with smoked paprika.