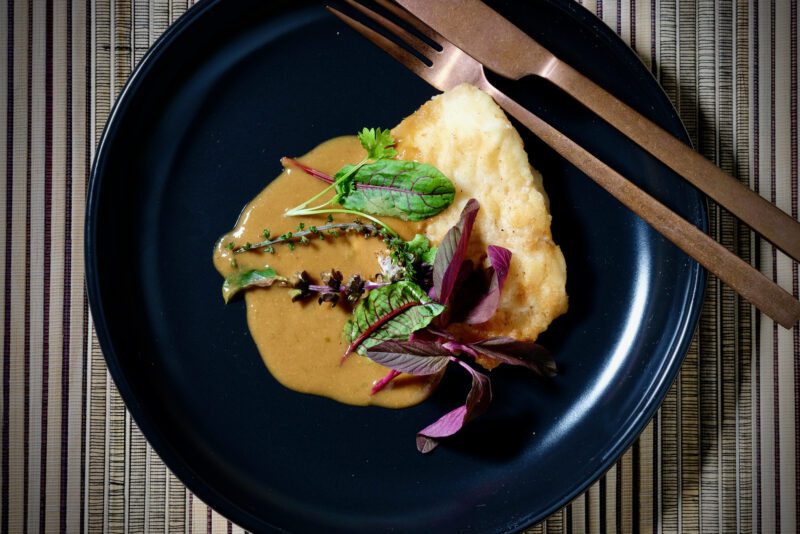 Simply pan-fried, this orange roughy fish has a delectable sweetness enhanced further by the mustard and miso butter sauce.
The Allure of Orange Roughy
Orange roughy is a deepwater fish that lives at around 1000 metres below the surface. It is a delectably sweet and delicate fish and was very popular in the 1970s and 80s. Although found in the Atlantic, Indian Ocean, and South Pacific, the New Zealand fishing industry produced over half of the commercially caught orange roughy catch in the 1980s.
I still feel a little guilt about frequently buying orange roughy in New Zealand during that period. I recall the price increasing over time as the catch decreased until it was no longer for sale at all. Orange roughy is a victim of over-fishing.
The New Zealand fishing industry was among the first to embrace sustainable fishing. Thirty years later, there is welcome proof of the value of sustainable fisheries. According to the Marine Stewardship Council, the world's most credible and robust standard for sustainable fishing, orange roughy is considered a success story of sustainable fisheries.
I was astonished to find frozen New Zealand-caught orange roughy in the frozen produce section of my local gourmet food market here in Saigon during a recent visit.
After such a long absence, it again became my favourite fish. Orange roughy is a sweet and delicate fish with a beautiful buttery mouthfeel reminiscent of lobster. Because of its very delicate flavour, we must prepare it in a way that highlights its unique characteristics. For white fish, pan-frying is the cooking method that best highlights the unique aspects of a species. Pan-frying orange roughy with just a dusting of seasoned flour is enough to bring forth all the best this fantastic fish has to offer.
It's All in the Sauce – a Butter Sauce for Seafood
The choice of sauce to accompany a fish like orange roughy is a critical consideration. We need to ensure we are complimenting and enhancing the distinctive characters of this fish and not dominating them. With this goal in mind, we created the mustard miso butter sauce. Subtle brightness from the mustard and vinegar, sweetness and umami from the miso, and the creamy mouthfeel from the emulsified butter work perfectly together to enhance this pan-fried orange roughy.
An accompaniment to delicate seafood needs to help highlight what makes it unique, not dominate it. Other examples of recipes on delectabilia where there has been a particular focus on getting this balance right include this whitebait chawanmushi and these seared scallops with roasted garlic cream sauce.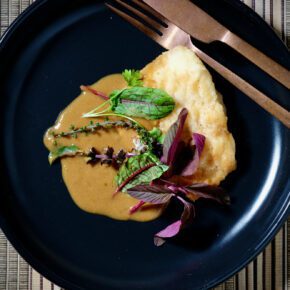 Pan-fried Orange Roughy with Mustard Miso Butter Sauce
Simply pan-fried, this orange roughy has a delectable sweetness enhanced further by the mustard and miso butter sauce.
Print Recipe
Ingredients
Miso Mustard Butter Sauce
Pan fried orange roughy
600

g

orange roughy fillets

or use cod or sea bass if that is easier to find

Seasoned flour for dusting the fillets

30

ml

oil for frying

20

g

unsalted butter
Garnish
Radish sprouts

Salad

Lime
Instructions
Miso Mustard Butter Sauce
In a saucepan, whisk together the mustard, miso, vinegar, mirin, soy sauce, and lime zest.

Bring to a boil over a medium heat then remove from the heat.

When nearly ready to serve, whisk in the butter, one cube at a time.
Pan fried orange roughy
Rinse and dry the orange roughy fillets.

Cut the fillets into 4 servings.

Dust with seasoned flour.

Bring a skillet up to medium heat and add a splash of oil.

Lay the fillets into the hot oil. Add the butter.

Fry for 3-4 minutes then flip and fry the other side for another 3 minutes.

Remove from the pan.