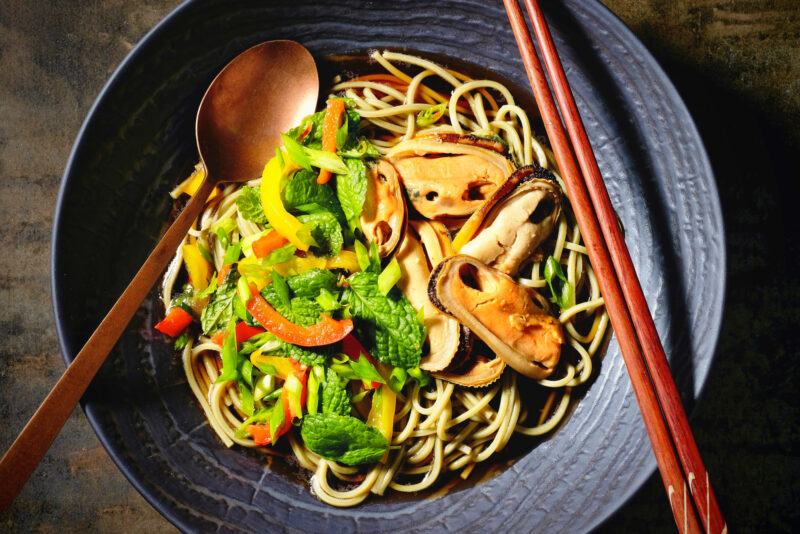 Marinating in tsuyu, fresh wasabi, and ginger further enhances the bold flavour of these succulent New Zealand green-lipped mussels. Add fresh herbs and sweet roasted peppers, and you will have a spectacular taste experience.
Layered on top of cha (tea) soba noodles, this is a visual, taste, and texture experience guaranteed to leave an impression on any food adventurer.
What Is Tsuyu?
Tsuyu is a multipurpose Japanese condiment, often used as a dipping sauce or soup base for soba or udon. The base ingredient of tsuyu is dashi. This most fundamental of Japanese ingredients contributes flavour enhancing glutamates from kombu, dried shiitake mushrooms, and katsuobushi (shaved bonito flakes). Soy sauce and mirin contribute to salty and sweet notes. 
The role of tsuyu in a dish is not to add a lot of its own flavours but instead to contribute umami which helps draw out and highlight the flavours of other components in the dish. This flavour enhancing property makes tsuyu a very effective marinade for these marinated green-lipped mussels. 
Fresh (?) Wasabi
The vast majority of the product labelled as wasabi and sold around the world, is not real wasabi. It is made with horseradish, mustard, and green food colouring. It is effectively imitation wasabi.
There is a good reason for its ubiquity. Wasabi is very difficult to grow. And, once harvested and grated, it has a short shelf life. Yet, it is becoming easier to source what is labelled as fresh wasabi. Maybe not freshly grated, but certainly so much tastier and more mellow than the mass-produced sinus assaulting variety. Seek out "fresh" wasabi at a Japanese or Asian supplies store.
The growing number of wasabi producers outside of Japan is evidence of the value chefs and food enthusiasts are placing on using real wasabi. For example, Real Wasabi in North Carolina and Shima Wasabi in Tasmania, Australia.
Cha Soba Noodles
From the perspective of this writer, soba noodles are underrated outside of Japan. High in fibre from the buckwheat flour used. This also results in a wonderfully chewy texture. In addition, cha soba noodles include green tea adding both flavour and health benefits. Other soba noodle recipes on delectabilia include this cold soba salad with kimchi and natto and these soba noodles with XO sauce and confit egg yolk.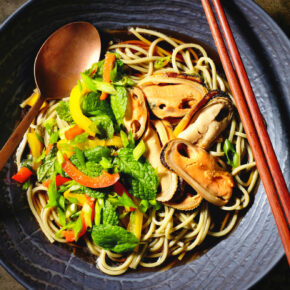 NZ Green Lip Mussels Marinated in Wasabi Ginger Tsuyu on Cha Soba Noodles
The bold flavour of these succulent New Zealand green-lipped mussels is enhanced by marinating in tsuyu, fresh wasabi, and ginger. Add fresh herbs and sweet roasted peppers, and you will have a spectacular taste experience.
Print Recipe
Ingredients
Roasted red and yellow peppers
1

red pepper

1

yellow pepper
Marinated mussels
20

g

ginger, finely diced

4

cloves

garlic, finely diced

10

g

butter

250

ml

dashi

1

kg

frozen NZ green lipped mussels

250

ml

tsuyu

2

Tbsp

wasabi

1

Tbsp

ginger, finely grated

1/2

tsp

freshly ground pepper
Garnish
mint leaves

green onions

Roasted red and yellow peppers

wasabi
Instructions
Roasted red and yellow peppers (do 2 or 3 hours ahead)
Pre-heat the oven to 170 degC.

Halve and trim the red peppers.

Smear with olive oil and roast for 20 minutes.

Allow to cool then cut into thin strips.
Tsuyu (do 2 or 3 hours ahead)
Combine the ingredients in a saucepan and bring up to a high simmer. Do not boil.

Simmer for 5 minutes to evaporate off the alcohol.

Remove from the heat and allow to cool.
Marinated mussels
Combine 250 ml tsuyu, 1 Tbsp wasabi, 1 Tbsp grated ginger and 1/2 tsp freshly ground pepper and combine well.

In the butter in a saucepan large enough to contain the mussels, sauté the diced garlic and ginger until fragrant (2-3 minutes).

Add the dashi and bring to a boil.

Add the mussels, cover, and steam for 5 minutes. No more, as the mussels are already partially cooked.

Allow the mussels to cool a little so that you can handle them.

Remove from the shells, checking for beards, and add to the tsuyu wasabi ginger mix.

Store in the refrigerator for 30 minutes before serving. No longer, as over-marinating can cause the mussels to become mushy.

After marinating for 30 minutes, remove the mussels from the marinade and allow to drain.
Cha soba
Cook the cha soba noodles according to the instructions on the packet. Typically this will mean boiling for around 7 minutes, then refreshing under cold running water.
Plating
Dice the roasted red and yellow peppers and the green onions.

Toss together with the mint leaves.

To a wide bowl, add a portion of cha soba noodles. Use chopsticks to rotate the noodles into a circular arrangement.

On top of the noodles add several mussels.

Pour 200 ml of tsuyu over the mussels and cha soba.

Add the roasted pepper, green onion, and mint atop the noodles.

Add a dab of wasabi on top of the mussels.

Instruct your dinners to toss everything together.