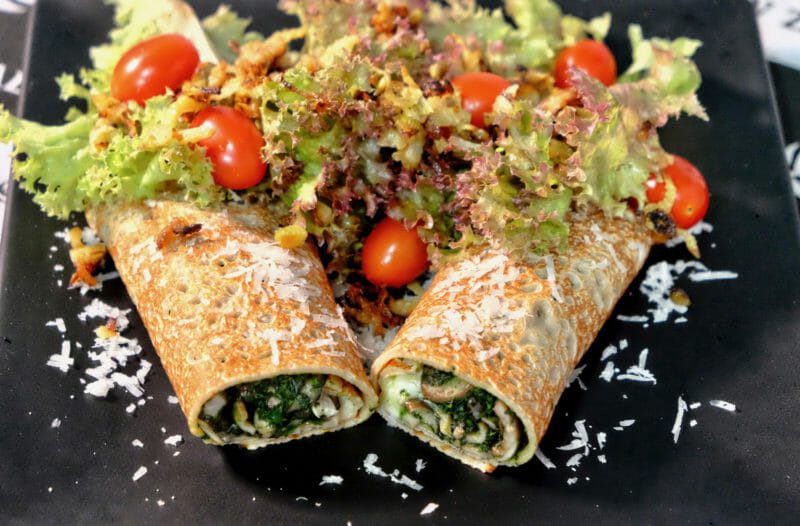 Buckwheat crepes, together with savory spinach and mushrooms, make this a particularly nutritious and delicious dish. The camembert and parmesan add a dimension that only a good cheese can.
Buckwheat is no relation to wheat but is from the same family as rhubarb and sorrel. It has an earthy, nutty taste, with a hint of mushroom. This does make it particularly suited to these savory crepes.
Its culinary origins date back to its domestication and use in South East Asia 8000 years ago. Its use subsequently spread throughout Asia and on to Europe.  Blinis in Russia and galettes bretonnes in France are both made from buckwheat, as of course are soba noodles in Japan and Korea.
Buckwheat's health benefits have no doubt aided its ubiquity, being rich in rich in fibre and B vitamins. This grilled eggplant on soba noodles is a particularly nutritious and delicious dish, as in this soba noodle salad.
Unlike wheat flour, buckwheat has no gluten. Wheat flour is typically added if some structure is required in the end product, such as with pancakes and these savory buckwheat crepes. The gluten content of the added wheat flour will provide some structure for the buckwheat.
Select some tasty mushrooms for the buckwheat crepes filling – fresh shiitakes or portobello work really well. Or, you may prefer the more subtle flavour of button mushrooms. It is important to saute the mushrooms first so that they expel their moisture. Skipping this step can result in soggy crepes, likewise with spinach. Squeeze any moisture out of the cooked spinach before combing with the sauteed mushrooms. These savory buckwheat crepes will really thank you for including these two simple steps.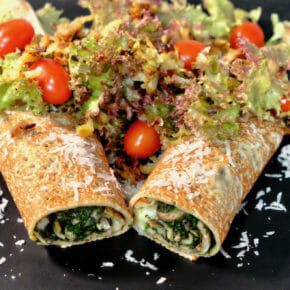 Savory buckwheat crepes filled with mushrooms and spinach
Buckwheat crepes, together with savory spinach and mushrooms, make this a particularly nutritious and delicious dish. The camembert and parmesan add a dimension that only a good cheese can.
Print Recipe
Ingredients
Crepes
1

cup

buckwheat flour

1/2

cup

plain flour

2

cups

milk

2

Tbsp

melted butter

1/2

tsp

salt

3

eggs lightly beaten

3

Tbsp

olive oil for the cooking
Mushroom spinach filling
500

g

mushrooms

I used a mixture of a shiitake, cremini, and brown beech

2

cups

cooked spinach

Frozen spinach works well.

150

g

camembert cheese

20

g

butter

3

Tbsp

olive oil

1/2

tsp

salt
Instructions
Prepare the crepe batter
Sift the buckwheat flour and plain flour into a bowl.

Add the lightly beaten eggs, milk, melted butter, and salt.

Whisk until smooth.

Cover and store in the refrigerator for at least 2 hours, or preferably overnight.
Prepare the filling
Clean and trim the mushrooms.

Drain the cooked (or defrosted) spinach. If using frozen spinach, there is likely a lot of water amongst those little bundles of green.

Stir fry the mushrooms in batches, in 5 g butter and 1/2 Tbsp olive oil. Sprinkle with a pinch of salt. Cook until moisture is expelled from the mushrooms and evaporates, and the mushrooms start to brown. Each batch should be only so big that all the mushrooms contact the base of the pan.

Transfer to a paper towel to drain, then to a bowl.

Repeat until all the mushrooms are cooked.

Add the drained spinach to the pan, heat through for 4 minutes.

Add the mushrooms to the pan and combine.

Test seasoning and add salt and/or pepper to taste.

Remove from heat and set aside
Make the crepes
Allow the crepe batter to return to room temperature before making the crepes. Best remove from the refrigerator an hour before you intend to cook them.

Heat the crepe pan over a medium-high heat.

Before adding the crepe batter each time, use a paper towel or brush to smear some olive oil on the pan.

Add about 1/4 cup of crepe batter and rotate the pan so that it distributes evenly. Depending on the size of your pan, you may need to use less or more batter.

Be prepared that the first 3 or 4 crepes may not be perfect as you adjust quantity, temperature, and technique.

Lay the cooked crepe on a plate with the side cooked first facing down. The side cooked first looks much better and should be on the outside when you roll up the crepes.
Assembling
Preheat the oven to 180 degC.

Cut the camembert into 5mm thick slices.

Lay a crepe on a flat surface and spread some mushroom and spinach mixture along the middle.

Top with a couple of camembert slices end to end.

Roll up the crepe and transfer to a baking tray.

Transfer the crepes to the oven and bake for 10 minutes.

Remove from the oven and serve.
Notes
Served here with a christmas themed salad topped with caramelized fennel.