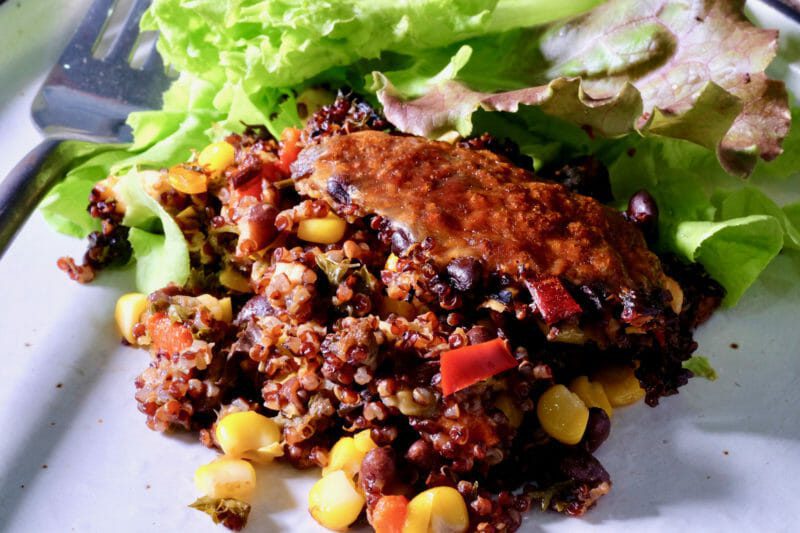 There is so much flavour packed into this red quinoa and black beans bake. And not only is it delicious, but it is also highly nutritious.
Not many recipes on delectabilia would be suitable to take along to a pot-luck dinner. This one, though, would be one to stand out in a crowd. Alternatively, it would be suitable for sectioning up and freezing for those week-nights that you crave something hearty and healthy.
Grains and legumes
The bulk in this dish comes from the quinoa and the black beans, both very high in fibre and vitamins and minerals. They do, however, need to be combined with some enhancing flavours. Not that they are tasteless, both make their own contributions to the flavours of this dish. But we need to use a few other ingredients to draw out their earthy flavours and highlight their qualities.
Dried mushrooms
First are the dried mushrooms. Not only do mushrooms bring their own earthy character to this red quinoa and black bean bake, but the umami from dried mushrooms also enhances all the other flavours in the dish. The effect is like turning up the saturation setting in your photo editing software. The Science of Cooking site has a good piece on why dried shitake mushrooms can taste better than fresh. This Udon noodles in a mushroom curry broth is another recipe that is enhanced by the magic of dried mushrooms.
And the rest…
The corn adds a sweet character that only corn can do. The red peppers add a different kind of sweetness. The eggplant brings a savoury creaminess. The chillis add a little edge. And the feta brings some salt to work together with the umami to enhance all these beautiful flavours.
Do make extra black bean and quinoa bake so that you can freeze it for next time. It freezes well. De-frost and reheat it, serving with a fried or poached egg and a little bacon if you are not vegetarian.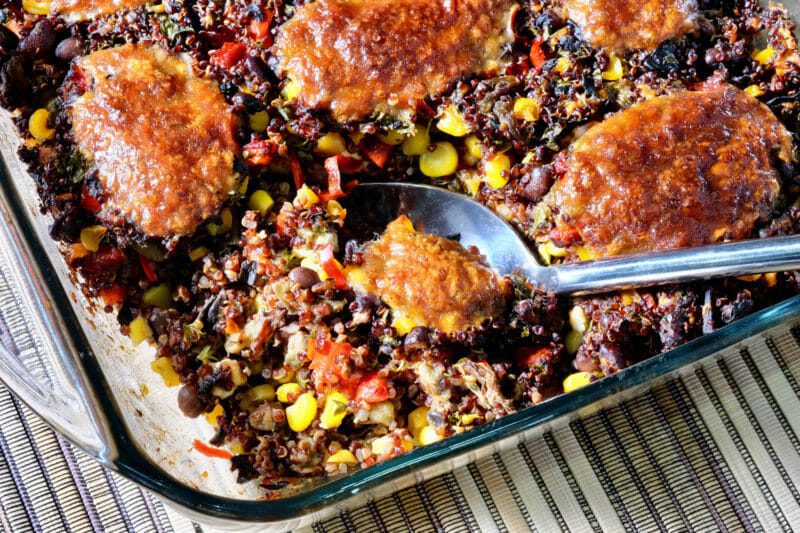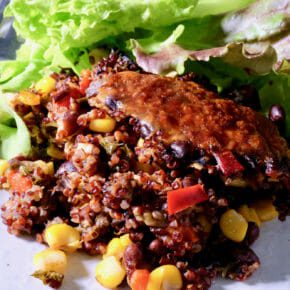 Quinoa and Black Beans Bake
There is so much flavour packed into this black bean and red quinoa bake. And not only is it delicious, but it is also so highly nutritious.
Print Recipe
Ingredients
30

g

dried forest mushrooms

or dried porcini

2

cups

hot water

1

cup

vegetable stock

1

cup

water

1

cup

uncooked red quinoa

Just use regular quinoa if you can't get red. Need 2 cups cooked

1

cup

dried black beans

need 1 cup cooked. Could use canned black beans

1

onion

4

cloves

garlic

parsley stalks

1

cup

corn kernels

freshly blanched or frozen

2

medium red peppers

2

large mild chillis

1

Japanese eggplant

a long one, maybe about 250mm

3/4

cup

crumbled feta

about 100 g

1/2

cup

grated cheese

about 60 g. Cheddar or gruyere work well

1/2

cup

finely diced parsley

125

g

fresh mozzarella
Instructions
Black beans and quinoa
If using dried black beans, soak in fresh water overnight.

Soak the dried mushrooms in cold water for 5 minutes.

Agitate the mushrooms gently to displace any grit.

Allow to sit for 5 more minutes for the grit to sink to the bottom.

While trying not to disturb the grit at the bottom of the bowl, transfer the slightly rehydrated mushrooms to another bowl and pour over the 2 cups of hot water. Allow to sit for 2 hours. After 2 hours, the soaking water will be a deep brown colour.

Remove the mushrooms from the water, finely dice, and set aside.

Combine the water, vegetable stock, and mushroom water.

Cook the quinoa in 2 cups of this stock. Use a rice cooker if you have one.

Drain the black beans from the soaking liquid and rinse.

Peel the onion and garlic, but keep whole.

Tie up the parsley stalks with cooking twine.

Add the beans to a saucepan. Add the other 2 cups of stock, the parsley stalks, the onion and the garlic.

Bring to a boil the reduce to a simmer.

Simmer for 40 minutes or so. They should be soft enough to be edible by then.

Remove the onion and parsley stalks. The garlic would probably have disintegrated by this time.

Drain the beans and rinse.

Keep 1 cup of beans and freeze the rest for use in another recipe.

Keep 2 cups quinoa and freeze the rest for use in another recipe.
Red peppers and chillis
Remove pith and seeds from the mild chillis.

Dice very finely.

Halve the red peppers and remove the stalk and white pith.

Smear with olive oil and grill until the skins are black.

Remove from the oven, place in a bowl, and cover with plastic wrap. Allow to cool.

Peel off the skins of the red peppers, then dice into 5x5mm pieces.
Eggplant
In a saucepan add 2 cups water and 2 Tbsp salt. Stir until the salt has dissolved.

Top and tail then peel the skin off the eggplant.

Cut the eggplant into 10x10cm pieces.

Add the diced eggplant to the brine and soak for 20 minutes.

Dry the eggplant on paper towels, then toss in olive oil.

Grill the eggplant for 10 minutes, toss, then grill some more until golden bits start forming.
Assembly
Preheat the oven to 200 degC.

In a large bowl add the 2 cups quinoa, 1 cup cooked black beans, corn, red peppers, eggplant, diced rehydrated mushrooms, mild chillis, diced parsley, grated cheese, and crumbled feta. Toss gently to combine.

Slice the fresh mozzarella and add to the top.

Bake for 45 minutes.

Grill a little more to brown the top if necessary.
Notes
Serve with a great salad.