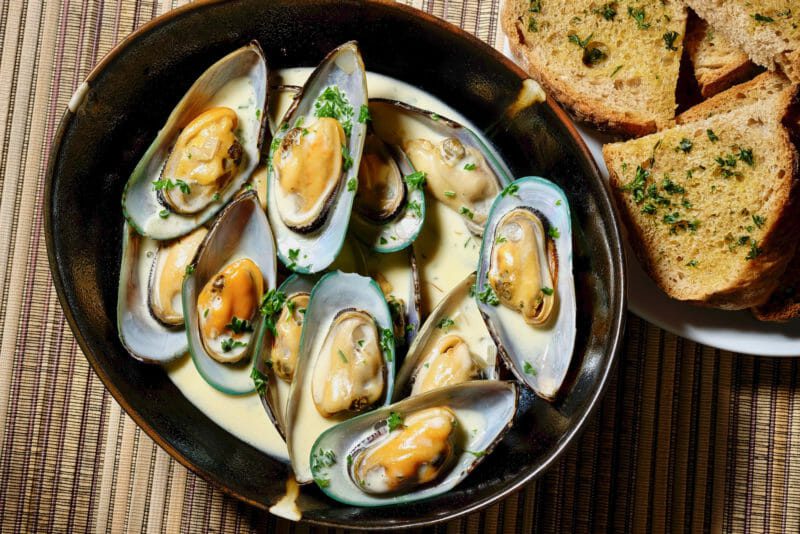 The large succulent mussels that live around New Zealand's shores are truly delicious. New Zealand mussels steamed in white wine and garlic is a classic dish, and for good reason.
Frozen New Zealand mussels are available here in Saigon. So if they are available here, there is a good chance you can find them too.
I have grown up eating this species of mussel (green-lipped). As a result, I was quite surprised to learn that mussels in many other parts of the world are small and not nearly as succulent as the New Zealand green-lipped variety. Not only are they delicious, but they are also high in Omega 3 fatty acids and have anti-inflammatory effects. You can now get an extract of NZ mussels in capsules to support healthy joints and combat arthritis!
Mussels come in two colours. The male mussels are a creamy white colour, while the females are apricot orange. I have always preferred the look of the orange ones. Maybe others do, too, because they were a little rare in the last batch I purchased. They taste the same, though.
Needless to say, NZ mussels are a favourite, and there are a few other mussel recipes here to take a look at. I highly recommend you take a look at this recipe for mussels steamed in sake and miso. It was delicious, as was this spicy mussels dish.
Make sure you use good white wine. Something with a bit of body works well, like a dry riesling or chardonnay. Remember, if you wouldn't drink it out of a glass, don't use it in cooking.
Serve these mussels in white wine and garlic with some bread to soak up the delicious creamy soup. Pictured in the photograph above is my first attempt at making whole wheat bread. It soaked up that deeply flavoured broth so well and was sufficiently successful in starting me on my bread making journey!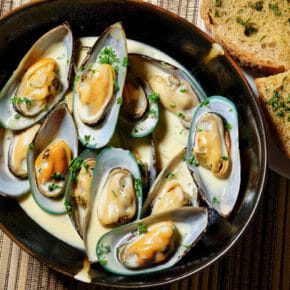 NZ Mussels steamed in wine and garlic
The large succulent mussels that live around New Zealand's shores are truly delicious. Steaming the New Zealand mussels in white wine and garlic is certainly one of the best ways to prepare them.
Print Recipe
Ingredients
1

kg

mussels

I used New Zealand frozen mussels

20

g

butter

6

cloves

garlic

finely diced

1

small onion

finely diced

200

ml

white wine

a good dry white. I recommend a chardonnay or reisling.

1/4

cup

finely chopped parsley

150

ml

cooking cream

1

tsp

freshly ground black pepper

1

Tbsp

fish sauce

or 1 tsp salt
Instructions
Defrost the mussels in the refrigerator 12 hours before cooking time

If using fresh mussels, scrub well, and remove the "beard" if you can.

In a large saucepan, saute the onion and garlic in the butter until translucent

Add the 200ml of white wine and the fish sauce (or salt)

Add the mussels and cover to steam for 10 minutes

Remove the mussels and set aside

If using fresh mussels, and they haven't opened, please discard.

Bring the cooking liquid to a boil and add the cream and half the parsley. Maintain a vigorous simmer until reduced by half.

Strain the cooking juices into another pan and add the other half of the parsley. Simmer for a few minutes while arranging the mussels in a bowl.

Pour the sauce over the mussels.
Notes
Serve, pouring the sauce over the mussels.