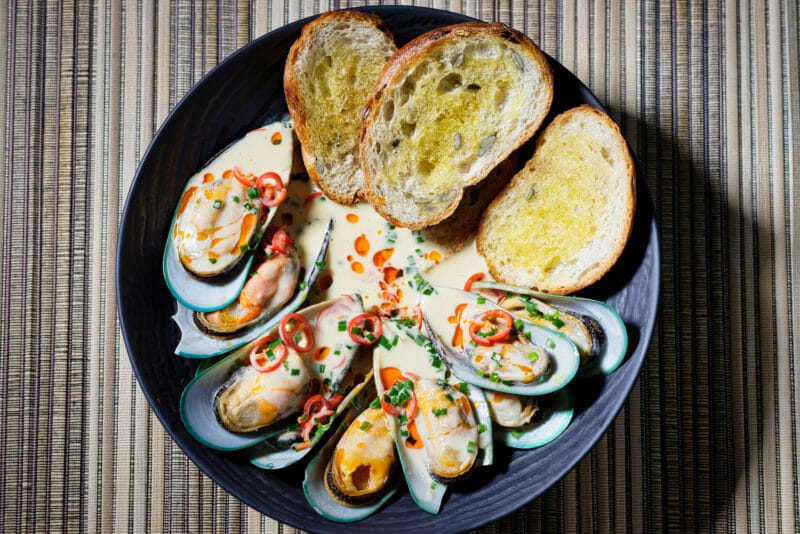 Departing from the typical white wine-based sauce, these NZ green-lipped mussels are steamed in sake and miso. Sorry white wine – this is some serious competition!
Steaming NZ green mussels in white wine and serving with a cream sauce has its origins in French cuisine. Driven by the amazing qualities of green-lipped mussels in New Zealand, this dish has taken on a whole new dimension and is served in many top restaurants across New Zealand.
But what if we did this dish with a more East Asian influence. Sake instead of white wine. And some miso to add some earthy complexity. The first time I did this, I really didn't know what to expect. Would this substitution work?
Indeed it did. I was, of course, pleasantly surprised. I love the "mussels steamed in white wine" dish and have had many variations on this in many top New Zealand restaurants. But this miso and sake steamed mussels version is the equal of the best of them. It really is that good.
I have added some chilli, both fresh and chilli oil. This complements the bold NZ green mussels without being too spicy. This is not a spicy dish at all. The chilli adds an edge, but no more.
Why you should eat New Zealand mussels
A lot of locations claim a have the best mussels in the world. The New Zealand Green Shell mussels are certainly up there with the best. They have a sweet flavour and a delicate, tender, and juicy texture. If you cannot find them in your local supermarket, they are available online. As a last resort, use the best mussels you can find.
Not only are NZ green mussels delicious, but they are also high in Omega 3 fatty acids and have anti-inflammatory effects. You can now get an extract of NZ mussels in capsules to support healthy joints and combat arthritis!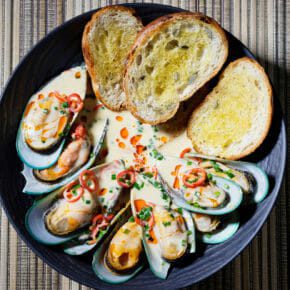 NZ green mussels steamed in sake and miso
Departing from the typical white wine based sauce, here these NZ mussels are steamed in sake and miso. Sorry white wine – this some serious competition.
Print Recipe
Ingredients
1

kg

frozen New Zealand mussels

thawed overnight in the refrigerator

1

small onion

peeled and finely diced

4

cloves

garlic

peeled and finely diced

2

large chillis

20

g

butter

250

ml

sake

2

Tbsp

white miso

1

stalk lemongrass

1

tsp

yuzu kosho

Alternatively add 1 tsp fish sauce, or 1/2 tsp salt

100

ml

cooking cream

2

Tbsp

very finely chopped chives
Instructions
Slice one of the chillis length ways, revolve the pith and seeds, and then dice.

In a large saucepan, sauté onion and diced chilli in the butter until the onion is soft. Add the garlic and cook some more until the raw garlic fragrance disappears.

Bruise the stalk of lemongrass.

Whisk the miso and yuzu kosho into the Sake and add to the saucepan, together with the lemongrass.

Add the mussels, cover and cook until mussels are cooked (if fresh, they open) or heated through (if purchased frozen, about 5 minutes)

Remove mussels and reduce liquid by a third.

Dice the second chilli horizontally into thin round slices.

Add cream, chives, and diced chilli. Simmer for a few minutes.

Poor the sauce over the mussels and serve immediately with sourdough bread that has been smeared with melted butter or olive oil and toasted.

Drizzle with some chilli oil and serve with a nice crusty sourdough bread.