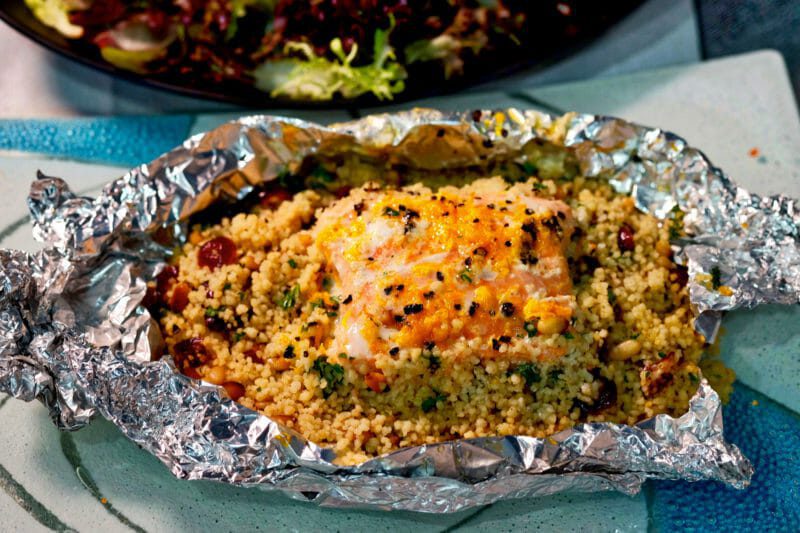 This baked salmon couscous brings citrus flavors, berries, nuts, and salmon together into a fragrant synchronised package.
Couscous originates from North Africa and consists of tiny steamed balls of semolina. Like rice, noodles, and pasta, it lends itself to a nearly infinite number of combinations. These base ingredients take on a character depending on what you cook them with.
The combination of flavours and textures in this baked salmon couscous dish transcends any specific geographical region. It is inspired by the dishes of North Africa, both the spices used and the dried fruit and nuts.
"Inspired by" is the key term in the previous paragraph. Therefore, if you have different dried fruit and nuts available – no problem. Or perhaps you don't like cinnamon so much? Try cumin, fennel, or star anise, for interesting variations of baked salmon couscous. Another delectabilia recipe, ras-el-hanout couscous, uses a delicious Moroccan spice mix featuring cumin, coriander, and ginger.
The salmon in this baked salmon couscous should be moist, tender, and succulent. Salmon, like lean meat, becomes dry and chewy if overcooked. Do check the salmon at 15 minutes in the oven. To avoid overcooked salmon, the internal temperature of the fillet should be no more than 55 degC.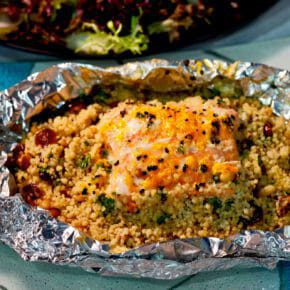 Baked salmon fruit and nut couscous
This baked salmon couscous brings citrus flavors, berries, nuts, and salmon together into a fragrant synchronised package.
Print Recipe
Ingredients
350

g

couscous

750

g

salmon fillets

150g per person

200

ml

chicken stock

200

ml

water

100

g

dried cranberries

100

g

pine nuts

1

tsp

five spice

1

stick

of cinnamon

60

g

butter

1/4

cup

chopped parsley

1

grated rind of an orange

1

Tbsp

freshly squeezed orange juice

1

tsp

freshly ground black pepper

1/2

tsp

salt
Instructions
Preheat the oven to 200 degC.

Combine the dried cranberries, couscous, Five Spice, and cinnamon stick in a large bowl.

Bring the chicken stock and water to a boil and pour over the couscous mixture. Dot with 10 g butter.

Cover the bowl with plastic wrap and let sit for 10 minutes.

Remove the plastic wrap and fluff up the couscous mixture with a fork, removing the cinnamon stick.

Toast the pine nuts until just starting to brown.

Add the pine nuts and parsley to the couscous mixture and gently combine.

Prepare 5 pieces of aluminium foil.

Spread some couscous mixture on each piece of foil.

Top with a salmon fillet.

Sprinkle some orange zest, orange juice, salt and freshly ground black pepper on to the salmon fillets.

Dot butter around each package (10g each)

Seal the aluminium foil parcels, not tightly, leaving some air space in each one.

Bake the foil parcels in the oven for 15 to 20 minutes. Check at 15 minutes, especially if you like "medium rare" salmon.
Notes
Serve in the foil packages, accompanied by a salad.