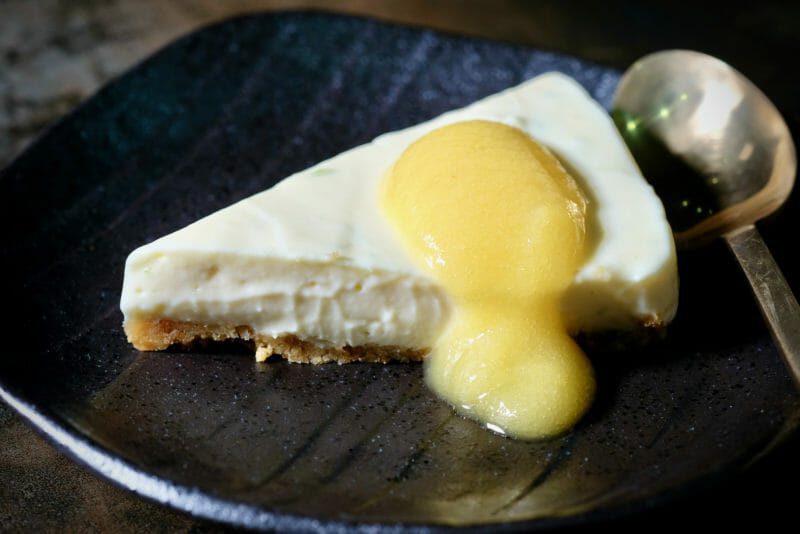 The toasty, salty-sweet, and slightly funky miso works its umami magic on the three kinds of fresh cheese in this no-bake cheesecake. If you like salted caramel ice cream, you will love this.
Origins
A miso cheesecake sampled at a specialist miso producer, Soybean Farm, in the Kichijoji district of Tokyo, was the inspiration for this recipe. As well as producing a wide range of miso styles, the owner of the store, Mr Tsuchihira, tries to give people ideas on how to use miso in different cuisines, including western-style dishes. Of all the dishes we sampled during our visit to his store, the miso cheesecake was the most memorable, perhaps because it was so unexpectedly delicious. Not content with being filed away under favourite travel moments, the memory of these light, sweet, slightly salty, and flavour-packed morsels wouldn't settle for anything less than a version made at home.
Baked or No-bake
The Soybean Farm cheesecake was a baked cheesecake, so that is where I started. With the emotional component of smell memory, it was hard to compare it directly to that Tokyo experience. The result was certainly impressive and a dinner table talking point. But it wasn't as delicious as I was anticipating. The miso had infused flavours into the cheesecake that, for me, neither complemented nor enhanced the cheese. Another lesson learned at a cooking class on that same trip, only add miso at the end of cooking. The flavour of miso changes considerably when cooked for more than a few minutes. For example, in this Saigon Miso Ramen, the miso in the tare is just heated through and only mixed with the hot soup during plating.
While some consider that no-bake cheesecakes don't even deserve to be called cheesecakes, I love them. And a no-bake cheesecake was the perfect way to maintain the purity of that sweet-salty-savoury miso flavour. It worked. This cheesecake had all the more-ish-ness of salted caramel ice cream and more. The miso contribution was very different compared with the baked cheesecake. Here the miso complemented the sweetness and added a touch of underlying salt. It also deepened and expanded the flavours of the three kinds of fresh cheese through its umami action.
Cheeses
The three kinds of cheese specified in this recipe worked well together. The cream cheese provides a good base structure. The mascarpone adds a silkiness as well as a bit of acidity. And the ricotta is a lighter milder cheese that, like tofu, is great at providing a stage for other flavours, in this case, the miso. Different combinations would work just as well. Try creme fraiche or Greek yoghurt for some additional sour notes. Or replace the cream cheese with something like burrata for a more distinct fresh cheese character.
Enjoy this miso cheesecake with a sweeter style of sake, such as those from the Hiroshima region.

Miso Cheesecake with a Peach Sake Topping
The toasty, salty-sweet, and slightly funky miso works its umami magic on the three kinds of fresh cheese in this no-bake cheesecake. If you like salted caramel ice cream, you will love this.
Print Recipe
Equipment
Spring-form pan

Hand mixer

Blender
Ingredients
Base
150

g

Digestive biscuits

or Graham crackers

80

g

unsalted butter, melted

zest of a lime, finely grated
Filling
80

g

raw sugar

225

g

cream cheese

225

g

mascarpone

225

g

ricotta cheese

35

g

shiro miso

sweet white miso

5

g

agar agar powder

or gelatin if not vegetarian

50

ml

sake for dissolving the agar agar

juice of a lime

zest of a lime, finely grated
Instructions
Base
Smash the digestive biscuits into crumbs. It is easiest to put them into a plastic bag and smash them with a heavy object. Alternatively, use a food processor. (The former is more satisfying!)

Melt the butter.

Add the digestive biscuit crumbs and lime zest to a bowl and pour in the melted butter.

Stir until the mixture is a paste like consistency suitable for molding into the base of the spring-form pan.

Add the biscuit mix to the base of the spring-form pan and press to get an even 5mm thickness across the base.
Filling
In a small microwave-proof bowl, dissolve the agar agar in the sake by sprinkling it on the sake and letting it sit for 5 minutes. Then stir it in and microwave for 20 seconds. Set aside to cool.

Use an electric hand beater to beat together the sugar, cream cheese, mascarpone, and ricotta until smooth. Beating it by hand is possible, but be prepared to exercise your arm muscles.

Add the sake with disolved agar agar, lime juice and zest, and miso. Continue beating until light and fluffy.

Pour into the spring-form pan on top of the digestive biscuit base.

Cover with plastic-wrap and refrigerate for at least 4 hours.
Topping
Using a blender, blend together the peaches and sake.
Serving
Carefully remove the spring-form pan side piece.

Cut the cheesecake into 8 to 10 pieces

Serve a slice of cheesecake with a drizzle of peach sake topping.
Nutrition Facts
Miso Cheesecake with a Peach Sake Topping
Amount Per Serving
Calories 400
Calories from Fat 261
% Daily Value*
Fat 29g45%
Cholesterol 76mg25%
Sodium 308mg13%
Potassium 127mg4%
Carbohydrates 25g8%
Protein 8g16%
Vitamin A 986IU20%
Vitamin C 1mg1%
Calcium 111mg11%
Iron 1mg6%
* Percent Daily Values are based on a 2000 calorie diet.