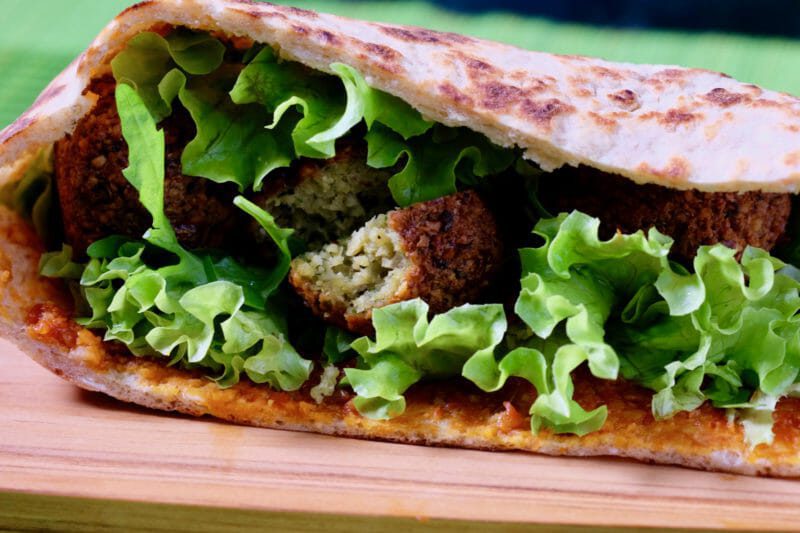 A ubiquitous Middle Eastern street food made from ground chickpeas, these herb-infused falafel with pita bread and chilli jam are the equal of a great burger but without the calories.
Being such a ubiquitous street food, there are a large number of falafel recipes out there. One critical point sets the great recipes apart from the mundane – the use of dried chickpeas. If you use canned chickpeas, you will be producing inferior falafel. The additional planning needed for using dried chickpeas (soaking overnight) results in such a superior product that there is really no room for discussion. So moving on…
Use a food processor to "grind" the soaked chickpeas. It gets the texture just right. Be sure to let the falafel dough rest for 10 to 15 minutes to allow the starch to seep out of the ground chickpeas. This helps the falafel balls retain their shape. Also, don't make those balls too big. You want a good ratio of crisp exterior to moist interior. 15 to 20mm diameter works well.
Common condiments for falafel in pita bread are tahini, salad, hummus, and pickles. While this recipe retains the tahini and salad, the other ingredients were less traditional: chilli jam and roast red peppers. The chilli jam added a wonderful sweet and spicy character.
While these pita bread pockets had that wonderful yeasty freshly baked bread smell, they were a lot of work. Use store-bought pita bread if bread making is not something you want to spend time on.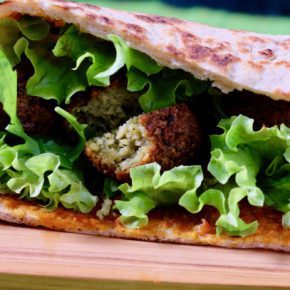 Herb infused falafel with pita bread and chilli jam
A common Middle Eastern street food made from ground chickpeas, these herb-infused falafel with pita bread and chilli jam are the equal of a great burger but without the calories.
Print Recipe
Ingredients
Falafel
375

g

dry chickpeas

about 1 1/2 cups

1

tsp

ground coriander

1

tsp

ground cumin

2

cups

coarsely chopped mix of parsley, coriander, basil, and mint

coriander, basil, and mint

2

tsp

sea salt

1

tsp

freshly ground black pepper

8

spring onions

coarsely chopped

3

long mild chillis

deseeded and coarsely chopped

5

cloves

garlic

peeled and finely chopped

Oil for frying
Pita breads
3

cups

all purpose flour

1

cup

warm water

2

tsp

active yeast

2

tsp

salt

2

tsp

olive oil
Fillings
4

pita breads

or more for seconds!

2

large red peppers

Mixed green salad
Instructions
Falafel
Soak the dry chickpeas overnight in a large bowl. They will triple in size so ensure the bowl is large enough and there is enough water.

The next day, drain the chickpeas and leave them in the colander to dry out for a while.

Return the soaked and drained chickpeas to the large bowl together with all the other ingredients (except oil) and stir to evenly distribute.

Use a food processor to blend the mixture to a coarse sand like consistency. It should not be smooth, but a little chunky.

Allow the processed mixture to sit for 30 minutes. This allows the starch to seep out of the chickpeas and help bind the falafel together. Thanks Serious Eats for that tip.

Form the processed mixture into balls about 2 to 3 cm in diameter.

In a fry pan, skillet, or wok, bring the oil to a medium high heat, around 180 degC.

Fry the falafel in batches, 2 to 3 minutes per side, or until brown and crisp.

Drain on paper towels.
Pita pockets
Add the water and yeast to a large bowl and stir. Allow to sit until bubbles start to form, about 5 minutes.

Add all the other ingredients and stir until it becomes a thick dough.

Turn out on to a flat surface sprinkled with flour. Add more flour to the surface of the dough.

Kneed the dough for 10 minutes. It will become quite elastic. Add more flour if it is sticking to your hands of board.

Smear some olive oil in a large bowl and place the dough into it. Cover with plastic wrap and leave for 1 to 2 hours.

Divide the dough into 8 pieces. Roll each out into 20cm discs.

You can bake the pitas in a very hot oven, or in a hot skillet on the stove top. I had better results with the latter.

Bring the skillet to a medium high heat. Smear with a little olive oil.

Add a pita to the skillet and cook for 30 seconds or so,

Flip it over and cook for 1 to 2 minutes, or until staring to get patches of brown.

Flip it over again do the same for the other side.

Cover with a clean dish towel while cooking the remaining pitas.
Fillings
Rinse, halve, and trim the red peppers.

Bake in a 200 deg C oven for 40 minutes.

Allow to cool then cut into strips.

Wash and drain the green salad.

Toss in delectabilia salad dressing.
Assembly
Form a pocket out of the pita bread.

Smear chilli jam on one of the inside surfaces.

Smear tahini on the other inside surface.

Add the warm falafel, red peppers, and green salad.