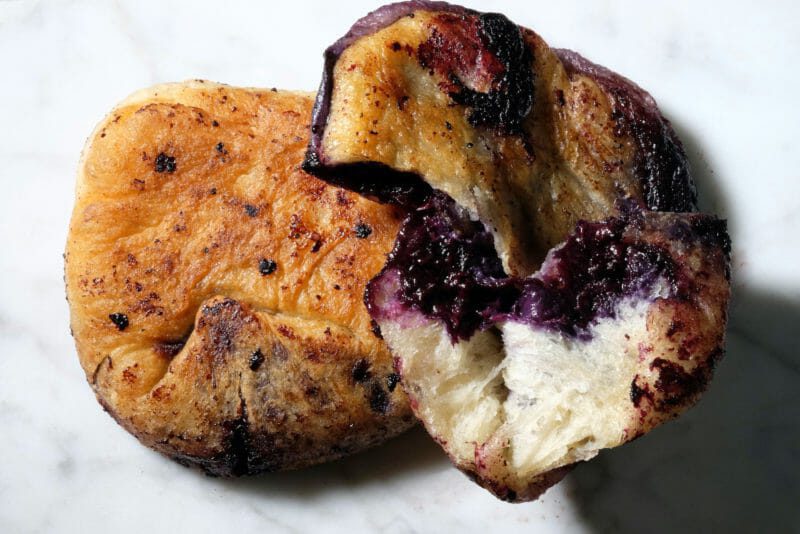 Hotteok is Korean street food. The dough is wrapped around a sweet filling, normally a mix of sugar, nuts, spices, and then shallow fried. In this hotteok recipe, the filling is a delicious blueberry reduction and a slice of brie. 
In many countries in Asia, it is a street food that defines the cuisine, not fine dining. This is very true in Vietnam, Thailand, and Malaysia. It was true in Singapore in decades past. To clean up the streets, street food vendors got moved into hawker centres. These have, in turn, earned culinary significance in their own right, including a couple of Michelin stars. 
South Korea has a similarly rich street food tradition. Hotteok is one of these popular street food items. While there are various fillings, the sweet, spicy, nutty filling appears to be the classic and most popular one. There are others, including savoury fillings. I couldn't find any references to a blueberry and brie filling, but because I love both these ingredients, especially together, why not incorporate these in a hotteok recipe? Blueberry reductions are awesome!
Great video about making hotteok as a street food…
As is so often the case, the street food vendors make it look so easy. It isn't. But it is fun having a try. The result was certainly worth the effort. While the hotteok were great on their own, they also made a great dessert with some whipped cream or ice cream. And they freeze well, so make a lot.
In terms of ingredients, the dough is very similar to pizza dough. However, frying the hotteok dough produces something significantly different from a baked pizza base. I love them both.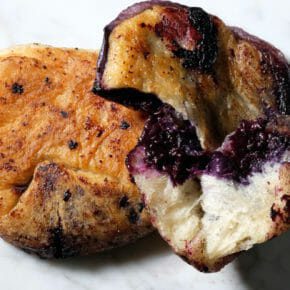 Blueberry and brie hotteok
Hotteok is Korean street food. A dough is wrapped around a sweet filling, normally a mix of sugar, nuts, and spices, and then shallow fried. Here the filling is a delicious blueberry reduction and a slice of brie. 
Print Recipe
Ingredients
Dough
3/4

cup

warm water

1

tsp

active yeast

1

tsp

honey

1

tsp

salt

2

Tbsp

extra virgin olive oil

1

Tbsp

olive oil

2

cups

all purpose flour
Filling
250

g

blueberries

2

Tbsp

blueberry jam or maple syrup or honey

2

Tbsp

water

8

slices

brie
Instructions
Dough
Whisk together the warm water, yeast, and honey in a large bowl. Let sit for 15 minutes. Bubbles should be appearing.

Add 1 cup of flour and 1 tsp salt and stir to combine.

Add another 1/2 cup of flour and start kneading with one hand.

Knead for around 3-4 minutes, adding sprinkles of flour as needed to stop it sticking to your hand or bowl.

Fold in 1 Tbsp of the extra virgin olive oil, knead some more, then fold in the other Tbsp.

Knead another 3-4 minutes.

When the dough is getting a little springy (push your finger in and the dough should rebound), form it into a ball.

Smear the inside of the bowl with the 1 Tbsp olive oil.

Put the ball of dough in the middle of the bowl, cover and let sit at room temperature for 2 or 3 hours.

Punch down and divide into eight balls.

Allow to sit for another 30 minutes. Time to prepare the filling.
Filling
Rinse blueberries and add to a skillet

Add jam/syrup/honey and water

Simmer until the blueberries break down and the combination starts to thicken. About 15 minutes.

Allow to cool.
Assembly
Grab a piece of dough and stretch it until it is flat and round, about a big as your hand.

Lay on a slice of brie, then spoon on some blueberry reduction.

Fold the sides into the centre and squeeze together so that the filling if fully enclosed.

Flatten out then fry on both sides until golden.