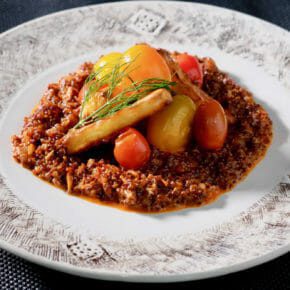 Red quinoa risotto with pickled cherry tomatoes and grilled haloumi
Print Recipe
Red quinoa risotto
2

red peppers

aka capsicums

1

Tbsp

olive oil

1

cup

red quinoa

3

cups

vegetable stock

1/2

tsp

salt

1

onion

4

cloves

garlic

20

g

butter

1/2

cup

red wine

1/2

cup

parmesan

finely grated
Pickled cherry tomatoes
Pour the vinegar and water into a saucepan and add the salt, sugar, and lemon peel.

Bring to a simmer and simmer until the sugar and salt have dissolved. Remove from heat and let cool for 20 minutes.

Pierce each tomato with a bbq skewer length-wise and width-wise.

Toss tomatoes, dill, garlic, and crushed red chilli in a bowl large enough for the tomatoes and pickling liquid.

Add the pickling liquid to the tomatoes, cover and let stand at room temperature for 4 to 8 hours.
Red quinoa risotto
Preheat the oven to 180 degC.

Halve, trim, and rinse the red peppers and smear with olive oil. Sprinkle with a pinch of salt.

Roast the red peppers on a baking tray for 45 minutes.

Allow to cool a little and remove any burnt or loose skin.

Use a food processor to blend the red peppers into a paste.

Finely dice the onion and the garlic. In a high sided fry pan or wok, sauté in 10g butter over a medium heat until transparent.

Add the quinoa and stir fry until the quinoa becomes fragrant and nutty, about 5 minutes.

Add the red wine to deglaze. Stir until the wine has been absorbed.

Add half a cup of the vegetable stock and 1/2 tsp salt and stir.

When the stock has been absorbed, add another half cup of stock and stir.

Repeat until the quinoa is al dente.

Stir in the red pepper paste and parmesan and adjust seasoning if necessary.
Grilled Haloumi
Cut the haloumi into roughly 10x10x50mm pieces.

Lay on baking paper on a baking tray and grill/broil in the oven.

Once the top side is turning golden, turn over and do the next side, until all 4 sides are golden.
Plating
Spoon some risotto on to a plate. Top with pickled tomatoes and grilled halloumi.

Drizzle with some truffle infused honey. Or truffle infused olive oil. Or just a good olive oil.